Will energy prices go down in 2023? The latest predictions for October 2022 and beyond
As households grapple with a big increase to their electricity and gas bills, we look at how much energy prices will rise again in October, and if they could fall in 2023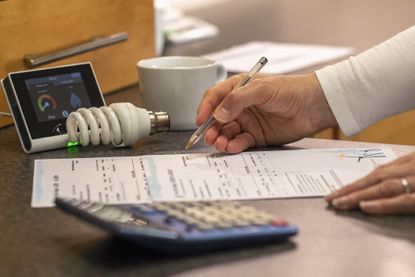 (Image credit: Getty images)
Contributions from
With analysts predicting a further increase in the energy price cap in October 2022 and the energy regulator looking to review the cap four times a year instead of two, households may be wondering what will happen to prices beyond 2022. Here's what you need to know about the latest predictions.
If you're hoping your energy bills will shrink next year, then you will be disappointed to learn that electricity and gas prices are forecast to remain high throughout 2023 and possibly into 2024 as well.
Latest predictions from analyst Cornwall Insight (opens in new tab) show that energy prices in October could shoot up by 82%, taking the average bill, based on typical use, to £3,582 when the latest cap comes into play – up from the current price cap of £1,971. The estimated increase amounts to around £300 a month, based on average typical use. The latest figure is an estimate for prices between October 2022 and March 2023.
Although Cornwall Insight has said energy prices will go up again in January by around 19%, it has stressed that movement in the wholesale market means there are swings in the forecast.
Instead, it is saying that high prices will continue into 2024.
Cornwall Insight's principal consultant Craig Lowrey, said: ""While our price cap forecasts have been steadily rising since the Summer 2022 cap was set in April, an increase of over £650 in the January predictions comes as a fresh shock. The cost-of-living crisis was already top of the news agenda as more and more people face fuel poverty, this will only compound the concerns.
"It is essential that the government use our predictions to spur on a review of the support package being offered to consumers. If the £400 was not enough to make a dent in the impact of our previous forecast, it most certainly is not enough now.
"The government must make introducing more support over the first two quarters of 2023 a number one priority. In the longer-term, a social tariff or other support mechanism to target support at the most vulnerable in society are options that we at Cornwall Insight have proposed previously. Right now, the current price cap is not working for consumers, suppliers, or the economy," he added.
If however, energy prices do go up by around 19% in January, then the average typical bill could soar to around £4,266 for the year.
These figures are based on average typical use and are predictions only, so what you end up paying will depend on how much you use and what the actual price cap will be when it is announced by Ofgem, the energy regulator.
To help you understand the predictions (we know there are a lot of numbers), here's what to expect: (remember, these are predictions and based on average typical use for default dual tariffs).
Current price cap: £1,971
October estimate (when the next price cap comes into force): £3,582 - an increase of approximately 82%
January 2023 - £4,266 - up by another 19%
April 2023 - £4,426 - up another 3%
WILL ENERGY PRICES GO DOWN?
It's difficult to know exactly what will happen with energy prices, but as it stands, analysts predict costs will remain high going into 2024.
Ofgem's proposal to review the price cap for gas and electricity bills every three months instead of six means energy providers manage their costs better and pass on any price falls (but also rises) onto customers more quickly - but as it stands, wholesales prices are continuing to rise.
The government has said it is consulting on changes (opens in new tab) that could allow households to get energy from the national grid at cheaper rates if demand is low or when the weather means more is produced.
It is also reviewing whether costly global fossil fuel prices can be separated from electricity produced by cheaper renewables, to lower prices we pay for energy from lower-cost clean energy sources.
It is hoped some of these potential changes within the government's review of the electricity market could be implemented as soon as the middle of next year, bringing down bills.
WHY ARE ENERGY PRICES GOING UP?
The cap is based on the price energy suppliers pay producers for electricity and gas, but the price for this has gone up significantly because of high demand following the pandemic, alongside the war in Ukraine, which has affected supplies from Russia.
Cornwall Insight's Lowry said: "As the energy market continues to grapple with global political and economic uncertainty, the corresponding high wholesale prices, and the UK's continued reliance on energy imports has once again seen predictions for the domestic consumer default tariff cap rise to what are even more unaffordable levels."
CAN I GET HELP WITH ENERGY BILLS?
In March, the former chancellor Rishi Sunak announced a £400 energy grant to help households with energy bills in the spring statement earlier this year. While this is much-needed help, there are concerns that it may not go far enough, considering the energy price predictions are now much higher and overall cost of living, with inflation at 9.1% and food prices rising, will hit household finances hard.
Last month, Richard Neudegg, director of regulation at Uswitch, called for the £400 grant to be increased to at least £600, and for payments to low-income households to rise from £650 to £950. "The Government did the right thing by stepping in with wide-reaching support to try to help ease the blow. However, this support now looks like a severe under-estimation of what consumers need."
It is worth knowing that several energy suppliers have financial hardship funds to help customers.
You may also find our article on help with bills if you need help to keep up with payments.
And of course, one of the best ways to save money on energy is to use less - we share our top tips to help cut your usage and keep bills low.
Read how one reader cut her energy bills by installing an eco-heat pump and wearing a bobble hat in the bath.
We know this is a difficult time for many people as household budgets come under pressure. If you need to talk to someone, there is free support from the Samaritans (opens in new tab). You can call for free on 116 123.
Want more?
We've joined forces with our friends at Look After My Bills (opens in new tab) on a free money-saving tips email which you can sign up to below.
Kalpana is the Editor of The Money Edit.
She's an award-winning journalist with extensive experience in financial journalism. Her work includes writing for a number of media outlets, including national papers and well-known women's lifestyle and luxury titles, where she was finance editor for Cosmopolitan, Good Housekeeping, Red and Prima.
She started her career at the Financial Times group, covering pensions and investments.
As a money expert, Kalpana is a regular guest on TV and radio; appearances include BBC One's Morning Live, ITV's Eat Well, Save Well, Sky News and more.
She was also the resident money expert for the BBC Money 101 podcast and co-author of the e-careers personal finance course.
A well-known money and consumer journalist, Kalpana also often speaks at events.
She is passionate about helping people be better with their money, save more and be smarter spenders.
Follow her on Twitter and Instagram @KalpanaFitz.
With contributions from