Will energy prices go down in 2023?
As gas prices drop, will this mean energy prices go down in 2023?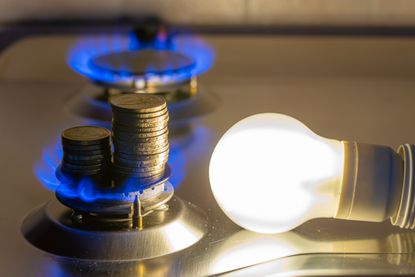 (Image credit: Getty images)
After the temporary energy bill freeze ends in April 2023, will energy prices go down in 2023? We tell you everything you need to know.
Energy bills are one of the biggest concerns for UK households, with energy analysts making frightening predictions – Cornwall insights had forecast that without government intervention the typical household bill could hit £3,700 in April 2023
Separately the energy regulator Ofgem set the price cap at an annual level of £4,279 in January 2023, but bill-payers remain protected by the government's Energy Price Guarantee (EPG), which reduces the average annual bill below that level.
But it only limits the unit price of energy, so the more you use the higher your bills will still be. As a result of the limit on unit prices and standing charges a typical household will face:
Energy bills of around £2,500 per year until April 2023
From April 2023 to April 2024, a typical household will pay around £3,000 per year
The rise in energy costs has been down to inflationary pressures, the cost of living crisis and Russia's invasion of Ukraine.
But what does the future hold for energy bills beyond April 2023? Is there any prospect of prices falling next year and beyond?
Will energy prices go down in 2023?
Energy regulator Ofgem (opens in new tab) has revealed the energy price cap from 1 January 2023 to 31 March will rise to £4,279 (on an annual basis). That's a £730 increase from Ofgem's October £3,549 price cap.
Luckily, the new price cap doesn't affect households as they are protected by the government's energy price guarantee, which means they are still on the £2,500 cap (average bill) until April 2023. Do note that the more energy you use, the more you will be charged. £2,500 is the bill an average household will pay, not the absolute limit that you will pay.
On top of that, early predictions on the wholesale energy prices point to higher energy bills from April 2023 compared to what households are paying now:
The Energy Price Guarantee (EPG), which limits the unit price of energy meaning the typical household's bill is around £2,500, finishes at the end of April 2023. Then it increases to an average of £3,000 per household, from April 2023 (until April 2024). That's a £500 increase for the typical household per year and, with the £400 energy discount ending in March 2023, the average household will pay an additional £900 per year from April 2023.
But, it is lower than Cornwall Insight's original prediction for 2023, of £3,700.
Unit prices from April 2023 onwards haven't been announced yet, but when we know more we will update you.
What if you're on a fixed-rate deal?
It is also not known yet what will happen if you're on a fixed tariff. Customers on these tariffs had been told they will receive a discount under the energy price guarantee – but it is not clear what will happen now. You can read more in our guide to fixed energy discounts. Of course, if you are on a low fixed-rate deal, that you managed to lock in some time ago, then you should stay put as you are already enjoying a good rate.
Why are energy prices so high?
There are a few reasons for hefty energy bills but it is mainly driven by Russia's squeeze on gas supplies to Europe.
Britain actually only depended on Russia for a small percentage of its gas, before the Ukraine war, but it is still connected by pipeline to the wider European market and Europe depends on Russia for around 40% of its gas supplies. It means that British energy suppliers pay a similar price to energy suppliers in Europe.
UK households have the added disadvantage of mostly having homes heated by gas boilers (85% of homes compared to fewer than 50% in France and Germany) and around 40% of our electricity is generated by gas-fired power plants.
Can I get help with energy bills?
The energy price guarantee does not impact the £400 energy grant aimed at helping households with gas and electricity bills, which all households received from October.
But while this £400 discount will help during the winter months up until March 2023, from April 2023 there will be higher EPG of £3,000 and no energy discount as such.
It is worth knowing that several energy suppliers have financial energy hardship funds to help their customers. In some cases, they include grants that don't have to be repaid and debt write-offs (up to a certain amount). You need to be an existing customer – with the exception of the British Gas Energy Trust which offers grants up to £1,500 to customers irrespective of the energy supplier.
Do speak to your supplier if you're struggling – your supplier has to work with you on a payment plan that suits your circumstances. This can include giving you a payment break. Before you call, put together an overview of your income and outgoings and any concerns about losing a source of income.
The government has also put in place an energy price guarantee equivalent for businesses, where the Energy Bill Relief Scheme will lower wholesale gas and electricity prices for UK businesses, charities, and the public sector like schools and hospitals.
Also check if you are eligible for any government grants to help with costs when installing energy efficient measures in the home, for example the Energy Company Obligation (ECO) which includes loft and cavity wall insulation.
It's worth trying tricks too like putting cling film on your windows to keep the heat in your home.
And of course, one of the best ways to save money on energy is to use less – we share our top tips to help cut your usage and keep bills low.
Read more on energy bills
Katie is staff writer at The Money Edit. She was the former staff writer at The Times and The Sunday Times. Her experience includes writing about personal finance, culture, travel and interviews celebrities. Her investigative work on financial abuse resulted in a number of mortgage prisoners being set free - and a nomination for the Best Personal Finance Story of the Year in the Headlinemoney awards 2021.