What is the price cap unit rate? How your energy bill is calculated
The energy price cap might sound like a cap on how much you actually pay - but it isn't. We explain how your gas and electricity bill is calculated.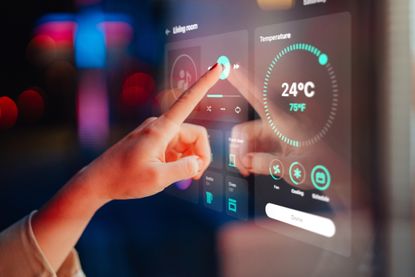 (Image credit: Getty images)
The April energy price cap means the average typical energy bill for households on default tariffs is £1,971 a year. We explain what the price cap unit rate is and how your bill is calculated.
In April the energy price cap shot up from £1,277 to £1,971, and will stay at this price until October, when it is forecast to increase further. It's easy to fixate on this figure when thinking about your own gas and electricity bill but it doesn't reflect your personal energy use. The reality is that the more you use, the more you'll pay.
It's more helpful to know the energy price cap per kwh - or the unit rate of gas and the unit rate of electricity - and the standing charges that make up your bill to really understand it.
We explain all the components of your energy bill.
(MORE: Best gas and electricity deals)
How do you pay your energy bill?
The price cap of £1,971 only applies if you pay for your energy by Direct Debit. If you pay by alternative methods the cap is higher.
If you pay your energy bill by cash or cheque the price cap is set £130 higher because energy firms say there are higher costs involved in paying this way.
If you pay for your energy on a prepayment meter the price cap is set £47 higher because energy firms say there are higher costs involved in paying this way.
What are the unit rates (kWH) and standing charges for energy?
This is the charge for the energy you actually use. It can vary by where you live, your energy supplier, payment method and meter type - but the energy regulator Ofgem has published averages:
The typical unit rate for gas is 7.37p per kWh
The typical unit rate for electricity is 28.34p per kWh
A small house or flat that has 1-2 bedrooms is presumed to use 8,000 kHw of gas and 2,000 kHw of electricity per year. This equates to a monthly cost of £101.
Meanwhile, a large house with four bedrooms is presumed to use 18,000 kWh of gas and 4,600 kHw of electricity per year. This equates to a monthly cost of £211.
A medium-sized home with 3 bedrooms is estimated to fall somewhere in between.
The standing charge covers the cost of supplying your property with gas and electricity. It is a fixed daily amount you have to pay, regardless of how much energy you use. It is even applied to properties that are empty for part of the year, like a holiday home.
The typical standing charge for gas is 27.22 per day
The typical standing charge for electricity is 45.34p per day
It is up to energy firms how they break down unit and standing charge prices below the overall cap. So higher standing charges mean lower unit prices, But lower standing charges mean higher unit prices.
If you're cutting back on your energy usage, you could be better off with a variable tariff that charges lower unit prices.
What costs make up my energy bill?
Wholesale energy costs
Wholesale market costs of gas and electricity are the most influential in determining the size of your bill. It's the steady increase in wholesale prices that are behind the dramatic rise in our bills and now accounts for almost 50% of the figure on the statement you get from your provider.
Energy providers usually buy their gas and electricity in advance, so Ofgem tracks the wholesale price over six months to determine the next price cap period.
Network costs
Network costs come to £371 a year and make up around 18% of the average bill. It's another substantial cost factored into your bill to provide and maintain the infrastructure that delivers gas and electricity to your home. We're talking about the gas pipelines and energy pylons here. But it also includes the cost of bailing out failed energy firms. Energy providers that take on customers after the collapse of another firm can claim additional costs of doing so.
Operating costs
Energy firms claim £220 from the average annual bill in operating costs. This includes the energy regulator Ofgem's allowance for supplier profits which is set at 1.9%.
Policy costs
Policy costs come in at around £153 or 8% of your bill. These pay for several things: the energy company obligation scheme which upgrades home insulation on low-income households, the renewables obligation that sources renewable electricity, the warm homes discount which pays vulnerable customers £150 over winter and specially-designated feed-in-tariff payments that are made to households who have installed solar panels.
In April, some backbench conservative politicians called on the government to scrap the 'green' policy costs. It's not quite so straightforward. The feed-in-tariff payments must contractually be made and the renewables obligation payments would still have to be made and likely have to come from our taxes.
VAT
VAT is 5% for energy bills, around £98 a year per household. There have been calls on the government to temporarily cut VAT but so far it's been ignored.
Other energy bill increases to watch out for
After the energy price cap increased by 54% last month, some customers have noticed their direct debits payments have increased by more than this, including The Money Edit's Guy Anker, who took action when his energy company almost tripled his monthly payment.
The energy regulator Ofgem has now asked all energy suppliers to review the Direct Debits for all customers who saw an increase of 100% or more between 1 February and 30 April following its review of the systems and processes energy companies have in place. Find out which energy companies were found to have significant weaknesses in our article - 'Energy companies told to take urgent action over the handling of customer direct debits'.
Look After My Bills Newsletter
Get the best money-saving tips, tricks and deals sent straight to your inbox every week. Make sense of your money in partnership with The Money Edit.
Katie is staff writer at The Money Edit. She was the former staff writer at The Times and The Sunday Times. Her experience includes writing about personal finance, culture, travel and interviews celebrities. Her investigative work on financial abuse resulted in a number of mortgage prisoners being set free - and a nomination for the Best Personal Finance Story of the Year in the Headlinemoney awards 2021.