5 ways to cut your bills as inflation hits a 30-year high
Whether it's your energy, food, broadband or fuel bill, if you're concerned about the inflation increase's effect on your bills, there are steps you can take to reduce the impact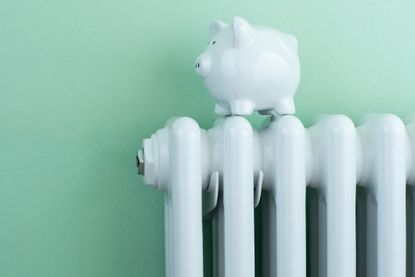 (Image credit: Getty)
The cost of living is on everyone's mind, exacerbated by the latest high inflation rate of 7% - a new 30-year high.
And according to the Bank of England, inflation could even hit double digits if wholesale energy prices continue to soar as a result of the war in Ukraine.
With households across the UK already feeling the squeeze with a rise in energy prices and fuel, the increased costs on goods and services will add further pressure.
Supermarket prices have been soaring too, with some experts predicting price rises of 15% on food. Basics like milk, cheese and cooking oil are all rocketing in price. Milk now costs over 13% more than a year ago, while cooking oil went up 7.2% in March this year, and now costs 25% more than this time last year.
While it is unnerving news, we've got five inexpensive ways to help you keep your bills under control.
How can I ease the squeeze on my household bills?
Whether it's being more mindful of your energy usage, or taking the time to ensure you've shopped around for the best deal, there are numerous ways to make sure you are not paying more than necessary on your household bills, such as broadband.
1. Reduce your energy consumption
Switching to a cheaper deal would normally be the first port of call when looking to reduce your energy bills, but with the current energy crisis, this won't currently save you any money as there are no deals on the market cheaper than the energy price cap. So the key thing now is to reduce your energy consumption where you can.
See if you qualify for any grants for homeowners, such as the Warm Home Discount Scheme, winter fuel payments or free insulation.
Lower the thermostat by a single degree. According to the Energy Saving Trust, this can save up to £45 per year, without a noticeable effect on comfort levels in your home.
Swapping to energy-efficient options. This is a case of short term cost but long term gain. Choosing energy-saving light bulbs can be an inexpensive way to reduce your energy consumption. Switching from a 100W incandescent bulb to an LED can save up to £9 per bulb per year (according to the Energy Saving Trust). Going a step further, when you need to purchase new appliances, make sure you check the energy rating as choosing the most energy-efficient option will save you money in the long run.
Opting for smart controls in your home, whether a smart thermostat or a smart plug, are great ways to avoid wasting energy when you aren't home.
Prevent the heat you do have in your home from escaping. Draught proofing your home is relatively expensive but can make a huge difference to your energy consumption. You should also check you have adequate insulation (especially in your loft to keep the heat in).
Get your boiler serviced. Ensuring your boiler is working at optimum efficiency is essential for keeping your heating bills in check.
Insulate your pipes. Insulating or lagging any exposed hot water pipes will keep your hot water hot for longer, which in turn cuts your energy usage.
Shop around for heating oil. If you're one of the 1.7 million UK households who rely on heating oil for hot water and heating, shop around for the best price as you won't be protected by the energy price cap.
2. Slash your food bills
Plan your meals. This might seem obvious, but planning your meals is an easy way to avoid wastage by making sure you only buy what you need.
Buy in bulk and batch cook. You'll need to clear some space in your freezer for this one, but taking advantage of any in-store offers to buy in bulk is a great way to keep your food bills down, but it does mean you will need to batch cook and freeze the meals to avoid the food spoiling and going to waste.
Buy a brand level lower. You might find that you reach for brand names out of habit, but you could make significant savings by opting for the supermarket's own branded products instead. In many cases, you won't notice a difference in quality.
Sign up for a loyalty card. Most supermarkets have a loyalty card scheme where you can earn rewards each time you shop with them. This could be in the form of exclusive discounts or money off future purchases. For example, Tesco Clubcard holders benefit from exclusive prices on a range of products, so make sure you always take your loyalty card with you (or connect it to your account if you shop online).
Switch your shopping habits. You can save money on your food shopping swapping your usual supermarket for a discounter like Aldi or Lidl. A basket of 21 basic items costs £26.83 at Lidl last month, according to consumer group Which?, (opens in new tab) up to £4.70 cheaper than the big four supermarkets including Morrisons, Sainsbury's and Tesco. A weekly saving of £4.70 can mean savings of nearly £250 a year.
Shop later in the day. Midday onwards is when those little yellow 'discount' stickers start popping up on fresh food that's nearing its 'use by' date. If you can hold out till 7pm onwards you can bag discounts of up to 75% and items are often reduced in supermarket cafes too.
3. Keep fuel costs under control
Check out PetrolPrices.com (opens in new tab) to find the cheapest fuel in your area to avoid paying more at a pricier pump.
Use a mileage calculator (opens in new tab). Instead of making lots of shorter trips, combining trips can save money on fuel and put less pressure on your car.
Earn cashback on pump prices. Paying with cashback cards can mean free cash. The American Express Platinum Cashback Everyday card pays 5% over the first three months, (up to £100), and you get 1% with a Chase debit card. (opens in new tab)
Be a responsible driver. Make sure your tyres are inflated correctly and brake and accelerate gently.
Walk or cycle shorter distances. Not only is this good for your health, but it's also good for your bank balance.
Car share where you can. This will reduce your fuel bills, lessen wear and tear on your car, and is better for the environment.
Charge up for free. If you've got an electric car, find free charging points (opens in new tab) at shopping centres and supermarkets where you can get around 30 miles for an hour's charge time.
(MORE: How to make your car journey cheaper)
4. Become a bill buster
Check your council tax. Double checking that you are in the right tax band and whether you qualify for any discounts is a quick way to identify any potential savings.
Claim council tax discounts. You could get a discount of 25% if you live alone, or up to 100% as pensioner claiming Pension Credit. If you're disabled you may be entitled to pay a lower council tax band under the Disabled Band Reduction Scheme.
Assess your mobile phone bill. Are you paying for minutes, texts or data that you never use? Many people end up overpaying as they are on legacy deals so now might be a good time to switch to a better deal. Compare the latest mobile phone deals here (opens in new tab).
Shop around for broadband. Use a price comparison website to shop around and see if you are getting the best deal for your broadband (opens in new tab). New customers often get the best deals, so it pays to take the time and see what other offers are available.
Pay upfront for insurance. Splitting payments on a monthly basis can boost your bill by as much as 30%. Can't pay in one go? Use a credit card with 0% deal on 'new purchases'.
Read your bank statement. Check your outgoings to make sure you're not shelling out on old direct debits or payments like insurance for a mobile phone you no longer have.
Cancel unwanted subscriptions. If you have any subscriptions you no longer want or need and have just forgotten to cancel, make sure you go through and cancel them. Multiple unwanted subscriptions can soon add up.
5. Don't let your policies auto-renew
It might seem like a faff to shop around whenever your contract is up on things like broadband or mobile phones, but it really is the only way to ensure you are getting the best deal. If you allow your policies or contracts to auto-renew, it is likely you'll end up paying considerably more than if you moved to a new provider. But when it comes to home and car insurance, you should also read up the new car and home insurance rules that were introduced on 1 January 2022 that could help to reduce your premiums.
Sarah is an experienced journalist and editor with more than 10 years' experience in the homes industry, working across brands such as Homebuilding & Renovating, Period Living and Real Homes. After segueing into the world of personal finance, acting as launch editor of TheMoneyEdit.com, Sarah is now an Editor in Future's Wealth division with a focus on property-related finance and household bills. She is passionate about helping people cut through confusing jargon to make the right financial decisions when getting on the property ladder and turning a house into a home.