Water meter vs rates – which is cheaper to run water?
Is it cheaper to have a water meter or be on a fixed rate? Good to know with a soak in the tub becoming more expensive.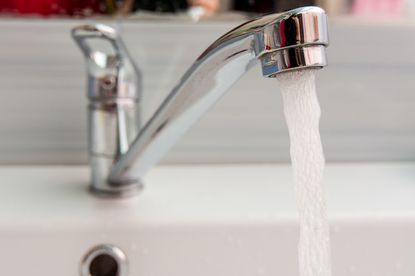 (Image credit: Getty images)
With costs rising we review which is cheaper, pitting a water meter vs rates. It's also a good time to review how much you're paying and ways you can reduce your water bill.
High energy costs are already taking a toll on households, which has many searching for the cheapest way to heat a room to cut energy costs.
Households need to switch that money-saving focus to the cost of running water as the annual average water bill is set to rise by £31 from April, a 7.5% rise.
That equates to an extra 60p per week for many households.
According to Water UK, the average household water and sewerage bills will rise from an average of £417 last year to £448 in England and Wales, but you could face bills of over £500 per year depending on where you live.
Even though this will add further to households' burden of costs, Water UK says for most customers the increase will be below inflation.
Water meter vs rates
Is it better to have a water meter?
Having a water meter means you only pay for the water you use. So how do you decide if a water meter is right for you?
It's about how big your household is and your lifestyle.
This is subject to how much water your household uses. Ask yourself these questions:
How many people live in my household?
How many showers do we take per day?
If you live alone or there are two of you in a house or flat, it will most likely work out cheaper if you only paid for the water you used, as it shouldn't be a large amount.
As a rule of thumb, if there are more bedrooms in your home than people, or the same number, check out getting a meter.
According to Thames Water research, customers with a water meter typically use around 12% less water and help spot leaks quicker.
But leaks can also be a bad thing, because they can add to your water bill, especially if you're on a water meter.
Uswitch says most water suppliers offer a 'leakage allowance,' so households are not charged for the water in the leak, as long as they get the leak fixed within a reasonable time period.
How to switch to a water meter
If you're not on a water meter but want to make the switch, here's how.
Citizens Advice says if you want to switch to a water meter, you need to contact your water provider either via phone or through their website, to get the process started.
It is free to get a water meter installed inside or outside your home in England, Wales and Northern Ireland.
If you can't switch, your water provider might be able to put you on a cheaper tariff to save money. If you're in this scenario and they don't mention this, you should.
Should I be on a fixed tariff?
The thing about going on a fixed tariff is, how much you are charged is based on the value of your home (the rateable value).
Two people living in a four-bedroom house would be better off with a water meter (because they will only be charged for the water they use and it will be more pricey to pay the rateable value).
Four people living in a two-bedroom house would be better off on a fixed tariff, as they will charge based on the rateable value rather than how many people are in the home.
If you're still unsure, you can use the free CCW Water Meter calculator.
Having a fixed tariff does come with its pros, for example, there are no surprises around the corner when it comes to paying your water bill.
The verdict
The bottom line is, there is no one answer for everyone. Whether you should have a water meter or be on a fixed tariff depends on the following factors:
How many people are in your household
How big your home is (count how many bedrooms there are)
How many showers or baths do people in your household take per day?
Answer the above and use the trick of comparing how many people are in your home compared to the number of bedrooms. Or, you can use a free online water meter calculator to do the hard work for you.
One thing important to note is, if you are on a water meter, the rising water prices that Yorkshire Water has announced will affect those on a water meter first. Nothing has yet been announced for those on a fixed tariff.
Regardless of how you pay for your water, everyone should aim to reduce their water usage.
So use the tips below when it comes to everyday things like washing the dishes, showering and brushing your teeth to keep water usage low.
Take shorter showers. If you find it difficult to time yourself, try showering until a song stops playing and mark that as your time to switch the water off. According to Energy Saving Trust, if you cut down your shower time by one minute every day, you can save up to £8 a year, per person on your energy bills.
Switch from baths to showers. Yorkshire Water says taking five showers instead of three baths can save you hundreds of pounds on your water bill.
Switch the tap off when brushing your teeth. This way you save unnecessary water loss.
Switch the shower off when scrubbing. The same goes when showering, when you're scrubbing you can turn the water off and switch it back on to rinse off.
Be conscious of water usage when washing the dishes. If you wash dishes by hand and use running water, this can be costly. Either try using a washing-up bowl or scrub the dishes with the tap off, and then turn on the water to rinse.
Read more
Vaishali graduated in journalism from Leeds University. She has gained experience writing local stories around Leeds and Leicester, which includes writing for a university publication and Leicester Mercury.
She has also done some marketing and copywriting for businesses.
When she is not writing about personal finance, Vaishali likes to travel and she's a foodie.