Seven ways to save money on your broadband bill
Cash-strapped households could face a hike of over £100 on broadband bills in 2023 - but there are ways to pay less. Here's how you can save money on your broadband bill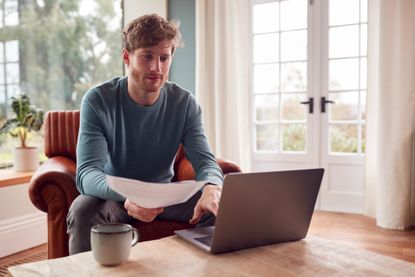 (Image credit: getty images)
Look After My Bills Newsletter
Get the best money-saving tips, tricks and deals sent straight to your inbox every week. Make sense of your money in partnership with The Money Edit.
Thank you for signing up to The Money Edit. You will receive a verification email shortly.
There was a problem. Please refresh the page and try again.
The cost of living is piling pressure on our finances and while paying your mortgage and energy bills as well as putting food on the table are essentials – having broadband is also important if you need to be online for work or helping the kids with homework.
You might think signing up for a fixed-term broadband deal means you'll pay the same price each month – but this isn't always the case. Many households could see a mid-contract hike in the price of their broadband bills of between £87 - £113 next year – according to consumer group Which?
This is because most broadband contracts have terms and conditions written in that allow providers to hike prices in line with inflation - currently at a 41-year high. These increases usually kick in from April each year.
Which? say, "several major broadband firms, such as BT, EE, Plusnet, TalkTalk and Vodafone, raise prices every April in line with the consumer price index (CPI as published in January) plus an additional 3.9% or 3.7%"
According to Which? - that the average BT customer could face an extra £113.07 on their annual bill after the 2023 price rise – compared with the amount they were paying at the start of this year.
The average EE customer would pay an extra £105.46 a year with Vodafone customers paying another £92.35 and £90.15 with TalkTalk. Plusnet customers would see the lowest increase, but this could still boost their annual broadband bill by £87.15.
Exactly how much your bill has gone up will depend on your supplier, the broadband package you're on, and when you signed your contract.
If you're looking to slash your costs – here are 7 ways to help keep your broadband bill low.
1. Switch broadband providers for a better price
While it's often possible to switch broadband providers at any time – leaving your contract early may mean paying a penalty fee. This could mean paying the full cost of any remaining months left on your contract.
This is why most people usually only switch providers and deals when any minimum period on their contract ends. Most deals tend to last between 12 – 24 months.
If you're out of contract – then rather than accepting price hikes – it's worth shopping around and switching to a new deal. At this stage, you usually only need to give your existing provider 30 days' notice if you want to leave.
When it comes to switching providers – worth knowing that most UK broadband services such as BT, Sky, Plusnet, EE, and TalkTalk use the Openreach network. Switching between these providers is relatively easy as they use some of the same equipment in the telephone exchange.
The main exception is Virgin Media which has its own network. This means switching to or from Virgin Media can be a bit more complex.
2. Compare broadband prices
It pays to shop around for the best broadband deals and the best way to compare broadband prices is to use a price comparison site. These include -
You can use the postcode checker on these sites to find out what's available at your address – as not all broadband deals are available across the UK.
You can use a price comparison site to compare broadband deals or 'bundles' which can include a phone line and TV package.
It's also worth checking broadband providers' websites directly – they sometimes offer cashback or free gifts if you get your deal direct from them.
3. Haggle to lower your broadband price
If you're happy with your broadband supplier, but not keen on the price, you may be able to haggle either online or over the phone to get a better deal.
A survey by Which? found nearly half (46%) of survey respondents had haggled with their existing provider when their contract ended. These people reported saving an average of £85 on broadband, and £128 on broadband and TV.
Haggling with your provider may mean you can pay a cheaper price for your current broadband package or even get a better deal for the same price. Some providers might offer extras like a better router, extra premium TV channels, or free landline phone calls.
Think about what you want – whether that's a cheaper price or a faster broadband speed or more premium TV channels.
Do your homework before you start haggling. A good tactic is to research prices from rival providers first before calling your own provider.
Ask for 'disconnections' or press the 'thinking of leaving us' option as this usually gets you through to the 'retentions' team.
They tend to be able to offer the biggest discounts when it comes to keeping you as a customer.
4. Check how long your broadband contract is
Broadband contracts typically last for 12, 18 or 24 months and in general - the longer you commit, the cheaper the monthly price.
Some providers also offer short-term 30-day rolling broadband contracts, which can be cancelled at short notice.
These are good for people who might be moving house soon or students who will go back to the family home for several months each summer.
Bear in mind that even if you sign a contract - the terms and conditions are likely to allow mid-contract rises in certain situations such as rising inflation.
5. Check your broadband speed
If you're paying for 'fast' broadband, then make sure you are getting the speed you are promised and that it's available in your area.
You can use free online tools to check your broadband speed. All you do is plug your postcode into sites like Broadband Genie or MoneySuperMarket. This gives you both the download and upload speed.
'Superfast' or fibre broadband is the fastest broadband, but also the most expensive. The fastest widely available broadband in the UK is offered by Virgin Media, with download speeds of over 1Gb with its Gig1 service.
ADSL broadband, which is delivered to your home via a normal phone line, is cheaper and more widely available. It's slower than superfast broadband but generally fast enough for most households.
It's worth thinking about the broadband speed you need.
The cheapest broadband deals on the market have speeds of around 6 – 10Mbps which is probably ok for checking emails and shopping online.
But if there are several people in your house and you all want to be online at the same time uploading to social media or streaming movies - you need to look for a broadband deal with a download speed of at least 35Mbps.
6. Could a broadband, TV and phone bundle be cheaper
Many households bundle broadband along with a phone line plus calls and a TV package.
It can work out cheaper than buying all the services separately from different providers – but do check what you are getting.
If you're switching your TV service alongside your broadband, you should look at the TV box included in the deal and which TV channels you'll get. If you are including a landline phone service in your bundle, check whether you get any free calls included.
Bundles can work out cheaper for many households. However, if you're not fussed about having a wide choice of TV channels, you might be better off buying a standalone Freeview box and keeping your broadband separate.
If you have inclusive calls on your mobile phone package, there is no need for a calls package on your landline too.
7. Are you eligible for a social broadband tariff?
If you're on a low income or claiming certain benefits you might be eligible for help with your broadband costs in the form of a social broadband tariff.
These deals are cheaper than standard broadband deals and according to Ofcom – could save eligible customers around £144 a year.
Around four million people could be missing out on these discounted deals which are available from providers including BT, Vodafone, Sky and Virgin Media as well as smaller suppliers.
If you're claiming Universal Credit and don't have broadband you may be able to get up to six months of free broadband with TalkTalk.
Look After My Bills Newsletter
Get the best money-saving tips, tricks and deals sent straight to your inbox every week. Make sense of your money in partnership with The Money Edit.
Emma Lunn is an award-winning freelance financial journalist who specialises in money and consumer affairs. She has more than 17 years' experience writing for national newspapers, trade and consumer magazines, and specialist websites. She has a particular interest in writing about property and mortgages, and enjoys explaining complex issues in an easy-to-understand way.