Consumer group Which? calls for VAT cuts on broadband and mobile
Consumer group Which? says reducing VAT from 20% to 5% on broadband, mobile phone and landline bills would help millions of households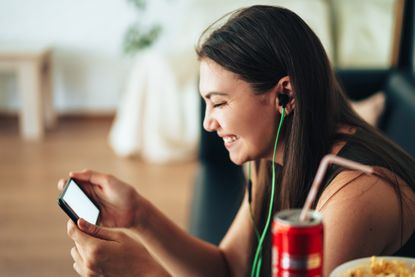 (Image credit: Getty images)
Nearly six million households are struggling to afford essential communication services such as mobile phone, broadband and landline as the cost-of-living crisis bites. Consumer group Which? Has called on the government to scrap VAT on these essential services. We look at what this could mean for you and how else you can save money on broadband deals.
Which? is calling on the government to cut VAT from 20% to 5% on household telecom bills after it analysed data from the regulator Ofcom and found that an estimated 5.7 million customers experienced problems in April, such as having to reduce spending on other essentials, cancelling or changing their service or missing payments.
The number of households that experienced several affordability issues – for example, who struggled to afford to pay more than one telecom bill or made more than one financial adjustment to afford their phone or broadband – increased by 56% from February to April.
One in five lower income households (22%) reduced spending elsewhere to afford connectivity services in April. This figure was one in eight (13%) for middle income households – almost doubling from 7% in February.
Rocio Concha, director of policy and advocacy at Which?, said the fact so many households had chosen to prioritise their telecoms services during the cost-of-living crisis "further demonstrates just how essential these services are to modern life".
The consumer group is urging the next prime minister to reduce the VAT paid on telecoms in line with other essential services, such as gas and electricity.
It notes that even the most financially vulnerable consumers are still charged 20% VAT for social tariffs.
Which? estimates that reducing the VAT rate on telecoms to 5% would save the average household £120 per year.
A government spokesman said: "We understand that people are struggling with rising prices which is why we have acted to protect the eight million most vulnerable British families through at least £1,200 of direct payments this year with additional support for pensioners and those claiming disability benefits.
"We have also secured strong commitments from broadband and mobile companies to help those worried about their bills during this difficult time such as allowing them to move to cheaper packages without charge or penalty, or agreeing manageable payment plans."
How can I cut the cost of my broadband and phone bills?
The price of many broadband and phone contracts went up in the spring, as providers hiked costs in line with inflation.
However, there are ways to lower the price of your broadband and phone bills.
First, check if you're entitled to a social tariff. If you're on a low income or claiming certain benefits you might be eligible for one of these cheaper deals. Ofcom has a handy table showing the various deals, which are offered by providers including BT, Sky and Virgin Media. You could also call your broadband provider to see if it has a social tariff.
Note that the only social tariff for mobile phone bills is from Vodafone's VOXI brand. The VOXI For Now tariff has unlimited 5G data, calls and texts for just £10 a month to anyone claiming benefits such as jobseeker's allowance, Universal Credit or employment and support allowance.
If you don't qualify for a social tariff, compare broadband and phone contracts using a price comparison website such our sister site GoCompare.com - or you can use Moneysupermarket.com or as Comparethemarket.com too. You may find that by switching to a competitor you could reduce your monthly bill but still get the same amount of free minutes / data, or the same fast download speed.
If you have finished your minimum contract with your provider you should be able to switch without incurring a fee. It's worth calling your current provider first though, to check if they can match or better the deal you're moving to. Don't be afraid of getting put through to the cancellation department as they often have the best deals and most wiggle room for negotiating a new price.
You can usually speak to your telecoms provider by web-chat too, which could be quicker than waiting in a phone queue.
How to avoid broadband exit fees
If your contract hasn't finished (most deals tend to be for 12, 18 or 24 months), you may still have options. Some providers like TalkTalk and Virgin Media have been known to make a payment towards a new broadband customer's exit fees.
A good tip is to contact your current provider and find out what fee you'd have to pay to leave. Then, when you find a cheaper deal you want to move to, phone the new provider (or speak to them on web-chat), and ask them if they can cover your exit fees.
If they say no, end the discussion. But then wait a few days and see if they try to contact you (they often ask for your phone number when you initially speak to them). At that point you can explain again that you'd like to switch but you have to pay an exit fee.
You may find that the new person you speak to does have the authority to pay you a bonus to help cover your exit fees.
For more tips on saving money on your broadband bill, check out this article.
Switching to a sim-only deal
To reduce the cost of your mobile phone bill you could also consider switching to a Sim-only deal. If you're happy with your existing mobile handset, a Sim-only deal will be cheaper than a pay monthly contract.
Many deals are on a one-month rolling contract, so you can chop and change whenever you want to, while others require you to sign up for between 12 and 24 months.
Alternatively, if you don't use your phone regularly, you could switch to a pay as you go deal.
For more tips on cutting the cost of your mobile phone, check out this article.
Additional reporting: PA
Look After My Bills Newsletter
Get the best money-saving tips, tricks and deals sent straight to your inbox every week. Make sense of your money in partnership with The Money Edit.
Ruth Emery is contributing editor at The Money Edit. Ruth is passionate about helping people feel more confident about their finances. She was previously editor of Times Money Mentor, and prior to that was deputy Money editor at The Sunday Times. A multi-award winning journalist, Ruth started her career on a pensions magazine at the FT Group, and has also worked at Money Observer and Money Advice Service. Outside of work, she is a mum to two young children, a magistrate and an NHS volunteer.