BT vs Sky: which is the better broadband provider?
If you're trying to decide between BT and Sky for your broadband, we've done the hard work for you, comparing what they offer and how much their packages cost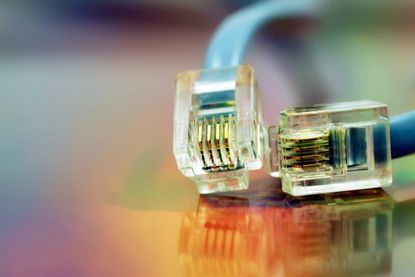 (Image credit: getty images)
BT and Sky are two of the biggest high-speed broadband providers in the UK, with millions of customers between them.
We've compared the two providers based on what they offer, costs and customer service. But it is worth remembering that if you are looking for the best broadband deal, especially as prices go up, then there is a wide range of different broadband providers to choose from. While BT and Sky may be two of the largest providers in the country, it is still possible to find a cheaper deal elsewhere.
It is good practice to compare as many broadband providers as possible before signing up for a deal. Make sure you select a plan that gives you the speeds and data allowance you need, at a price that's right for you.
But if you are looking to switch to either Sky or BT, then this is what they provide.
BT
What type of packages does BT offer?
There are two main options to choose from: a broadband deal, or a bundled broadband and TV deal. If you don't use a landline phone, BT offers broadband-only deals, but it is worth remembering that you'll have to rely on your mobile to make or receive any calls.
What is BT's availability like?
According to BT its broadband packages are available to more households than any other provider in the country. Its Fibre packages are accessible to 91% of the UK. BT Full Fibre broadband, where rather than the signal coming from a copper cable, the fibre cable connects straight to your home, is currently only accessible to 8% of the UK. But the technology and broadband packages are becoming increasingly available across the country.
How much does BT broadband cost?
How much you pay for your broadband is dependent on which broadband package you decide is best for you. BT's Fibre Essential deal, which allows you to browse the internet and stream content on one or two devices at once, costs £28.99 a month for 12 months, with an additional £29.99 upfront 'activation fee'.
Another option is BT's Fibre 1 deal, which allows you to browse, stream and download on a few devices at once. It is available for £29.99 a month with an upfront fee of £29.99. Other packages that boast faster speeds are available, including the Fibre 100 and Fibre 250 deals at £39.99 an £49.99 a month for 24 months respectively.
If you are an existing BT broadband customer, then we explain everything you need to know about the provider's prices going up in our article - BT price increases - what can customers do?
What are BT's broadband speeds?
Both BT's Fibre Essential broadband package and its Fibre 1 package have a download speed of between 23Mb and 36Mb – capable of supporting a few devices browsing or streaming at once. The Fibre 100 and Fibre 250 deals are both much quicker, and have speeds of up to 146Mb and 210Mb respectively. BT's faster speeds, up to 900Mb, are available via Full Fibre.
(MORE: Understanding broadband speed)
Does BT offer any extras?
If you struggle for a strong and consistent Wi-Fi connection in your home, BT's Complete Wi-Fi may be a good option to consider. It costs £12 a month and guarantees you get a strong connection throughout your property, or you can claim £100 back. It works thanks to 'Wi-Fi Discs' – small devices that look like regular routers. They work in conjunction with the standard Smart Hub 2 and BT's app to ensure good coverage across your home.
What is BT's cancellation policy?
BT contracts typically run for a set period of 24 months. If you decide to cancel during this period, you will have to pay an early termination charge. The amount you'll have to pay is dependent on how many months are remaining on your contract and how much you're paying for it.
Are BT broadband customers happy with BT?
Based on Ofcom's latest 'Comparing customer service' report, four out of five BT broadband customers said they were satisfied with its broadband service overall in 2020. The same percentage said they were satisfied with the speed of the service. The report found that 23% of BT Broadband customers had a reason to complain, which is lower than the 26% market average.
Sky
What type of packages does Sky offer?
There are three main broadband packages available through Sky - Superfast, Superfast with WiFi Guarantee, and Ultrafast. There is also a broad range of bundled TV and broadband packages. Many of Sky's broadband packages make use of the Openreach network, however, its full fibre package connects fibre-optic cables right to your home.
How much does Sky Broadband cost?
Sky's Superfast Broadband currently costs £25 a month for 18 months, while the speedier Ultrafast plan will set you back £32 a month for 18 months. These deals both come with a one-off £19.95 set-up fee. A bundled TV and broadband package, including Sky Q and Superfast Broadband start from £43 a month for 18 months, but goes up to £70 a month for 18 months, depending on what channels or streaming services you wish to include. Set-up costs for broadband and TV packages are up to £49.
What are Sky's broadband speeds?
Both the Superfast and Superfast with Wi-fi Guarantee share the same average download speed of 59Mb. However, if you opt for the Ultrafast package, you can expect speeds of up to 145Mb
What is Sky's availability like?
Over 95% of areas in the UK have access to Sky superfast fibre broadband, but it has yet to be extended to all rural areas.
Does Sky offer any extras?
Sky offers customers Broadband Boost - which can be added to your broadband package for £5 a month – if you want the security of knowing that any issues with your connection will be resolved as soon as possible. This means you get engineer visits at a time that suits you, and Sky will also run daily checks on your line and pledges to fix any problems identified quickly. Should you lose your internet connection at any time, and you have Sky Mobile, you'll get an additional 2GB added to your allowance.
What's Sky's cancellation policy?
Sky will charge you early termination fees if you decide to leave your contract before the end of its term. Several different factors determine the amount you'll have to pay, including how long you have remaining on your contract, the days you've already been billed for in advance, and the products you subscribe to, as well as the price you pay for them. You can switch to a new broadband provider without penalty If you are out of contract.
Are Sky Broadband customers happy with Sky?
According to the latest Comparing customer service report from Ofcom, 80% of Sky's customers were satisfied with its broadband service overall in 2020. The same rate of people said they were satisfied with the speed of the service. The research found that 24% of customers had a reason to complain about Sky broadband, which is very slightly higher than the 23% of BT customers who felt they had a reason to complain, but still lower than the 26% market average.
Tom Higgins is a journalist covering all aspects of the financial world, from investing and sustainability to pensions and personal finance. He graduated from Goldsmiths, University of London in June 2020 and has since written online and in print for the Financial Times group, New Statesman media group, numerous trade magazines, and has worked with Bloomberg on social media projects. He has a deep interest in environmentalism, social change, and data-driven storytelling. He can be found tweeting at @tomhuwhig.