Can I get broadband without a landline?
Many of us rarely use a landline phone, yet they are included as standard in many broadband deals. But can you get broadband without a landline?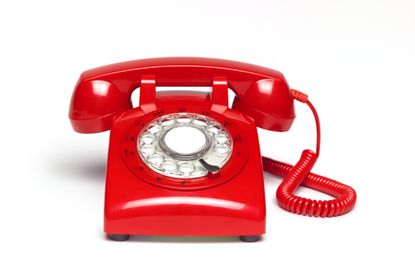 (Image credit: getty images)
Many broadband deals come with a landline. We explore whether you can get broadband without a landline and what your options are if you no longer want one.
There was a time when a landline was essential for every home, but many people now rely on their mobile phones for calls.
According to Uswitch, four million homes have disconnected their landline altogether since 2000. Of the 80% of homes that are still connected to a landline, 26% don't have a handset plugged in.
With fewer people now using the landline, here's what you need to know if you are looking to ditch yours too.
What is a landline and do I need one?
A landline is a phone connection that uses a physical wire – usually copper – for transmission. It is often referred to as a 'home phone' or 'phone line'.
The copper wire connects your home to the cabinet in your street, which in turn connects to the nearest telephone exchange. The line rental we pay for our landline phone covers this connection and your space at the telephone exchange.
Openreach, a subsidiary of BT, manages the UK's copper line network.
You'll need a landline if you have or want Asymmetric Digital Subscriber Line (ADSL) broadband, or if you want to make fixed line phone calls.
Why do I need a landline for broadband?
ADSL is the most common type of broadband and is offered by most UK broadband providers to the majority of homes in the UK.
If ADSL is the only broadband available where you live, you'll need a landline, whether or not you will use it for phone calls.
ADSL broadband uses the Openreach network.
Can I get broadband without a landline?
While you can get broadband without a landline, your choices are limited and will depend on where you live.
Not all broadband connections are ADSL. There are several alternative types of broadband which don't need a landline. These include:
Fibre broadband
Cable broadband
Mobile broadband
Does fibre broadband need a landline?
Some types of fibre broadband require a landline, while others don't.
Fibre broadband uses fibre optic cables, rather than copper phone lines, to transfer data. This results in quicker speeds than ADSL broadband.
There are two main types of fibre broadband:
Fibre to the cabinet (FTTC)
Fibre to the premises (FTTP)
FTTC broadband uses fibre for the connection between the telephone exchange and the cabinet in your street. But it still uses a phone line to connect your home to the cabinet. So, with this type of fibre broadband, you still need a phone line.
FTTP uses fibre all the way from the telephone exchange to your home. This offers faster broadband speeds and means you don't need a landline. Companies such as BT, EE, Sky, TalkTalk, Virgin Media, Hyperoptic and Gigaclear offer FTTP broadband, but not to all addresses.
FTTC broadband is much more widely available than FTTP broadband – most broadband providers sell FTTC broadband.
Does cable broadband need a landline?
Cable broadband does not need a landline.
This type of broadband connects your home to a fibre cabinet in your area. It does this using coaxial cables, rather than copper wires. This gives you much faster broadband speeds and means you don't need a landline.
Cable broadband is faster than FTTC broadband or ADSL, but not as fast as FTTP broadband.
The only big cable network provider in the UK is Virgin Media. It covers most of the UK, but not as much as Openreach's copper wire network.
Does mobile broadband need a landline?
No, mobile broadband does not need a landline.
Rather than delivering broadband using a fixed line or cable, mobile broadband uses the mobile network and sends data via 3G, 4G or 5G.
This is what allows you to use the internet on your smartphone. But you can also use mobile broadband for your computer and gadgets at home by having a dongle or a personal wi-fi device.
Is it cheaper to not have a landline?
You might assume that it's cheaper to buy broadband that doesn't require a landline – but this isn't always true.
This is because FTTP and cable broadband is more expensive than ADSL or FTTC broadband. So, while you might save cash by not paying for a landline you don't use, this is countered by the fact you'll be paying more for your broadband package.
How much will I pay for broadband and a landline?
To get the best broadband deal you should use a price comparison site to compare the cost of broadband deals both with and without a landline. As well as looking at the monthly cost, you should also consider set-up fees, the speed you'll get, and any extras such as TV channels or a better router.
Since 2016, broadband firms have had to include line rental in the advertised cost of a broadband package, if a landline is required, instead of listing it as a separate charge. This has made broadband deals easier to compare.
What are the pros and cons of having a landline?
The advantages of having a landline include:
The ability to make phone calls if mobile reception is poor
Potentially better and more reliable call quality than mobile phones
Many landline packages give you inclusive minutes which you can use to call other landlines or other countries
Useful in an emergency as you won't have a flat battery or poor signal
More choice of broadband products and providers
The disadvantages of having a landline include:
More unsolicited cold and scam calls
You might not use it – most people use inclusive minutes on their mobile phone package for calls
You normally need to sign a contract for at least 12-months
Less features than mobiles – not all landline handsets have caller display or show missed calls
Look After My Bills Newsletter
Get the best money-saving tips, tricks and deals sent straight to your inbox every week. Make sense of your money in partnership with The Money Edit.
Emma Lunn is an award-winning freelance financial journalist who specialises in money and consumer affairs. She has more than 17 years' experience writing for national newspapers, trade and consumer magazines, and specialist websites. She has a particular interest in writing about property and mortgages, and enjoys explaining complex issues in an easy-to-understand way.