Broadband switching service delayed - how it will eventually work and why it's crucial to switch
A broadband switching service designed to make it easier to change to a cheaper or faster deal has been delayed. We explain how you can still avoid huge increases to your monthly internet bill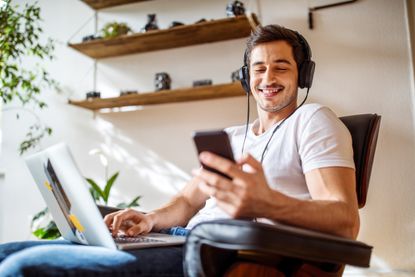 (Image credit: Getty images)
A broadband switching service designed to make it easier for households to change to a cheaper or faster deal has been delayed.
The "One Touch Switch" service, designed by the telecoms watchdog Ofcom, was due to be in use by April 2023. But broadband suppliers have failed to implement a new process in time for the deadline.
And now Ofcom has launched an industry-wide enforcement programme to make sure suppliers get the new process in place "as quickly as possible" – though it's not yet clear exactly when this will happen.
The new broadband switching service will enable seamless switching between physically separate networks, such as from Openreach to Virgin Media, Hyperoptic or CityFibre, allowing consumers to take advantage of more competitive deals.
Once in place, customers will only need to contact their new broadband provider to switch, and would no longer need to speak to their current provider.
Changing providers will also be quicker under One Touch Switch, taking just a day where possible, according to Ofcom.
But the delay comes at a time when millions of households are facing huge increases to their monthly internet bills.
The missed deadline could potentially cost consumers £162 a year in potential savings, according to price comparison website site Uswitch.
Ernest Doku, Uswitch spokesman, said: "With inflation-linked price hikes hitting millions of people this month, the delay to One Touch Switch is a missed opportunity for Ofcom to boost broadband customers' confidence and help them get a good deal."
How One Touch Switch will work
We'll update this article as soon as we know more about when the new broadband switching service will start.
What we do know is that once One Touch Switch works:
You'll only need to contact your new provider, there'll be no need to contact your current provider. Your new provider will manage the switch and you'll receive final pieces of important information automatically from your current provider, like your final bill. (This is similar to the Current Account switching service when you want to change your current account to a new bank or building society).
Switching will take as little as a day. However, if you don't already have a connection and need a visit from an engineer, it could take longer.
Switching will probably take longer if you're switching from a copper (for example, Openreach) to a non-copper network (for example, Virgin Media) or vice versa.
You will probably still need a new router. Currently, when you switch provider you often need a new router - unless you bought your own or your current router works with your new provider.
How to cut broadband costs in the meantime
There are several ways to cut broadband costs.
If you are on a low income, then you may qualify for help via your broadband provider's social tariff. For example, Vodafone Essentials Broadband deal costs only £12 a month for 12 months. These social tariffs are widely underused: only 136,000 out of the 4.2 million who are eligible are signed up, according to Ofcom.
If you're stuck and can't leave penalty-free or you are looking for a better deal, try to haggle for a better deal with your existing provider before looking elsewhere. A tactic that often works is to phone up and say you want to cancel your contract; you'll then be put through to the cancellation department which often has the power to offer the best deals to try and ensure you don't leave and remain a customer.
If you're on a rolling contract you can still haggle with your existing provider by researching cheaper options via comparison sites such as Go Compare. Explain to your existing provider that you have found cheaper options elsewhere, and can they match them?
You can even haggle via your broadband provider's chatbot. The Money Edit's Katie Binns explained how she saved almost £300 by haggling with VirginMedia on its chatbot and WhatsApp service:
I've saved £288 on #broadband haggling with VirginMedia on its chatbot/WhatsApp: monthly deal of £48 was set to rise to £55. Got it down to £31 by saying I was considering new customer offers elsewhere+sending screenshot of a £30 TalkTalk deal. All while watching The Walking DeadJanuary 28, 2023
See more
Related articles
Look After My Bills Newsletter
Get the best money-saving tips, tricks and deals sent straight to your inbox every week. Make sense of your money in partnership with The Money Edit.
Katie is staff writer at The Money Edit. She was the former staff writer at The Times and The Sunday Times. Her experience includes writing about personal finance, culture, travel and interviews celebrities. Her investigative work on financial abuse resulted in a number of mortgage prisoners being set free - and a nomination for the Best Personal Finance Story of the Year in the Headlinemoney awards 2021.