Broadband bill warning: can you avoid £87 to £113 April price hikes?
A sneaky price hike clause could see broadband bills surge by £87 to £113 in April. We explain your options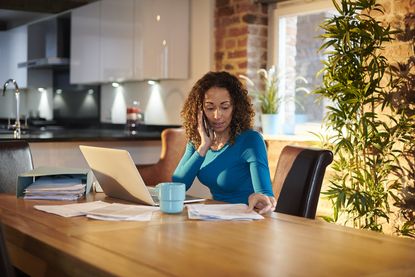 (Image credit: Getty images)
This April, one of the biggest price hikes could be your broadband bill.
Even the best broadband deals could jump in cost because there is a key clause in many contracts allowing broadband firms to raise the price at a set point mid-contract, usually every April.
In the past, providers have raised the amount you pay far higher than the Consumer Price Index (CPI) - which is due to be announced soon. The CPI is the main measure of inflation – the change in the cost of a typical basket of goods and services – which is currently standing at just under 10%.
Broadband companies have tended to add 3 to 4% to this figure when setting new contract rates. This means that if past pricing patterns are followed, broadband could go up by a whopping 14%. You could also face similar mid-contract mobile bill hikes.
This is causing considerable concern with many consumer organisations, like Which? which has worked out bills could go up between £87 to £113 and is running a campaign to get businesses to defer price hikes in 2023.
It makes sense to start thinking of an exit plan if you want to avoid these price jumps.
Here we explain what you can do about broadband bill hikes if you are in or out of contract.
Broadband bill warning: how to avoid the hikes
How much could your broadband firm hike bills?
Below you can find examples of 2022's price hikes which were a result of the clause written into some contracts by broadband firms. Dig out your own contract to see if it is in yours.
This is indicative of how firms can hike bills, and some could yet choose to hike bills by less, or not at all.
Swipe to scroll horizontally
| Broadband firm | Percentage hike |
| --- | --- |
| BT | CPI + 3.9% |
| TalkTalk | CPI + 3.7% |
| Shell Energy Broadband | CPI + 3% |
| EE Broadband | CPI + 3.9% |
| Plusnet | CPI + 3.9% |
If you are out of broadband contract
Ofcom estimates that 7.4 million people were 'out of contract' in 2021. This simply means that your original contract has expired so the firm has put you on a 'standard' tariff' that will continue to increase with each year that passes.
It's not unheard of for people to be paying upwards of £100 a month for their broadband and TV packages. You can easily halve this, or get your payments down as low as £20 if you don't mind taking a basic package.
As a general rule, it makes sense to add all your contract renewal dates to an online (or traditional) calendar. Stick in a reminder for the month before the renewal day so you've got time to shop around for the best deal and you aren't rushing around last minute.
Think about what you want from your broadband, any problems you've had with intermittent service or download speed, wonky WIFI issues that might mean you need a booster and whether you are working from home or your household has lots of 'connected appliances'.
Or whether you want a full entertainment package including TV, sport and films.
Factor these in when shopping around, and make use of one of the many free comparison sites, to find the best deal.
It's a good idea to call a broadband firm first though, to discuss your options and see if you can negotiate the best deal. Many businesses can cut a bit more off your bill when you talk to them.
It makes sense to run a few speed tests with your old broadband provider. Just download a free speed testing app and take regular measurements over a week or two so you know what broadband speeds you're really getting at the moment.
If you switch now, remember to ask about price rises in April 2023. Regardless of what the business says, many have contracts that allow price hikes.
What to do if you are in contract
Exit fees are by far the biggest challenge for broadband customers after poor service problems.
Exit fees are the price you pay when you leave a contract early and are somewhat complicated, often working on a sliding scale. If you signed a two-year contract a few months ago, it's going to be very pricey to get out of the contract early.
But, if you've got a few months to go, it might be worthwhile. In fact, if you're near the end of your contract, your broadband provider might be able to offer you a much better deal to stick around.
If you're trying to get a better deal mid-contract, your main escape routes are by explaining to the firm that you can't afford your current deal or pointing out if the broadband business isn't delivering on its promises.
If you have less money coming in than you have going out – or if there's little left over after you've paid all of your monthly financial commitments – you meet the definition of being in financial difficulties. Make a mini-budget showing this and contact the broadband firm.
They are obliged to look at your circumstances and offer you a plan tailored to your needs. This might involve transferring you to a cheaper deal, coming up with a payment plan to give you breathing space and helping you cut parts of your existing deal that you don't need.
If you are receiving benefits, there are 'social tariffs' that can go as low as £10 to £20 a month with no exit fee. It's still a little-known source of support: only 136,000 out of the 4.2 million who are eligible are signed up.
Failing that, you'll need to demonstrate that the business is in breach of contract. This could be that the business has changed the way it operates, withdrawn services or introduced significant changes.
Alternatively, if the service in your area is patchy, or you're not getting the broadband speed you were promised 50% of the time, you may be able to leave without charges too.
You'll need to gather some evidence though, so use those free speed trackers and make a list of the problems that you've encountered.
Read more
Look After My Bills Newsletter
Get the best money-saving tips, tricks and deals sent straight to your inbox every week. Make sense of your money in partnership with The Money Edit.
Martyn James is consumer rights campaigner, expert broadcaster and journalist with over two decades of experience. He originally worked in financial services but expanded his expertise over the years to cover everything from banks to builders.
As a broadcaster and presenter, he has been an expert/presenter on BBC One's Rip Off Britain for 12 seasons. He regularly appears on all the national television channels and is a guest and expert for Morning Live, Steph's Packed Lunch and The One Show, as well as commentating on breaking stories for the news channels and bulletins. As a journalist, he has written for all the national newspapers and his comments and guides regularly feature in the news.
Martyn is a great believer in honest journalism, so while he's an expert in all things consumer rights, he freely admits he's a rubbish cook and terrible organiser. He enjoys unapologetic pop music and dad dancing whenever he's not working.