Are broadband prices going up? Here's how to get the best price right now
With broadband prices going up, it's important to make sure you know your rights and how to get the best deal.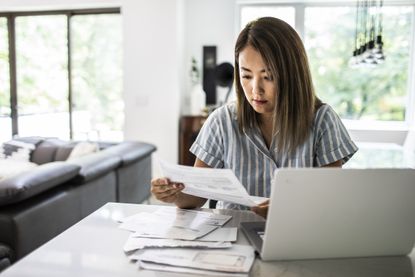 (Image credit: Getty images)
Millions of households have been hit with the news of broadband prices going up this spring. Coupled with the increased energy price cap and rising inflation, this puts even more pressure on already stretched household budgets.
The good news is there are steps you can take to minimise the effect of broadband price hikes, as we explain.
Why are broadband prices going up?
Broadband providers are pushing up their prices as a result of rising costs. UK inflation has hit its highest level in a decade, while demand for broadband services has surged over the past two years as a result of working from home, online schooling and increased television streaming.
All of this has increased running costs for broadband providers who are now passing on these higher costs to customers.
How much are broadband prices going up by?
BT (which includes customers of EE and Plusnet) has announced an increase of 9.3% from April, while TalkTalk is increasing prices by 9.1% and Vodafone by 9.3%.
Customers of Sky will also see broadband prices rise between 9% and 10% depending on their package, from April.
Meanwhile, as of 1 March, Virgin Media customers have seen prices rise by an average of £4.70 a month, or £56.40 a year.
Can a broadband provider increase my prices mid-contract?
Yes, broadband providers can increase prices mid-contract, but whether you can escape paying these higher prices depends on the circumstances.
Under Ofcom rules, customers must be permitted to exit their contract penalty-free if a provider "surprises" them with a price rise that's above the rate of inflation. In this case, customers can cancel their contract within 30 days of being notified of the price hike.
However, the price increases we're currently witnessing (with the exception of Virgin Media) are already baked into the terms and conditions of customer contracts which means the Ofcom rules don't apply.
"Most providers can and will increase their prices at least once a year," says Hannah Isitt, broadband expert at GoCompare. "This is usually in line with the Retail Price Index (RPI) or Consumer Prices Index (CPI) plus a percentage figure that they would have in their terms and conditions. As you agreed to these terms and conditions when you took out your broadband deal, it's not possible to avoid the increases."
Kevin Pratt, spokesperson at Forbes Advisor adds: "Some contracts specify when the costs will rise and give you a formula for how the increase will be worked out. Most use the January inflation level and then load another amount on top.
"That's grim news this year because January's [CPI] figure was a stinging 5.5%. Add in the near 4% most firms add, and you're looking at a hike within touching distance of 10% - another £50 a year or more for many households."
The good news for Virgin Media customers is that unlike other providers, it does not include a yearly price increase in its contract terms. This means you're free to leave your deal without paying an early exit fee, but you must have informed your provider within 30 days of first being notified of the price increase.
What can I do to get the best price for my broadband?
If you're outside the minimum contract term, you're free to shop around and find a cheaper deal to switch to without worrying about penalty charges. Minimum terms typically last between 12 and 24 months, and you'll usually need to give your provider up to 30 days' notice to switch.
If the end of your minimum contract term is still a long way off, you'll still be able to switch, but you are likely to pay an early exit fee. Weigh up whether the amount you'll save from switching is more than the fee to see if it's worthwhile.
In some cases, you may find that simply telling your provider you want to move on will work to your advantage. You could also try haggling, but do your research first.
"Sometimes your current provider will try to sweeten the deal if you tell them you want to leave - this could be a service upgrade or a re-negotiated contract at a lower price," says Kevin Pratt.
"Haggling could prove worthwhile, but you'll have a better chance of success if you've done a bit of shopping around and can show them how much you could save by moving. Then, if the haggling doesn't bear fruit, you'll have a fall-back option."
It can also help to make a note of any issues you've had with your provider during the time you've been with them, before you contact your provider, so that you can use this as leverage to get a better deal.
Research by consumer group Which? reveals that haggling could save broadband customers an average of £85 a year, rising to £128 for broadband and TV packages.
How to compare broadband deals
As part of your comparison, be sure to consider download speeds, download limits, and availability in your area, as well as the overall cost to be sure you're getting the best deal.
It's also important to consider the contract length and make a note of when the new minimum term ends so that you can be ready to switch to a more competitive deal again at that point.
If you're concerned about prices rising again, broadband provider Cuckoo promises no end-of-contract price hikes (though prices can still rise with inflation), while Hyperoptic promises never to increase prices during the commitment period.
Who are the cheapest broadband providers?
According to GoCompare's Hannah Isitt, the cheapest ADSL broadband deal on the market is with Shell Energy Broadband. "However, this 11Mbps package at £17.99 per month might not be fast enough for what most people need today," she says.
The cheapest Fibre broadband package is from Vodafone and costs just £18 per month for 38Mbps, while TalkTalk currently offers a 67MBps package for just £20 per month.
Remember that as well as the cost, you'll need to make sure the broadband deal suits your household's requirements before committing.
Look After My Bills Newsletter
Get the best money-saving tips, tricks and deals sent straight to your inbox every week. Make sense of your money in partnership with The Money Edit.
Rachel Wait is a freelance journalist. She has been writing about personal finance and consumer affairs for over a decade, covering everything from credit cards and mortgages to pensions and insurance. She has written for a range of websites and national newspapers, including Mail on Sunday, the Observer, Forbes and the Spectator.
Rachel is keen on helping consumers understand their finances.