Three energy firms pay £8m in switching compensation - has your provider paid out?
More than 100,000 customers have received compensation after changing providers, but is now a good time to switch energy suppliers?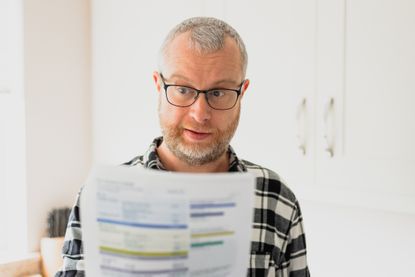 (Image credit: Getty images)
Three energy firms have paid out £8 million over compensation failures after lengthy delays in producing final bills to more than 100,000 customers.
Industry regulator Ofgem said the trio of suppliers - E.On Next, Good Energy and Octopus Energy - fell short of their obligation to settle compensation claims after they failed to provide a final bill to customers within six weeks, as required when you switch to another provider.
It comes as energy analysts suggest households could begin switching to cheaper providers from July as energy bills begin to fall later in the year.
Here's what you need to know about why energy providers are paying compensation and whether now is the time to switch suppliers.
What are the rules on energy provider switching compensation?
Under rules brought in three years ago, customers are entitled to a £30 payment if a final bill is not produced in six weeks, with a further £30 due if the compensation is not provided within another 10 working days.
Ofgem said the firms either missed or delayed compensation payments worth £6.3 million, with some of the affected households waiting over a year to receive their money.
E.On Next paid the bulk of the fine, forking out £5.5 million to almost 95,000 customers, while Octopus paid around £750,000 to 19,000 customers and almost 350 Good Energy customers received a combined total of £18,000.
The suppliers also paid an extra £1.7 million to customers through the energy industry voluntary redress scheme (EIVRS), which supports vulnerable consumers, of which E.On Next paid £1.3 million.
A spokesperson for E.On said the group had self-reported the issue to Ofgem last year and had since compensated customers and made changes in its billing processes.
Why is it important to receive a final energy bill?
Ofgem said not getting a final bill in a timely manner can lead to consumers being "incorrectly set up at the new supplier, being in debt at the old supplier and receiving a large, unexpected bill".
The regulator said more people are expected to switch providers over the coming months as energy markets start to recover and people start shopping around for the best gas and electricity deals.
"This action is a reminder to suppliers that they need to make switching as easy and convenient as possible for their customers, and where they cause undue delay, pay compensation swiftly," Ofgem said in a statement.
Emily Seymour, energy and sustainability editor at consumer group Which?, said: "It is deeply disappointing that not only have major suppliers been missing targets for issuing customers with their final bills, but they've also neglected to pay the resulting compensation due to customers.
"During the cost-of-living crisis, good customer service has never been more vital, and energy companies must up their game and make it as easy as possible for customers to switch to the right tariffs for them, when deals become available."
Is it worth switching energy providers?
A lack of competition amid the ongoing cost of living crisis meant that very few of us were able to get a cheaper energy deal by switching. But as wholesale energy prices begin to fall, suppliers will begin to have more leeway when it comes to setting more attractive prices.
Under the Energy Price Guarantee (EPG), prices are currently capped in line with an average yearly bill of £2,500.
But falling wholesale prices could mean we begin to see reasonably priced fixed deals come to market, making switching providers feasible once again. However, don't expect tariffs to be as cheap as they were prior to the energy crisis as wholesale prices still remain high.
Energy analyst Cornwall Insight has forecast average household bills to drop to around £2,024 for the second half of 2023 - £476 below the capped EPG rate.
For October and December, it expects the average annual energy bill to be around £2,076, still £424 lower than the rate under the EPG.
Already, some providers are trying to get their customers to sign up for a fix with a lower rate. Ovo Energy offered existing customers a new one-year fixed deal priced at £2,275 a year based on typical household use - £225 less than the EPG.
Keep an eye out for new offers over the coming months by signing up for our Look After My Bills newsletter to find out when it's worth switching energy providers and for details on the best deals.
Look After My Bills Newsletter
Get the best money-saving tips, tricks and deals sent straight to your inbox every week. Make sense of your money in partnership with The Money Edit.
Tom Higgins is a journalist covering all aspects of the financial world, from investing and sustainability to pensions and personal finance. He graduated from Goldsmiths, University of London in June 2020 and has since written online and in print for the Financial Times group, New Statesman media group, numerous trade magazines, and has worked with Bloomberg on social media projects. He has a deep interest in environmentalism, social change, and data-driven storytelling. He can be found tweeting at @tomhuwhig.