Pay monthly Tesco Mobile customers to see a 14.4% hike in phone bills - what are your options?
Tesco Mobile announces phone bill hikes for customers from April by 14.4%, but it's not all bad news - find out how to beat the hikes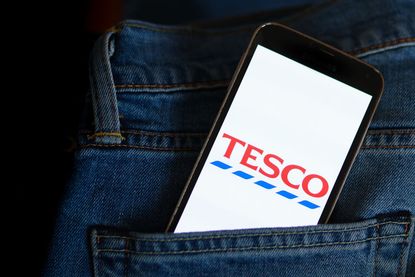 (Image credit: SOPA Images)
Pay monthly Tesco Mobile customers whose contracts expired before 1 February 2023 will see their mobile bills increase by 14.4% from April - but there is a way to leave penalty-free and avoid future mid-contract hikes.
Tesco Mobile joins BT, EE and Three in a 14.4% bill hike for broadband and mobile customers - check our full list of broadband price hikes to see how much you will be paying from April.
Fortunately, pay monthly Tesco Mobile customers affected can sign up to a new plan or cancel penalty-free to avoid the 14.4% rise. We have the details.
Will the Tesco Mobile hikes affect you?
If you are a pay-monthly Tesco Mobile customer, this price hike will affect you. Pay-as-you-go customers will not be affected.
But not all pay-monthly customers will see a rise in their phone bill, as it depends on when the contract was taken out. Here's a breakdown as well as how you can avoid the hike depending on your situation.
Contracts that expired before 1 February 2023
If your contract expired before 1 February 2023, you will see a 14.4% bill hike. But, you can avoid this by upgrading to any Tesco Mobile plan or Clubcard Price plan on or before 27 March. If you don't want to stick with Tesco Mobile, you can switch providers penalty-free.
For contracts that expired or are due to expire between 1 February 2023 and 31 January 2024
If your contract has expired or is due to expire between 1 February 2023 and 31 January 2024, you will see a price hike from April 2024. Note, the price hike could change as it will be based on the consumer prices index (CPI) rate of inflation published in January 2024, plus 3.9% on top.
You can avoid this hike by upgrading to a Clubcard Price plan or leaving penalty-free once you are out of your minimum contract term.
Joined Tesco Mobile before 27 March 2023?
If you are in contract and you joined Tesco Mobile before 27 March, you won't see your phone bill rise for the duration of the contract. But once the contract has ended, you will pay whatever the April annual price is at that time.
If you take out a pay-monthly contract with Tesco Mobile between 27 March and April
You will see a 14.4% hike mid-contract. But if you are on a Clubcard Price plan, you can avoid the hike.
How can I avoid a mid-contract price hike?
Up until the 14.4% bill hike announcement, Tesco Mobile had frozen prices of all pay-monthly phone contracts, so there were no mid-contract price hikes.
But this has now changed. From 27 March, you can only avoid a mid-contract hike if you are on a Clubcard Price plan.
To take out this type of contract, you will need a Tesco Clubcard. You can easily apply for one online for free on the Tesco Website (opens in new tab).
Tesco Clubcard is amongst some of the best supermarket loyalty schemes, so you can also benefit from cheaper prices in-store on your weekly shop and claim rewards with your points.
Tesco Mobile customers who are not on a Clubcard Price plan will be affected by April price rises in the future based on the CPI rate of inflation plus 3.9%.
Can I leave Tesco Mobile penalty-free?
The good news is that the 14.4% price hike is affecting those out of their minimum-term contract, which means you can leave penalty-free.
But, it is always a good idea to shop around first, as most phone providers are also hiking their prices from April, so it would only be beneficial to leave your current provider if you find a better deal elsewhere.
For example, millions of O2 and Virgin Mobile customers will see a phone bill hike of up to 17.3%, which is considerably more than what Tesco Mobile is rising its prices to.
If you're keen to stay with Tesco Mobile, use our tips on how to haggle for a better deal. You ask Tesco Mobile to price-match a better deal you found elsewhere or get a freebie or two thrown in, so you get more for your money.
Related articles
Vaishali graduated in journalism from Leeds University. She has gained experience writing local stories around Leeds and Leicester, which includes writing for a university publication and Leicester Mercury.
She has also done some marketing and copywriting for businesses.
When she is not writing about personal finance, Vaishali likes to travel and she's a foodie.