How to cut your mobile phone bill in seven easy steps
Knowing how to cut your mobile phone bill is essential as the rising cost of living puts increasing pressure on household finances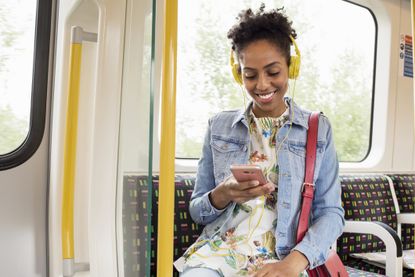 (Image credit: Getty images)
Look After My Bills Newsletter
Get the best money-saving tips, tricks and deals sent straight to your inbox every week. Make sense of your money in partnership with The Money Edit.
Thank you for signing up to The Money Edit. You will receive a verification email shortly.
There was a problem. Please refresh the page and try again.
With millions of households feeling financially squeezed thanks to rising costs, understanding how to cut your mobile phone bill is one way to help reduce monthly outgoings and make your income go further.
It's especially the case since many mobile and telecoms companies have been accused of greed for pushing through mid-contract price increases of up to 17.3%.
According to Ofcom, 8% of households with a mobile phone found it difficult to afford their service in January 2023. This equates to around 2.3 million homes.
"Mobile phone bills are something that many of us may be overpaying for either by being stuck in an expensive contract or by not keeping an eye on usage and spending. If you're currently struggling to keep on top of your outgoings and budget as prices rise, your mobile phone bill is definitely something to look at," says Holly Andrews, managing director at KIS Finance.
How to cut your mobile phone bill
It's easy to reduce the amount you're spending on your mobile phone bill by following the steps below:
1. Look for a new deal
Most mobile phone contracts run for 12, 18 or 24 months. If that time has passed, you're free to look for a better deal without facing early exit fees. Shop around using a comparison site such as our sister site GoCompare, Uswitch or MoneySuperMarket.
2. Consider SIM only
If you're happy with your existing mobile handset, a SIM only deal will be cheaper than a pay monthly contract. Many deals are on a one-month rolling contract which means you can chop and change whenever you want to. Alternatively, if you don't use your phone regularly, you could switch to a pay as you go (PAYG) deal instead.
3. Negotiate or move on
Before switching deals, try haggling with your existing provider. "They might be able to match, or even beat, better deals you've seen elsewhere," says a spokesperson for Ofcom. "By spending as little as five minutes on the phone to your provider you could save hundreds of pounds." If you have no luck, switching to a new provider is now easier than ever thanks to Ofcom's text-to-switch process.
4. Only pay for what you need
Consider exactly how much data, minutes and texts you really need to be sure you have the best deal. You should be able to check your actual usage via your online account so you know how much you need per month. "Some contracts come with unlimited data packages and these are usually the most expensive, so make sure you're not paying for this if you don't need it," says Andrews.
5. Consider the perks
Some mobile phone providers offer added perks so check whether these could save you money. With Sky Mobile, for example, unused data is rolled over into your Sky Piggyback which can be used to top up data later on or cashed in for rewards. O2 offers new and upgrading customers up to six months' free of Disney+, while Three offers exclusive deals at places like Cineworld and Uber Eats.
6. Use a spending cap
If you regularly go over your allowances and get charged extra, ask your provider to set a spending cap. "This means you can only use data or minutes up to a certain amount before it stops you from using any more," says Andrews.
7. Weigh up phone insurance
If you're paying for mobile phone insurance, consider whether you really need it. You might already have cover under your home contents insurance policy or a packaged bank account so make sure you're not paying twice.
What's the average mobile phone bill?
According to Ofcom, the average household monthly spend on mobile services is £38.22. But how much you pay will depend on the type of phone you have, the type of deal, how much data you require and so on.
Am I paying too much for my mobile phone bill?
If your monthly mobile phone bill is a stretch, chances are you're paying too much for it. With SIM only deals costing as little as £5 a month, it's easy to cut costs and make your bill more manageable if you're out of contract.
Ofcom rules mean that mobile phone providers must send customers alerts when their mobile contract is coming to an end and inform them of their options.
"These alerts must tell you the price you pay now, what that will change to and importantly, the best deal available to you," says an Ofcom spokesperson. "With these details, you have all the information you need to avoid paying more than you need to – whether you take up a new deal with your current provider, or think it's time to switch."
Look After My Bills Newsletter
Get the best money-saving tips, tricks and deals sent straight to your inbox every week. Make sense of your money in partnership with The Money Edit.
Rachel Wait is a freelance journalist. She has been writing about personal finance and consumer affairs for over a decade, covering everything from credit cards and mortgages to pensions and insurance. She has written for a range of websites and national newspapers, including Mail on Sunday, the Observer, Forbes and the Spectator.
Rachel is keen on helping consumers understand their finances.