Missed payments at alarmingly high levels - how you can get help
New data shows the number of people struggling with debt has remained high in February and March, with some missing or defaulting on a payment. We explain how to get your finances into better shape.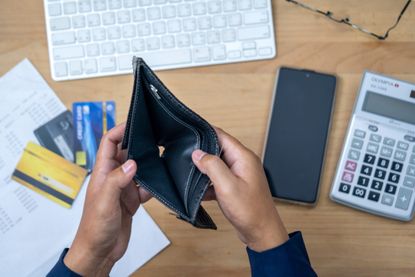 (Image credit: Getty images)
Look After My Bills Newsletter
Get the best money-saving tips, tricks and deals sent straight to your inbox every week. Make sense of your money in partnership with The Money Edit.
Thank you for signing up to The Money Edit. You will receive a verification email shortly.
There was a problem. Please refresh the page and try again.
The number of people struggling to get their finances on track and make all their payments on time remains concerningly high, according to Which?.
The consumer group said January tends to be a month when people are particularly grappling with their debts, as bills from Christmas pile up.
But this year the numbers struggling have remained high in February and March, according to the Which? consumer insight tracker: 8.8% of households missed or defaulted on a payment in March, as did 8.2% and 8.1% in January and February respectively.
The research was released ahead of "Awful April" that will see hikes to some household bills next month, including those for broadband and mobile phones, water and council tax.
Which? said its findings underline the need for the government and companies to support the most financially vulnerable.
Rocio Concha, Which? director of policy and advocacy, said: "Our research suggests millions of households are struggling to get their finances on track amid huge pressure on the cost of living. This should set off alarm bells, particularly as painful increases to many essential bills are due to take effect in a matter of days.
"Our findings underline the need for the government and companies in essential sectors – such as supermarkets, energy and telecoms providers – to do everything in their power to support consumers, particularly those struggling financially, through this incredibly difficult time."
How to get help with energy bills
The first point of call if you're struggling with energy bills is your energy provider. But as energy firms have found to be lacking by Ofcom in terms of their customer support, it may mean you unfortunately have to be persistent when asking for help.
You can request:
a review of your payments and debt repayments
payment breaks or reductions
more time to pay
access to hardship funds
"emergency credit" if you use a prepayment meter and can't top up
Also contact your local council to see if you qualify for financial support via their Household Support Fund or welfare assistance schemes. Around £65 million is yet to be claimed from the Household Support Fund, according to The Mirror.
It may be called welfare support funds, emergency support or welfare provision depending on your council. Birmingham council, for example, gives up to £90 for energy costs.
How to get help with broadband and mobile phone bills
If you are on a low income and struggling to keep up with rising broadband prices, then you may qualify for help via a broadband provider's social tariff.
Social tariffs are typically available to households receiving financial support, such as Universal Credit or Jobseeker's Allowance, who can't afford the typical cost of a broadband connection.
They can work out much cheaper than regular broadband tariffs. For example, the Vodafone Essentials Broadband deal costs only £12 a month for 12 months while TalkTalk offers free broadband for six months through a partnership with Jobcentre Plus.
You can apply for most tariffs online, or can call your provider and ask to switch.
If your provider doesn't offer a social tariff, you can usually switch to one that does - though there's usually an exit fee to pay.
Don't delay getting help: only 136,000 out of the 4.2 million who are eligible are signed up to a social tariff, according to Ofcom.
How to get help with credit card debt
Check which are the best credit cards when it comes to balance transfers. To avoid or cut a high interest rate on your current credit card, switch to another one that offers a 0% balance transfer.
For example, right now Sainsbury's Bank is offering up to 26 months 0% interest if you switch to its credit card, with a 3% transfer fee. When browsing for a switching option, first see if you can get the deal you want on GoCompare's free eligibility checker.
If you do switch to a 0% balance transfer credit card, we recommend calculating if you can pay off your full credit card debt within that timeframe. So if you had £2,000 to pay off on your credit card within 26 months, you could either pay around £77 a month, or budget and save to make sure you could pay off the £2,000 at the end of the 26 months.
How to get help with your mortgage
There is government help with your mortgage via the Support for Mortgage Interest scheme, but it is limited to those claiming certain benefits and only comes in the form of a repayable loan – rather than free cash.
Your mortgage lender should offer a range of options if you're struggling with your home loan. This can include:
a temporary mortgage payment holiday (potentially for up to a year)
switching from a repayment to interest-only mortgage to ease monthly bills
extending your mortgage term
While all these options will cut payments in the short term, they may mean you'll pay more on your mortgage in the long run.
How to get help with council tax bills
See if you can claim a council tax discount or exemption. You may be surprised to discover that you're eligible for one, such as if you live alone, have a disability or are a student.
You can also ask to pay in 12 monthly instalments instead of the automatic 10, which may make payments a little easier.
When is it worth considering a debt consolidation loan?
A debt consolidation loan involves taking out a single loan on a lower interest rate to repay your debts and means you don't have to make separate monthly repayments to lots of companies you owe money to.
It could be ideal if you're paying off several high-interest debts, such as credit cards, store cards and overdrafts.
Our sister site Go.Compare allows you to compare debt consolidation loans and check eligibility.
Other sources of help if in debt
If you've budgeted your money and you find you still don't have enough to pay off your debt then you may qualify for a Debt Relief Order. To qualify for one, you need to meet the government's criteria: your debt is less than £30,000, you have less than £75 a month spare income, and you have less than £2,000 worth of assets are just a few of them.
You can also get free advice from the Money Advice Trust, StepChange, National Debtline and Citizens Advice.
Additional report from PA
Look After My Bills Newsletter
Get the best money-saving tips, tricks and deals sent straight to your inbox every week. Make sense of your money in partnership with The Money Edit.
Katie is staff writer at The Money Edit. She was the former staff writer at The Times and The Sunday Times. Her experience includes writing about personal finance, culture, travel and interviews celebrities. Her investigative work on financial abuse resulted in a number of mortgage prisoners being set free - and a nomination for the Best Personal Finance Story of the Year in the Headlinemoney awards 2021.