Inflation impact: £10,000 in cash could shrink to 'just £8,500 in five years'
Keeping your money in cash may seem like a sensible idea - but you need to be aware of the inflation risks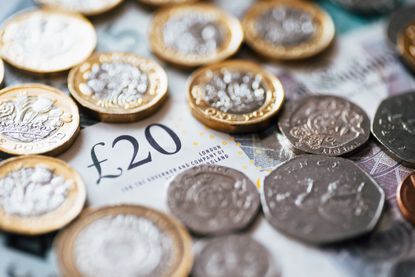 (Image credit: getty images)
A £10,000 savings pot could shrink to being worth just £8,500 in today's money within five years' time, according to research.
The insurer Aviva said three-quarters of ISA savers tend to keep their money in cash. But it calculated that a pot of £10,000 would lose a sixth of its buying power by 2027 if inflation moves in line with Office for Budget Responsibility (OBR) expectations.
Inflation is currently running at 6.2%, a 30-year high, though the Bank of England expects it to hit 8% in the coming months, and perhaps even higher, later this year.
Richard Kelsall, senior propositions manager at Aviva, said: "It is more than 30 years since we last saw inflation at its current level and so for many, today's rising prices are a distant memory and for some it is entirely new, uncharted territory."
Seven in 10 (71%) people said they were still managing to save at least some money each month, despite the surge in living costs eating into their budgets, Aviva found.
While many ISA savers favour cash, they can also invest their money via a stocks and shares ISA. Savers can put up to £20,000 into ISAs each tax year, which ends on 5 April.
"There is a natural nervousness about investing in the stock market right now, but there is equally a lot of confusion about what a stocks and shares ISA can and cannot offer you," said Kelsall.
Aviva's calculation of the potential damage inflation could do a £10,000 savings pot does not factor in any interest that people may earn on their cash savings, which would offset at least some of the decline in value.
Bank base rate is currently 0.75%, and it is likely to rise in the coming months, which will likely push the rates paid on savings accounts up.
However, it is still at a meagre level compared to 15 years ago when banks and building societies were offering saving rates in excess of 5%. It is also not a match for inflation: the rising cost of living is more than eight times higher than the bank base rate.
How to invest
Investing in the stock market can be a way to grow a bigger savings pot over time than keeping your money in cash. In fact, studies show that investing nearly always outperforms cash over long periods of time.
However, the value of stocks and shares can go down as well as up and you may end up with less money than you put in.
According to the Aviva research, one in six (15%) savers felt it was easier to pay into the cash ISA they already have, and just over one in 10 (11%) said they would worry they wouldn't be able to withdraw the money from a stocks and shares ISA if they needed it.
However, most stocks and shares ISAs allow customers to withdraw their money at any time, though if someone takes their money out when markets are on a downward turn they could end up making any losses permanent.
Aviva's study indicated the three most important features of a stocks and shares ISA for investors are a good return, the ability to draw money out at any time, and low fees and charges.
"Clearly the cost of living squeeze means that not everyone can afford to save anything right now, but those with a little extra to spare can often make their savings work much harder for them," said Kelsall.
"Overall, a portfolio of different types of assets is generally considered to be balanced and robust enough to provide good returns over the longer term. It's also vital to shop around for the best deal and take advantage of the tax allowances available."
Before investing, it's a good idea to pay off any debt first, and make sure you build an easy access cash fund that will cover any rainy-day emergencies, or a few months' living costs if you were to lose your job.
Bear in mind that stocks and shares ISAs are most suitable for people happy to lock up their money for at least five years, so there is time to ride out any potential volatility. It's also important to pay attention to fees: there will likely be an annual fee for the ISA wrapper, and charges for the funds you buy. If you want to buy shares, there is usually 0.5% stamp duty to pay for each transaction.
Additional reporting by Press Association
Look After My Bills Newsletter
Get the best money-saving tips, tricks and deals sent straight to your inbox every week. Make sense of your money in partnership with The Money Edit.
Ruth Emery is contributing editor at The Money Edit. Ruth is passionate about helping people feel more confident about their finances. She was previously editor of Times Money Mentor, and prior to that was deputy Money editor at The Sunday Times. A multi-award winning journalist, Ruth started her career on a pensions magazine at the FT Group, and has also worked at Money Observer and Money Advice Service. Outside of work, she is a mum to two young children, a magistrate and an NHS volunteer.