Pay council tax by direct debit to get your £150 rebate paid automatically
Households in England and Scotland should set up their council tax direct debit as soon as possible to get the £150 rebate paid directly into their bank account without delay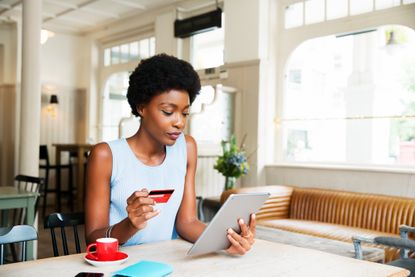 (Image credit: Getty)
How you pay council tax will make a difference on how quickly you are likely to receive your £150 council tax rebate, if you qualify for one. If you're not paying your council tax by direct debit, then now is the time to set one up to make sure you get the £150 rebate paid into your bank account automatically, with the first payouts being made in April.
If you don't pay by direct debit, you will have to wait until you are invited to make a claim which could delay your free cash payment for weeks.
We've spoken to a number of councils to find out how soon you need to set up a direct debit if you've not already done so to get a payment in April. Each of the councils we spoke to had a different answer, but the overarching principle is get it sorted and/or speak to your council as soon as possible to avoid payment delays.
Some households may have already missed the boat to set up a direct debit, but the sooner you act the sooner you could get paid.
If you live in council tax band A to D in England or Scotland, then you qualify for the rebate. In Wales, you also qualify in bands A to D and some in E to H also qualify. In Wales payments will usually be made by direct debit, however councils can decide how the £150 payment is made, which may be by cheque.
If you live in Scotland, paying by direct debit means you too will get the cash payment directly into your bank account in April. But in Scotland, those who don't use the direct debit system will instead get credit towards their next bill.
The council tax rebate forms part of a package from the government to help ease the pressure on the cost of living, such as a significant increase in energy prices for example.
Remember, the council tax rebate does not have to be repaid, unlike the £200 energy bill assistance, which must be repaid over five years from 2023.
Why you should set up a direct debit for council tax payments
If you set up a direct debit with your council, your council tax rebate will go directly into your bank account. It also means your regular payments will be made automatically, which is a good idea as it means you won't miss any.
If you already have a direct debit in place, you do not have to do anything to get your £150 rebate.
If you do not set one up, then there may be a delay in getting the payment. According to the Department for Levelling Up, Housing & Communities, if you don't pay by direct debit, then you will be contacted by your local council and invited to make a claim.
Setting one up now means you do not have to wait and your council will have your bank details at hand.
How to set up a direct debit
To set up a direct debit, contact your council and let them know you wish to set up a direct debit for your council tax. They will ask you to fill out a direct debit instruction form - either online or via the post.
A direct debit instruction includes details such as your name and bank details.
The council will then forward this instruction to your bank and then collect future payments automatically. It also means they have the means to pay the rebate to you automatically, directly into your bank account.
Digital Editor, MoneyWeek
Kalpana is the Digital Editor of sister site MoneyWeek.
She's an award-winning journalist and author of Invest Now: The Simple Guide to Boosting Your Finances and a children's book Get to Know Money - with extensive experience in financial journalism. Her work includes writing for a number of media outlets, including national papers and well-known women's lifestyle and luxury titles, where she was finance editor for Cosmopolitan, Good Housekeeping, Red and Prima.
She started her career at the Financial Times group, covering pensions and investments.
As a money expert, Kalpana is a regular guest on TV and radio; appearances include BBC One's Morning Live, ITV's Eat Well, Save Well, Sky News and Channel 5's 30 money saving tips series.
She was also the resident money expert for the BBC Money 101 podcast.
A well-known money and consumer journalist, Kalpana also often speaks at events.
She is passionate about helping people be better with their money, save more and be smarter spenders.
Follow her on Twitter and Instagram @KalpanaFitz.