Help with energy costs: what can you do if you can't pay your energy bill?
If you're struggling with rising bills, then there is some help with energy costs that you can tap into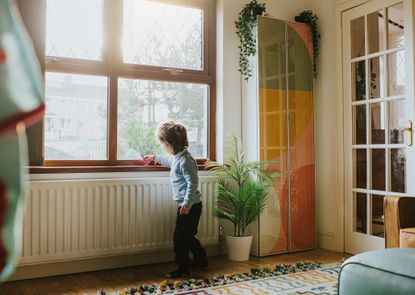 (Image credit: Getty Images)
Look After My Bills Newsletter
Get the best money-saving tips, tricks and deals sent straight to your inbox every week. Make sense of your money in partnership with The Money Edit.
Thank you for signing up to The Money Edit. You will receive a verification email shortly.
There was a problem. Please refresh the page and try again.
If you're one of the millions of households struggling energy bills, there is help available. But what can you do if you can't pay your energy bill?
Over the last couple of years, we have seen intervention from the government to help households with energy bills. This includes the energy bill and council tax rebate, £400 energy grant, plus the Energy Price Guarantee.
While these have helped keep a lid on energy costs, the cost of living has made it difficult for households to keep up with payments. And although there is some good news the energy price cap will drop from £3,280 to £2,074 from July, many will still be struggling with overall living costs.
We explain what you can do if you are struggling to pay your energy bills.
1. Speak to your energy supplier
If you do find yourself struggling to pay your energy bills, contact your energy provider and talk to them about a payment plan.
Ofgem rules mean suppliers must offer payment plans you can afford and you can ask for 'emergency credit' if you use a prepayment meter and can't top up. Most have also signed up to fresh commitments drawn up with Ofgem and the industry trade body Energy UK to support you this winter.
Suppliers must work with you to agree on a payment plan you can afford under Ofgem rules. This includes reviewing a plan you have agreed to before.
You can ask for:
2. Get help with energy costs from your local council
Contact your local council to see if you qualify for financial support via their Household Support Fund or welfare assistance schemes. If you are claiming Universal Credit and other benefits you could get extra support on top.
It may be called welfare support funds, emergency support or welfare provision depending on your council, but most have money set aside to distribute to those in need.
Birmingham council, for example, previously gave up to £90 for energy costs and up to £300 for furniture.
This is a cash grant that you do not have to pay back, but you can only receive it once within a 12-month period.
3. GET FINANCIAL HELP FROM YOUR ENERGY FIRM
Several energy suppliers offer hardship funds. In some cases they include grants that don't have to be repaid and debt being written off up to a certain amount.
In most cases you need to be an existing customer - with the exception of British Gas Energy Trust offers help to anyone - you don't have to be a customer. Firms such as Scottish Power Hardship Fund, E.on Energy Fund and EDF Energy Customer Support Fund offer grants to their customer.
4. GET ON THE PRIORITY SERVICES REGISTER
Being on the Priority Services Register means that energy suppliers have to offer affordable payment plans and can also offer emergency credit if you can't afford to top up a prepay meter.
Ofgem says you are eligible if you:
have reached your state pension age
are disabled or have a long-term medical condition
are recovering from an injury
have a hearing or sight condition
have a mental health condition
are pregnant or have young children
have extra communication needs (for example, if you don't speak or read English well).
You might still be able to register for other reasons if your situation isn't listed. For example, if you need short-term support after a stay in hospital.
You can apply by contacting your energy supplier. Give them your contact details and as much information as you can about your needs.
Your supplier can pass your details to your network operator to add you to their register too. Ofgem recommends doing this, especially if you rely on your energy supply for medical reasons. If you have a different supplier for your gas and electricity, you need to contact them both.
5. CHECK IF YOU QUALIFY FOR STATE BENEFITS TO HELP WITH ENERGY COSTS
If you meet the eligibility criteria, the Warm Home Discount scheme can provide a £140 discount on your winter energy bill.
The one-off grant is paid by your energy supplier if you are on low income, on certain benefits or on pension credit. Providers British Gas, EDF, Scottish Power and Bulb, E.on, E.on Next and So Energy are no longer accepting applicants as the grants are limited each year.
You will get the discount automatically if you are on pension credit and your supplier goes bust. If you are part of the broader group which is normally eligible for the discount and your supplier goes bust, you may be moved to a new supplier that doesn't offer the discount. Check with your provider if you can reapply.
Winter Fuel Payments are available if you receive the state pension or get another social security benefit.
Cold Weather Payments are for people who live in areas where the average temperature in their area is recorded as zero degrees celsius or below over seven consecutive days.
Cost of living payments have been put in place by government with some people eligible for up 10 £1,500 in one-off financial support. Make sure you've got your fair share.
In Scotland, an additional pot of £10m will also be made available to those struggling to pay their fuel bills via the Fuel Insecurity Fund. Details are yet to be announced.
If you work from home, don't forget the working from home tax relief worth up to £280 per person. It takes just a few minutes to claim via the government website - all you need is your government gateway ID.
6. KEEP PAYING WHAT YOU CAN AFFORD
Do not cancel your direct debit, or stop paying energy bills. It will not only leave your energy account in debt – a debt which will have to be paid, it can hurt your credit score - making life more expensive whenever you want to borrow money or take out a new phone, broadband or utility contract.
It can also lead to future utility providers not allowing you to pay your bills by Direct Debit and in the worst case scenario you can end up with a court summons from your energy provider.
Gary Rycroft, a solicitor, spells out some of the consequences: "If you are in breach of your contract ultimately they can cut you off. Your credit score will tank and you run the risk of getting a county court judgement (CCJ) which will make life difficult if you are trying to rent, remortgage or take out a credit card or personal loan - we are talking about being affected for months and years down the line."
WHAT CHARITIES COULD HELP ME WITH ENERGY COSTS?
Debt advice charity StepChange also offers free, impartial guidance. It is worth speaking to someone if you have no way of paying your bills, as they may be able to help come up with repayments plans and speak to your energy supplier for you.
READ MORE: The Wallace family have cut their energy consumption by 30% with targeted heating, dehumidifiers, logs and a new laundry technique. Plus 17 tips to cut energy costs.
Additional reporting by PA
Look After My Bills Newsletter
Get the best money-saving tips, tricks and deals sent straight to your inbox every week. Make sense of your money in partnership with The Money Edit.
Katie is staff writer at The Money Edit. She was the former staff writer at The Times and The Sunday Times. Her experience includes writing about personal finance, culture, travel and interviews celebrities. Her investigative work on financial abuse resulted in a number of mortgage prisoners being set free - and a nomination for the Best Personal Finance Story of the Year in the Headlinemoney awards 2021.