More than 200,000 parents missing out on healthy start payments
More than 215,000 women who are pregnant or parents who have a child under the age of four are missing healthy start payments - a monthly pre-paid card worth more than £200 per year to help with food costs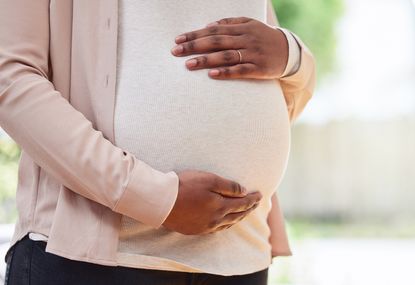 (Image credit: Getty images)
More than 215,000 pregnant women and parents entitled to healthy start payments worth more than £200 per year are not claiming it, NHS data reveals. Check now if you're eligible.
Those who are pregnant or have a child under the age of four can take advantage of a Healthy Start prepaid card which helps parents or parents to be with food, milk and vitamins.
According to NHS Business Services Authority (NHSBSA), 575,000 people who are eligible in England, Northern Ireland and Wales are eligible for the Healthy Start scheme but one in three (37%) of those aren't claiming.
Looking after your health during pregnancy or providing for a little can be tough with the rising cost of living squeezing household budgets.
Here we explain how to check if you're eligible for the Healthy Start payments and how you can apply.
Healthy start payments
What is the Healthy Start payment?
The Healthy Start scheme isn't payments into your bank account, instead you get a prepaid debit card which you can use when doing your food shop.
With the pre-paid card you can buy fruit and veg, cow's milk, pulses infant formula and you can get free vitamins.
Here's how the Healthy Start payments are paid:
If your child is under the age of one year you can get £8.50 per week (£34 per month)
If you're pregnant you can get £4.25 per week from the 10th week of pregnancy (£17 per month).
If you have a child aged between one and four years old, you can get £4.25 per child, per week (£17 per month).
Am I eligible for the Healthy Start payment?
The Healthy Start payments are for those on a low income who live in England, Northern Ireland or Wales.
You can apply for Healthy Start (opens in new tab) if you have a child under the age of four years or if you are more than 10 weeks pregnant. But you must be claiming one of the following benefits to be eligible for the payments:
Income-based jobseeker's allowance
Child tax credit (if your annual family income is £16,190 or less)
Universal credit (only if your household earns £408 or less per month in take-home pay from employment)
Income support
Pension credit (only for those who get child pension credit, so if you've been granted guardianship you would be eligible)
You're pregnant and under the age of 18 (you don't have to be claiming benefits)
If you or your partner receive a working tax credit (when you stop working 16 hours or more a week you receive this tax credit)
You're over 10 weeks pregnant and you claim income-related employment and support allowance (ESA)
How to apply for the Health Start scheme
You can apply on the NHS website (opens in new tab), via email at healthy.start@nhsbsa.nhs.uk (opens in new tab) or you can apply over the phone by calling 0300 330 7010.
You will need the following information at hand: Your name, address, date of birth, your National Insurance number, your baby's due date if pregnant and if you are over 18 years old you will need your benefit award letter.
Issues with the Health Start payments
Previously when the government ran the Healthy Start scheme, a lot of users has problems when applying for the scheme, as paper vouchers were replaced with an online, prepaid card system.
The NHSBSA says those affected will hear from them and is offering backdated payments to eligible users.
If you think or know you are owed a payment but have not heard from the NHSBSA, they have a helpline you can call: 0300 330 7010. Or you can email them at healthy.start@nhsbsa.nhs.uk (opens in new tab).
If you want to apply to the Healthy Start scheme, you can apply here (opens in new tab) and if you incur any issues, check their FAQ page (opens in new tab).
Related articles
Vaishali graduated in journalism from Leeds University. She has gained experience writing local stories around Leeds and Leicester, which includes writing for a university publication and Leicester Mercury.
She has also done some marketing and copywriting for businesses.
When she is not writing about personal finance, Vaishali likes to travel and she's a foodie.