Energy bills: Nearly half of adults struggled to pay before prices surged
Over five million households at risk of not being able to pay their energy bills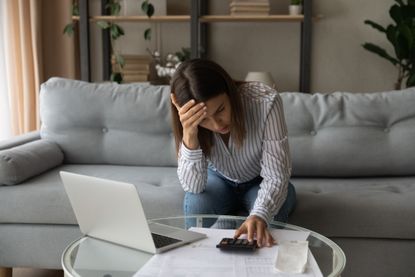 (Image credit: Getty images)
Look After My Bills Newsletter
Get the best money-saving tips, tricks and deals sent straight to your inbox every week. Make sense of your money in partnership with The Money Edit.
Thank you for signing up to The Money Edit. You will receive a verification email shortly.
There was a problem. Please refresh the page and try again.
Almost half of adults were struggling to pay their energy bills even before the biggest jump in prices in living memory came into effect this week, figures suggest.
Some 43% of adults in Britain who pay energy bills were finding the cost very or somewhat difficult to meet in March, according to the Office for National Statistics (ONS). And 6% of those gas or electricity customers were behind on these bills.
However, worse may be to come, amid fears that three million people could be pushed into debt over the coming months following a 54% increase on 1 April in the energy cap, the maximum that suppliers may charge households for energy. Resolution Foundation senior economist Jonathan Marshall said: "The energy price cap rise will see the number of households experiencing fuel stress double to five million."
The energy cap is due to rise again in October, Marshall pointed out, with analysts currently expecting a 32% rise.
"Another increase in energy bills this autumn hastens the need for more immediate support, as well as a clear, long-term strategy for improving home insulation, ramping up renewable and nuclear electricity generation, and reforming energy markets so that families' energy bills are less dependent on global gas prices."
Citizens Advice chief executive Dame Clare Moriarty warned the rise would be "potentially ruinous for millions of people across the country".
The charity said around five million people would be unable to pay their energy bills from April, even accounting for the support the Government has already announced.
It warned this number would almost triple to one in four people in the UK – more than 14 million – if the price cap rises again in October based on current predictions.
HOW TO SAVE MONEY ON ENERGY BILLS
Switching energy provider has been the traditional route to lower bills, but in today's marketplace, disrupted by problems such as war in Ukraine, this is unlikely to pay dividends for most people. But there are still steps you can take to get your costs down.
One of the most efficient ways to save money on energy bills is good for both your wallet and the environment. By finding ways to reduce your overall energy consumption across the home you can limit the impact of rising household bills. We explore how to keep your bills low in our article on 17 ways to cut your energy costs as gas and electricity bills go up. You can also visit the Energy Saving Trust for tips on how to reduce your energy usage.
Tax perks may also help, with the working from home tax relief which will give you something towards energy bills if you're working from home. And there is also certain help with energy costs available if you are unable to pay your bills.
Look After My Bills Newsletter
Get the best money-saving tips, tricks and deals sent straight to your inbox every week. Make sense of your money in partnership with The Money Edit.
Tom Higgins is a journalist covering all aspects of the financial world, from investing and sustainability to pensions and personal finance. He graduated from Goldsmiths, University of London in June 2020 and has since written online and in print for the Financial Times group, New Statesman media group, numerous trade magazines, and has worked with Bloomberg on social media projects. He has a deep interest in environmentalism, social change, and data-driven storytelling. He can be found tweeting at @tomhuwhig.