How to save money on fuel
The cost of filling the average family-sized car is just over £82. Here's how to save money on fuel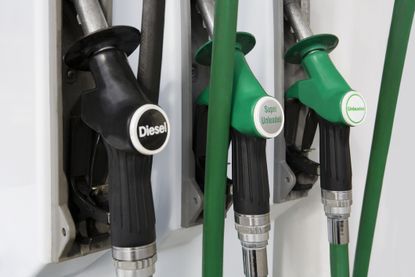 (Image credit: Getty images)
Fuel prices have dropped from record levels to less than £1.50 a litre. But it still isn't cheap, here's how to save money on fuel
Amid the ongoing cost of living crisis – motorists might see a small saving when filling up at the pump.
This is because the average cost of a litre of petrol has now dropped to below £1.50 a litre according to the AA.
Lower petrol prices mean the cost of filling the average family-sized car (55 litres) is now just over £82.
This is the cheapest pump prices have been since Russia invaded Ukraine – as the last time a litre of petrol cost under £1.50 was last February.
Prices then rose to record highs of 191.53p a litre in July and as of yesterday were at 149.74p.
Diesel prices now average 172.21p a litre, having shot up from 153.05p when Russia invaded Ukraine to a whopping 199.07p last July.
Luke Bosdet, AA fuel spokesperson said: "A 41.8p-a-litre crash in the average pump price of petrol is a huge relief for drivers, cutting £22.99 from the cost of filling the typical car tank (55 litres)."
"However, fuel at 150p a litre is still historically way above the April 2012 record of 142.48p, the previous yardstick of dire pump prices. Worse still, road fuel is set for a 6p jump in March when the fuel duty cut (with VAT) comes to an end".
Electric car drivers are paying more
Pump prices may be coming down but the cost of charging up your electric car using a public network while you're out and about has gone up by 50% over the last eight months according to the RAC (opens in new tab).
It says average prices are now hitting 70.32p per kWh for a rapid charge option. This is up from 44.55p in May and 63.29p in September and means the cost of charging the average size family car now stands at £36. This is based on a 64 kWh battery which should give you around 188 miles.
While charging on a 'pay as you go' basis can be convenient if you're out and about – it costs you twice the price of charging the same size vehicle at home according to the RAC. Despite rising energy prices – the average cost of charging your car at home is £17.87.
If you still need to fill up at the pump – there are plenty of ways to cut your fuel costs and get more mileage for your money.
Find the cheapest petrol and diesel
Forget wasting time along with precious fuel driving the streets to track down the cheapest petrol station, websites and apps can help you pay less for fuel.
Take a look at our sister site GoCompare and use the tool to help you find the best petrol or diesel prices in your area (opens in new tab). Simply enter your postcode and the fuel type you're buying to find the best price.
You can also try PetrolPrices.com (opens in new tab)) for the best price, which claims to save motorists over £225 a year on petrol and £158 on diesel - based on filling up with 40 litres of fuel a week. You can choose between a five and 20 mile radius, while pump prices are checked across 8,490 UK forecourts daily.
If you're a member of the AA (opens in new tab), you can download its app that highlights the cheapest petrol and diesel locally if you enter your location.
Avoid premium unleaded
Not all unleaded is the same, at least when it comes to the price. You'll pay significantly more to fill your motor up with premium or super unleaded, so by switching to normal unleaded you could make a real saving.
For example, according to the RAC data the average cost of a litre of super unleaded today is 165 pence, compared to 149.74 pence for traditional led. For a typical 55-litre car, that's the difference between paying £90.75 to fill up and just over £82. Over time, that saving will really add up as filling up once a week with super unleaded can boost your annual fuel bill by over £450.
Ultimately, most of the time you would notice a difference between normal unleaded and super unleaded if you happen to drive a high-performance car.
Save money by being more fuel efficient
Many of us have bulky items in the boot of our car, such as a pram, sports equipment or even bags of things to take to the charity shop. However, you can save on fuel costs by clearing out your car.
Ryan Fulthorpe, GoCompare's motoring expert, says: "Your car burns more fuel the more weight it carries, so remove the roof rack and empty the boot."
According to the Energy Saving Trust (opens in new tab), a roof box adds 39% to a car's fuel consumption when driving at 75mph, while a large roof rack can add about 16%.
And instead of making several short trips in one day, combining them in one mini road trip can save cash, according to the RAC's Simon Williams.
"Once the engine is warm, it will operate at its most efficient, whereas several cold starts will increase fuel consumption, even though the total mileage could be the same".
Also, use the automatic stop/start function - if your car has one - so it isn't left idling unnecessarily in traffic. This improves fuel efficiency and reduces carbon dioxide emissions. If you don't have an auto stop/start, just switch the engine off when the vehicle isn't moving.
Improve your driving to use less fuel
Many of us develop driving habits over the years that may not be very cost-effective.
RAC's Simon Williams says: "The best tip for fuel-efficient driving is getting rid of the heavy right-foot habit because that leads to filling up far more frequently and spending far more at the pumps than is necessary.
"There is no one driving speed that is optimum for fuel economy, but gentle acceleration and deceleration, and keeping a consistent speed within the speed limit makes for fuel-efficient and safe driving."
Cranking up the heating burns fuel
When your first job is scraping ice and snow from your car before you can even get started – it's tempting to crank up the heating to help it defrost - but as with air con, this boosts the amount of fuel you use.
We're not suggesting you sit in a freezing car for your daily commute – but turning down the heating once the car is warmed up saves fuel and money.
Driving in cold weather unavoidably piles extra pressure on your car as means the engine's got to put in more work – which in turn boosts fuel use.
Ideally parking your car in your garage at night if you've got one – or at least reversing into your drive or garage so you can drive straight off in the morning can help with fuel efficiency.
Try to avoid cranking up the heating to the max the minute you've turned the key in the engine as once again this puts more pressure on your engine.
And from an insurance perspective – never leave your car running with keys in the ignition while you nip back inside for a warming coffee as this can void your insurance if your car is pinched.
Cash in with loyalty cards and cashback
Fuel can be cheaper at supermarket forecourts – compared to petrol stations owned by oil companies. You can make extra savings by using a supermarket loyalty card.
With the Tesco Clubcard (opens in new tab) scheme, you can earn one point for every £2 spent on Tesco fuel. For every 150 points, you'll get £1.50 worth of Clubcard vouchers, which you can use to cut the cost when you next fill up (or on your grocery shopping).
And you can get a point for every £3 spent at Esso stations, provided they've got a Tesco Express shop.
With Nectar cards, you get one point on every litre of fuel at Sainsbury's filling stations.
Other petrol stations have loyalty schemes - Shell Go+, BPme Rewards and Texaco Star Rewards - so if there's one you use regularly, consider signing up.
You can also get cashback on fuel. The American Express Platinum Cashback Everyday (opens in new tab) card pays 5% cashback on spending, up to a maximum of £100, over the first three months, and then up to 1%.
If you have a Chase account (opens in new tab) you can earn 1% cash back on debit card spending.
Based on the average cost of filling a family sized car once a week you could earn nearly £50 a year this way.
Refuel when it's cool to cut costs
"It might sound odd but filling up first thing in the morning can save money," says GoCompare's Ryan Fulthorpe.
"Petrol and diesel are dense when it's cooler and less dense when the temperature increases, and as fuel pumps only measure the volume of fuel, not the density, it might well be worth timing your garage stop.
"Filling up in warmer weather could mean that the gallon you've put in your tank might not be a full gallon after all."
Maintain your motor
"Taking good care of your car will pay dividends when it comes to fuel consumption", says Fulthorpe. "Change the air filter regularly, ensure your fuel cap has a good seal, and check and change the oil, as well as get your fuel injectors cleaned."
Engine oil levels are important for your vehicle to run smoothly: check your oil with the dipstick when the engine is cool, and top up if needed.
Having a valid MOT is a legal requirement to keep your vehicle on the road, but getting a regular service isn't, and it might feel like an unnecessary expense if money is tight.
"Having your car serviced regularly can save you money in the long-run", says Luke Bosdet, the AA's fuel price spokesperson, "as minor wear and tear that need attention can be reported early."
Halfords (opens in new tab) is currently offering a free five-point car check – which includes checking the health of your car battery, headlights and brake lights along with the condition of your wipers and windscreen. It also offers a more detailed '10 point car health check' for £15 which also checks the condition of your tyres, oil, coolant and screen wash.
Check your tyres
Even if you don't rate your skills as a car mechanic, it's easy enough to check the air pressure of your tyres.
You can find the correct tyre pressure in the car manual or on the TyreSafe website. Your car may also alert you with a warning if it thinks the tyre pressure is incorrect.
If you don't have a pressure gauge or tyre pump at home, many fuel stations offer an air pump. You may need to pay a small amount, like £1, to check and inflate the tyres.
"Under-inflated tyres can result in higher fuel consumption and can affect your car's handling", says AA's Luke Bosdet. "Hitting a kerb after losing control can result in tyre damage at best as an average tyre will cost you around £80."
"When checking your tyres, make sure the tread is above the legal limit (1.6mm) all the way around the tyre. Using the outer rim of a 20p coin to measure between the tread is a handy tip."
You should also check the wheel alignment. This helps ensure the tyre spins evenly around the axle, reducing rolling resistance with the road and improving the vehicle's fuel efficiency. Kwik Fit (opens in new tab) offers a free wheel alignment check.
In some cases during Winter weather it may be worth considering switching to Winter tyres (opens in new tab) but, this is more about better braking and handling performance in ice and snow than fuel efficiency.
Sue Hayward is a personal finance and consumer journalist, broadcaster and author who regularly chats on TV and Radio on ways to get more power for your pound. Sue's written for a wide range of publications including the Guardian, i Paper, Good Housekeeping, Lovemoney and My Weekly. Cats, cheese and travel are Sue's passions away from her desk!