Wood-burning stove vs central heating ‒ which is cheaper?
With households trying to spend less on energy, we compare a wood-burning stove vs central heating.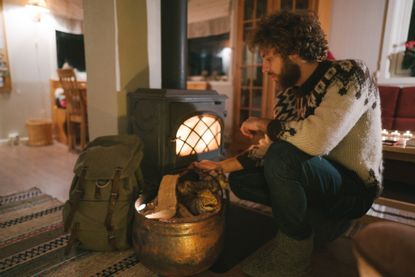 (Image credit: Getty images)
Wood burning stove or central heating? We ask which is cheaper because, despite the Energy Price Guarantee limiting costs, for now, energy bills are still costing households almost double what they were last winter - and will go up again in April 2023.
For households making an effort to use less energy, measures like only boiling enough water for a cup of tea or making a simple boiler change (it could save you £112 on your bills) are easy wins.
You might be hoping to save money using a wood burner this winter, with demand for log-burning stoves having increased significantly this year: sales rose by 40% between April to June to over 35,000, compared to 25,000 for the same period last year.
Specialist firms are reporting dramatic sales figures and in some cases even having to suspend orders. Cornish company Anevay stoves (opens in new tab) said it has seen a 10% to 20% growth in sales month on month since the beginning of this year. Bristol-based Period Fireplaces (opens in new tab) has seen a 60% increase in sales compared to last year while Backwoodsman (opens in new tab), a supplier in the Highlands, has reported a 165% increase in the same time period.
The Wallace family is one household mixing both wood burning and central heating, using targeted heating, dehumidifiers, logs and a laundry technique to cut their energy consumption by 30%.
We've looked into it and found out whether a wood-burning stove can cut your bills or if you should stick to central heating.
Wood-burning stove vs central heating – which is cheaper?
The pros and cons of a wood-burning stove
Pros
A wood-burning stove can offer you the closest experience you'll get to a traditional open fire and they can cut a home's heating bill by 10%, according to the Energy Saving Trust
There is also National Grid's recent warning that households could lose power (opens in new tab) for up to three hours at a time this winter if gas supplies run extremely low to take into consideration: a log-burning fire would be the ultimate backup plan in this case.
One writer recently explained to The Telegraph (opens in new tab) how she has happily lived with only a wood-burning stove for 10 years.
Cons
The initial expense of a wood burner and installation can range from £500 to more than £5,000 for fancier designs.
Many modern properties aren't designed to accommodate a wood-burning stove, even if you can afford to install one
Wood is not so cheap. TikTokker Mark Kidd, an eco-sufficiency expert, calculated a 7kg bag of wood priced at £7.50 at Tesco produces the equivalent of 25p per kilowatt hour (kWh) which is more expensive than gas (capped by the Energy Price Guarantee at 10.3p per kWh) though cheaper than electricity (currently capped price at 34p per kWh) You can see the video here (opens in new tab)
A wood-burning stove won't heat your entire home in the same way as central heating. While burning wood will heat up the main room you depend on residual heat to spread to other rooms.
There are safety risks that come with open fires: households need to ensure their chimneys are clean and have to take on the added expense of a chimney sweep if necessary (between £50 and £80 in most parts of the UK, around £90 in London)
Wood burning in homes produces more tiny particle pollution, called PM2.5 than all road traffic in the UK, something that is known to seriously damage health and cause early deaths. Even wood-burning stoves that meet new eco-design standards still emit 750 times more tiny particles than a modern HGV truck.
Another writer recently explained in the Evening Standard the challenging process of converting her cottage to wood (opens in new tab).
The pros and cons of central heating
Pros
The biggest advantage of central heating is the comfort it provides. It is the only form of heating that will heat your entire home evenly and let you make full use of every room in your home. That all-round warmth from central heating is just not possible from other forms of heating
Convenience. You can usually 'set and forget' an automated heating system or enjoy flexibility with app-based control systems
Flexibility to install new components and heat sources like underfloor pipes as and when required
Generally very safe: Gas boilers are tested and strictly legislated to make sure they conform to safety standards.
The verdict
Gas central heating is without a doubt cheaper than using a wood-burning stove - perhaps a surprise if you've assumed wood is very cheap. Gas central heating is also much safer - especially when you consider how shockingly weak the standards of eco-design stoves are.
Installing a wood-burning stove is also a huge initial expense, which many modern homes are simply unable to cater for. If a wood-burning stove is suitable for your home the initial upfront investment will take several years to pay off even if energy prices stay at record highs.
If you take your personal circumstances into consideration (the size of your home, your needs, whether you work from home or in an office, your access to woodland to get cheap or free wood) and have a preference for a cosy-looking wood-burning stove, the log burner may be the better option.
A professional heating engineer can connect a wood burner to your central heating system but it can be complex and will vary greatly from property to property.
What you're looking for then is something called a back boiler stove. These are similar to a wood-burning stove but can be connected to your heating system - if you have a water cylinder, but not if you have a combi-boiler.
To connect a wood burner to a hot water cylinder in your home, a heating engineer use can link your wood burner to a coil within the cylinder. This coil in turn then heats up the domestic hot water. It could cut your bills, but installation costs and the rising cost of fuel mean it will take a long time to pay off, if ever.
However, it's likely you'll get better returns by focusing your efforts on getting your home properly insulated, managing your boiler temperature carefully and focusing on more environmentally friendly energy efficiency measures.
Read how Money Edit reader Natalie Ward sold her car to buy an electric cargo bike and solar panels to cut her energy bills.
For those who are really struggling, remember that energy suppliers have hardship funds to apply to.
Related articles
Katie is staff writer at The Money Edit. She was the former staff writer at The Times and The Sunday Times. Her experience includes writing about personal finance, culture, travel and interviews celebrities. Her investigative work on financial abuse resulted in a number of mortgage prisoners being set free - and a nomination for the Best Personal Finance Story of the Year in the Headlinemoney awards 2021.