When is the Ofgem energy price cap announced? And what it could mean for bills
We reveal when the next Ofgem energy price cap will be announced, and what it means for your bills if it is lower than the Energy Price Guarantee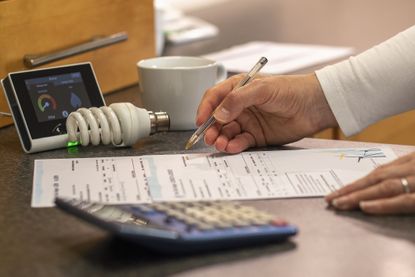 (Image credit: getty images)
The Ofgem energy price cap for April to June was announced on 27 February. But what does it mean for your bills?
The current Ofgem price cap is set every three months and is at an annual £4,279 January - March 2023, for a typical household paying by direct debit.
It has been announced it will drop to £3,280 in April - June, but bill-payers will still be protected by the government's Energy Price Guarantee (EPG).
The guarantee, introduced in October 2022, means the typical household's annual energy bill for gas and electricity is around £2,500. But, it isn't a total cap on what you could ultimately pay.
Crucially, neither the price cap nor the EPG set an absolute limit on how much your bills can cost. It only limits the unit cost of energy, setting a maximum price per kilowatt hour (kWH) energy firms can charge you for the gas and electricity you use, plus standing charges.
Essentially the government is subsiding the difference between the energy price cap and the EPG. But recent reports suggest the Chancellor, Jeremy Hunt will keep the EPG at £2,500 until July 2023.
The next quarterly energy price cap update will be on 26 May 2023, and covers July - September.
So, why does the Ofgem price cap matter? And what happens if it drops below the EPG rate?
Ofgem energy price cap
Ofgem price cap vs Energy Price Guarantee - what's the difference?
Before the Energy Price Guarantee was introduced, prices were set by the energy regulator Ofgem.
It sets the maximum price energy suppliers can charge consumers on variable tariffs for each kilowatt hour (kWh) of energy they use. It is set every three months and is influenced by the wholesale price energy suppliers have to pay.
It was always intended to be an emergency backstop to prevent energy firms from overcharging customers on variable tariffs. And fixed-tariffs were usually the best way to secure cheaper energy bills.
But the energy crisis turned the market on its head. In the face of the spiralling cost of wholesale gas, the Ofgem price cap became unaffordable, which is why the government replaced it with the Energy Price Guarantee.
In other words, the energy price cap was getting so out of hand it too had to be capped, with the government stepping in.
Right now, the EPG is protecting most households from even higher energy prices, but what happens if Ofgem's price cap drops below the EPG rate?
What if the Ofgem energy price cap drops below the EPG rate?
Cornwall Insight suggests the typical bill under the Ofgem price cap could drop to around £2,362 a year from July, lower than the EPG limit of £2,500. With typical energy bills then staying around that level for the rest of 2023.
Swipe to scroll horizontally
| Quarter | Jan- Mar 23 | Apr - Jun 23 | Jul - Sept 23 | Oct - Dec 23 |
| --- | --- | --- | --- | --- |
| Ofgem energy price cap: typical annual household bill | £4,279 | £3,280 | £2,362 | £2,389 |
| Energy Price Guarantee: typical annual household bill | £2,500 | £2,500 | N/A | N/A |
| Energy Bill discount (ends 31 March) | £67 per month | N/A | N/A | N/A |
Source: Cornwall Insights (opens in new tab)
So, does it mean your energy bills could drop? The good news is yes.
Ofgem has confirmed to The Money Edit that whichever is lower between its price cap, or the government's EPG is what will be applied to our bills.
What does new Ofgem energy price cap mean for your bills?
Until July, at least, the typical household's annual energy bill will be limited by the EPG to around £2,500. And, come July, if the Ofgem price cap falls below that level, your bills will too.
Even if something unforeseen happens and wholesale prices jump again, the EPG could kick in, and protect you from average energy bills higher than £2,500 as long as the government continues with the scheme.
Read more
Adam is the Editor at The Money Edit.
He has been working to save you money as a personal finance and consumer journalist, editor and commentator for several years. His work has appeared in the HuffPost, Which?, i paper and This is Money, plus various TV and radio as a personal finance, consumer rights and scams expert, which include BBC Rip Off Britain, LBC, 5 News, Steph's Packed lunch and Newsround to name a few. He was previously the senior consumer rights editor at Which?.
When Adam isn't working he's watching Norwich City yo-yo between leagues or walking his dog.