When are energy costs going up in 2022? Work out how an October price cap change could affect your bills with our calculator
Need to know when energy costs are going up? We've got the latest, as well as a handy calculator to show you how your bills could be affected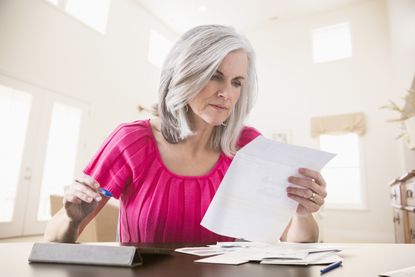 (Image credit: Getty images)
Look After My Bills Newsletter
Get the best money-saving tips, tricks and deals sent straight to your inbox every week. Make sense of your money in partnership with The Money Edit.
Thank you for signing up to The Money Edit. You will receive a verification email shortly.
There was a problem. Please refresh the page and try again.
Millions of homeowners are asking themselves when energy bills are going up after energy regulator, Ofgem, increased its price cap by 54%, adding £693 to your energy bills.
The higher price cap is now in effect, which means the average household will pay an eye-watering £1,971 a year for their energy. Prepayment customers will pay £708 more - up from £1,309 to £2,017. Ofgem has estimated that 22 million households will be affected by the cap increase.
But analysts are now also predicting a further rise in October.
To find out how your bills will be affected, simply input how much you currently pay, and our tool will estimate how your bills may change in October. Even if you don't know how much you pay, we can still give you an indication of how your bills could be affected.
We'll also explain why energy costs are going up and what you can do to combat rising prices.
When are energy bills going up? Use our calculator to find out
The cap increased by 54% on 1 April, but analysts at Cornwall Insight are also now predicting a 32% increase in October 2022.
Use our calculator to see what this means for your energy bills.
Why do we have the energy price cap?
The energy price cap was introduced in 2019 to help people on default tariffs who would normally pay more compared to those of fixed rate tariffs.
When the cap is reviewed every six months, Ofgem takes the price of wholesale gas into account. Unfortunately, the price of wholesale gas has increased significantly due to worldwide demand.
According to Ofgem, the cost of suppliers purchasing wholesale energy prices accounts for at least 40% of your energy bill.
The recent spate of energy firms going bust has also added to costs.
Should I switch to a fixed rate tariff to reduce energy costs?
Unfortunately, because of the energy crisis, there are no good deals, and you are unlikely to find anything that is cheaper than the cap.
So, if you are sitting on default or standard tariffs, then the advice is to stay put for now.
Switching to a fixed rate now means you could end up locking yourself into an expensive package if prices do drop.
The best way to keep costs low for now is to reduce your energy usage as much as possible to cut your energy costs.
Help with energy costs
If you are worried about the energy costs, see if you qualify for any of the available grants and benefits to help reduce your gas and electricity bills.
It is also important that you call your supplier as soon as possible if you are unable to keep up with payments to see if they can help with a repayment plan.
Look After My Bills Newsletter
Get the best money-saving tips, tricks and deals sent straight to your inbox every week. Make sense of your money in partnership with The Money Edit.
Katie is staff writer at The Money Edit. She was the former staff writer at The Times and The Sunday Times. Her experience includes writing about personal finance, culture, travel and interviews celebrities. Her investigative work on financial abuse resulted in a number of mortgage prisoners being set free - and a nomination for the Best Personal Finance Story of the Year in the Headlinemoney awards 2021.