Standard variable versus fixed rate - which energy tariff should you go for?
Standard variable tariff versus fixed rate tariff - we explain the differences to help you manage your energy bills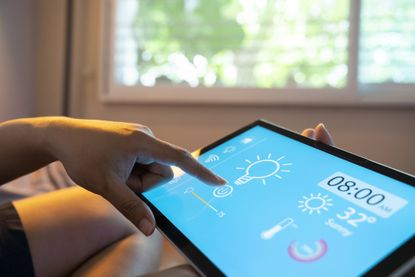 (Image credit: Getty images)
The current energy crisis means that gas and electricity bills are shooting up by around 54%.
The energy cap applies to anyone on a standard or default tariff. If you are on a fixed rate tariff, your prices will remain unchanged until the fixed period ends.
If you are unsure what the difference is between the standard variable tariff and a fixed rate tariff or what to do next, then here is everything you need to know.
What is a fixed rate tariff?
With a fixed rate tariff, what you pay per energy unit used is fixed for a set period - typically 12 to 18 months.
Your monthly bill depends on how much energy you actually use, but you are protected from gas price rises, which when they go up, won't affect how much you pay because you will have locked into a fixed price.
Wholesale energy prices have rocked in recent months, so anyone who is lucky to be on a fixed rate tariff still, will be enjoying lower prices for gas and electricity.
Once the fixed rate deal ends, you are automatically switched to a standard variable rate tariff. You may be thinking about switching to another fixed rate tariff, but for now, there are no good fixed rate tariffs due to the energy crisis and you will pay a significantly higher amount for your energy usage.
Fixed rate deals were typically used as a way to compete for new business, but the high energy costs mean providers can no longer provide enticing offers.
But, if your energy provider does offer you any kind of fixed rate deal then it may be worth considering if it is slightly above the cap - take a look at our article on whether you should switch to a fixed tariff if your provider offers you one.
This is because energy prices are expected to go up by another 47% in October, according to analyst Cornwall Insight (opens in new tab). See our article on the expected October increases to see how it will affect your bills.
What is a standard variable energy tariff?
The standard variable rate means what you pay per unit of energy will fluctuate monthly depending on the wholesale price of energy. If prices go up, you pay more and if they drop, you may pay less.
You are not locked into a standard variable rate as you are on a fixed rate deal where you pay a penalty if you leave out of contract.
Millions of people end up on a standard variable rate because they simply forgot to switch after their fixed rate deal ended or they simply prefer not being tied to one provider.
The main problem with standard variable rates is that they usually cost more, though in the current climate they are the same or cheaper than fixed rates. There is some protection with the energy price cap, which stops energy companies from charging you unreasonable amounts for your gas and electricity if you're on the standard tariff.
How do I find out what energy tariff I am on?
More than a fifth of UK adults aren't sure what energy tariff they are on, while over half have no idea when their fixed rate deal ends, according to Compare the Market.
The easiest way to find out is to call your provider or to check your bill online under the 'billing information' section.
Georgie is a multi award-winning financial broadcaster and journalist. She is a trusted voice on all matters personal finance and consumer affairs, hosting a number of money podcasts and appearing regularly on TV, radio and in print. Georgie speaks with both authority and personal experience. Before moving into money journalism, Georgie spent a decade traveling around the country as a BBC sports broadcaster, however a spinal injury changed that. Georgie's journey into and out of debt due to her injury sparked a deep interest in consumer rights, financial education and social mobility, which drives much of her work today.