Standard variable vs fixed rate – which energy tariff should you go for?
Standard variable vs fixed rate tariff – with wholesale gas prices falling, the latest forecasts reveal typical energy bills could fall well below the EPG level as soon as July.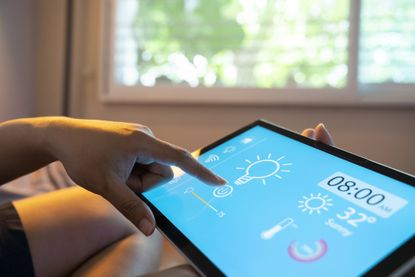 (Image credit: Getty images)
In the past fixed-rate energy deals were usually cheaper than the default standard variable tariff. That all changed with the energy crisis.
But with wholesale gas prices falling, the latest forecasts reveal typical energy bills in 2023 could fall as soon as July.
If forecasts continue to fall, will a fixed-rate tariff, which will lock in the unit price you pay for electricity and gas and remain unchanged until the fixed period ends, be worthwhile?
Here, we explain what you need to know if you're considering a fixed energy tariff.
What is a fixed rate tariff?
With a fixed rate tariff, what you pay per energy unit used is fixed for a set period - typically 12 to 18 months. Guaranteeing that the cost of your energy will not go up for a set amount of time.
Your monthly bill depends on how much energy you actually use, but you are protected from gas price rises, which when they go up, won't affect how much you pay because you will have locked into a fixed price.
Once the fixed rate deal ends, you are automatically switched to a standard variable rate tariff.
Fixed-rate deals were typically used as a way to compete for new business, but the high energy costs mean providers haven't been able to provide enticing offers.
What is a standard variable energy tariff?
The standard variable rate means what you pay per unit of energy will fluctuate monthly depending on the wholesale price of energy. If prices go up, you pay more and if they drop, you may pay less.
You are not locked into a standard variable rate like you are on with a fixed rate deal.
Millions of people end up on a standard variable rate because they simply forgot to switch after their fixed rate deal ended or they simply prefer not being tied to one provider.
Before the energy crisis, standard variable rates usually cost more than fixed-rate deals. But there was some protection provided by the energy price cap, which is updated every 3 months. It limits the unit price for gas and electricity that energy companies could charge.
But with bills spiralling out of control and the cap increasing to unaffordable levels the government introduced the Energy Price Guarantee (EPG) to freeze the unit price of energy until April 2023, before then rising to a higher level. It will cost the average household around £3,000 per year until April 2024.
It applies to anyone on a standard or default tariff, which is now the majority of us.
Importantly it doesn't replace Ofgem's price cap, which means standard variable tariff prices can fall below the EPG level.
Energy analysts Cornwall Insights forecast the average household standard variable energy bill could drop to £2,200 as soon as July 2023.
The verdict
It doesn't make much sense to switch to a fixed-rate deal, simply because it probably won't save you any money. You'll also find it difficult to find a fixed-rate deal because many suppliers have withdrawn them.
Locking in a fixed deal could be more appealing in July 2023, when Ofgem's price cap could fall to £2,200, according to Cornwall Insights forecasts. It's possible cheaper fixed deals will be available from energy suppliers.
For now, the best thing to do is sit tight. You can also check with your supplier because some have been offering fixed-rate deals for existing customers but these aren't always advertised.
Georgie is a multi award-winning financial broadcaster and journalist. She is a trusted voice on all matters personal finance and consumer affairs, hosting a number of money podcasts and appearing regularly on TV, radio and in print. Georgie speaks with both authority and personal experience. Before moving into money journalism, Georgie spent a decade traveling around the country as a BBC sports broadcaster, however a spinal injury changed that. Georgie's journey into and out of debt due to her injury sparked a deep interest in consumer rights, financial education and social mobility, which drives much of her work today.