This £30 purchase could cut £300 off your energy bill
With reports suggesting 'artic April' is on the way, could this £30 purchase help keep you warm and keep a lid on your energy bills by saving around £300 a year?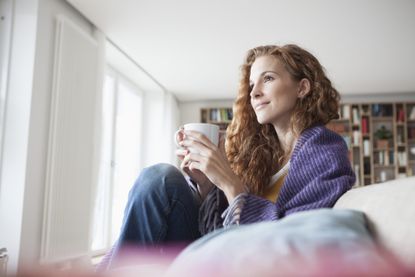 (Image credit: Getty images)
You can bag an electric blanket for as little as £30 and it can cut your energy bill by around £300 a year - and with cold weather still lingering, it could allow you to stay warm and avoid using central heating.
Although the government's energy price guarantee will keep bills at an average of £2,500, based on typical use, households are still looking at ways to cut energy costs, as gas prices are still high compared to a year ago.
Here's a full run down of how this £30 purchase can cut £300 off your energy bill.
How to use an electric blanket to save money
Heating your home is one of the bigger expenses on your energy bill, so cutting down on heating costs is a great way to save money.
The trick is, if you're cold when you get into bed, ditch the central heating and use an electric blanket.
You can bag an electric blanket for as little as £30 for a double bed like this one from Dunelm (opens in new tab), and according to their website, it costs around 2p per hour to run (70 watts).
The single electric blanket from Dunelm (opens in new tab) uses 40 watts and costs around 1p per hour to run and the king-size one uses 90 watts and costs roughly 3p per hour to use.
If you compare that to the cost of putting the heating on for an hour, you can make a huge saving.
Energy expert Rosie Macdonald from the Energy Helpline says turning on the central heating for an hour could cost you just over £3 based on an average 35kW household boiler.
So, if you were to ditch the heating for an hour and use a double electric blanket, you would save £2.89.
Over a week, that's a saving of £20.23 and around £80.92 per month.
Let's say you used the electric blanket every day for an hour over the four coldest winter months, you would save a whopping £323.86.
Even if you used the electric blanket and ditched the central heating for half an hour instead, you would still save:
£1.49 per hour
£10.43 per week (based on you using it everyday)
£41.72 per month
A spokesperson from the Energy Saving Trust said: "Using these products from time to time, to help take the chill off the coldest days, isn't a problem. Just remember to always follow the safety instructions that come with any product."
Note, the saving you make can vary for each household as it depends on what boiler you have (which would drive how much it costs to run your central heating), and it depends on how much power your electric blanket uses if you opt for a different brand.
Other ways to cut heating costs
There are other ways you can save pennies and even pounds on heating costs if you make small changes.
Use a hot water bottle. If you want to take it one step further, on the odd occasion ditch the electric blanket and use a hot water bottle as it's cheaper to run. Find out how much you could save by using a hot water bottle compared to an electric blanket, and what safety measures you need to take.
Use electric heaters for quick heat. If you want to warm up and need a quick blast of heat, it's cheaper to use an electric heater rather than switching the central heating on and heating up the whole house. https://www.themoneyedit.com/radiator-vs-electric-heater
and which type of electric heater you should opt for.
Only turn the heating on when you need it. It's a myth that leaving the heating on low all day is cheaper than only turning it on when you need it. The fact is, for every second your heating is on, you're paying for it.
Use energy at off-peak hours. Energy providers such as British Gas, Ovo Energy and Octopus are rewarding customers up to £100 on planned blackout days across the UK, encouraging people to use energy at off-peak hours. Find out what your energy provider is offering.
Quick and easy insulation hacks. Keep the heat in your home and try out cost-effective hacks, like putting cling film on windows, closing the curtains and putting draught excluders near doors.
Find out what you can do today to cut heating costs.
Read more
Vaishali graduated in journalism from Leeds University. She has gained experience writing local stories around Leeds and Leicester, which includes writing for a university publication and Leicester Mercury.
She has also done some marketing and copywriting for businesses.
When she is not writing about personal finance, Vaishali likes to travel and she's a foodie.