Get paid to use less energy: British Gas and Octopus Energy offer £100 to cut energy use
Get paid to use less energy with British Gas, Octopus and Ovo. Cash offer starts in November and runs until March 2023.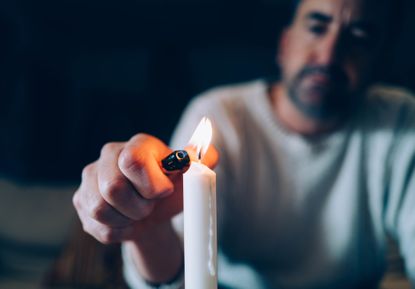 (Image credit: Getty images)
Look After My Bills Newsletter
Get the best money-saving tips, tricks and deals sent straight to your inbox every week. Make sense of your money in partnership with The Money Edit.
Thank you for signing up to The Money Edit. You will receive a verification email shortly.
There was a problem. Please refresh the page and try again.
Soon you can get paid to use less energy. Along with the £400 energy grant and the Energy Price Guarantee (EPG) which has frozen energy prices until April 2023 – 18 months earlier than originally announced - households could soon be able to shave more off their gas and electricity bill with a new scheme.
In a bid to encourage us reduce our peak time energy use and reduce the risk of power cuts this Winter by taking the strain off the National Grid – the National Grid Electricity System Operator (ESO) will be launching an incentive for smart meter customers to earn £3 per kilowatt hour (kWh) by using appliances including washing machines and dishwashers at night.
British Gas is the latest energy provider to join Octopus Energy and Ovo in announcing schemes to reduce peak-time energy use that could earn its customers around £100 over the winter - and it's hoped other energy suppliers will follow.
Ovo Energy has confirmed the move on Twitter:
Today we're launching Power Move, a new trial helping customers cut their energy usage during peak times to save money. We'll reward trial customers up to £100 in total for moving non-essential energy use to times when the grid is greener. Learn more 👉 https://t.co/eO2t8tJuw0 pic.twitter.com/0w7XbTcIcvOctober 6, 2022
See more
Octopus Energy are trying to win customers over to sign up to the scheme by sharing the results of a similar trial it ran previously:
This is all to help make the most of 🌞 🌬🌊 and avoid fossil fuels. At busy times, the UK burns more to keep up with demand. Instead of paying for that, let's pay people for using energy flexibly 💚 Read about our last trial, the Big Dirty Turn Down:https://t.co/zmVb2cD8y9October 8, 2022
See more
Cheaper electricity at night is nothing new, but this cash incentive scheme, set to start in November and run until March 2023, aims to persuade people to wait until later in the day to run their washing machine, tumble dryer, or dishwasher, and avoid charging their electric car if demand is already high.
The scheme, pioneered by the National Grid Electricity System Operator's new flexibility service, was first trialled by Octopus Energy earlier this year. Households with smart meters were asked to use more energy during times of the day when there was lower demand.
The National Grid Electricity System Operator (ESO) is now set to announce full details of a nationwide scheme for both households on smart meters along with small to medium sized business to earn money for cutting daytime usage. This will start from 1 November and could be worth up to £3 per kWh.
The ESO is responsible for managing our electricity supply across Great Britain whereas National Grid manage the infrastructure like the pylons and wires.
If you're thinking you haven't heard much about this scheme yet – this is because - according to the ESO - the process has included a consultation period followed by getting approval from the energy regulator Ofgem before it can be officially launched.
However the ESO say that over the next two weeks it will be launching a marketing campaign to make both households and businesses aware of the overnight discount and expects suppliers who sign up to the scheme to put details on their websites as well as contacting their customers.
It can be adopted by all energy suppliers and the ESO say it expects 'most' suppliers to be on board but won't name individual companies.
When it comes to the nuts and bolts of how you'll bank the savings for using your appliances overnight – the ESO say this will be down to individual suppliers – which could come as a credit on bills.
Now, Octopus has unveiled its own scheme, known as 'Saving Sessions', which will allow its 1.4 million smart meter customers and around 5,000 of its business customers to get paid to reduce their usage during times of peak demand.
For every unit of energy that customers save compared to their normal usage during a specific timeframe, the company calculates it will pay customers £4 on average, potentially saving them around £100 over the course of the winter, running until March 2023.
How can I get paid to cut my energy use?
British Gas is the latest energy provider to offer its customers money for shifting energy use to off peak hours. British Gas told Money Saving Expert that they aim to start trialling the scheme later this year, but no date has been confirmed.
Other details such as off-peak times and how much money customers will get in return still have not been verified, but it is likely that customers are asked to reduce energy consumption between 4pm and 7pm.
The National Grid ESO have said it will pay suppliers at least £3 per kWh, so it is down to the energy suppliers how much to pass on to customers taking part in the scheme.
Octopus Energy told The Money Edit eligible customers will soon receive an email with information about Saving Sessions and a link to express interest. If you sign up you will get a text to say that if you use less electricity between certain hours later that day you will be paid.
It is only during these hours that you will be paid for reducing your usage compared with a normal day.
The National Grid Electricity Systems Operator said the system will be trialled at least 12 times over the winter, but there could be more if needed.
Under the current price cap Octopus will sell you a kWh for around 34p – but for every kWh you cut from your usage it will pay you £4 – more than 10 times the price to buy it.
A scheme launched by Ovo Energy works slightly differently, but it also estimates that customers will be paid around £100 over the winter if they take part.
It is looking for volunteers to cut their average consumption during peak hours – claiming one fifth of our energy use takes places between the hours of 4 – 7pm. For the average household, it could be the equivalent of moving three loads of washing per week from peak time to a greener time of day.
Ovo will pay you £20 for each month your energy use is below a certain level at peak times. The trial will run from November 2022 - March 2023. Get in touch with Ovo if you're a customer to sign up
Other energy suppliers are yet to confirm how they will run their versions.
Why would my supplier pay me not to use electricity?
It seems counterintuitive – not only will the supplier pay you for using less of their product – they will also pay you more than you would pay them.
But it is a way of protecting the grid from potential problems during peak hours.
One of the challenges electricity grids around the world face is that many of us want to use energy at a similar time.
Millions of people around Britain finish work at around 5pm or 6pm. They then all get home at similar times, and turn on the heating, put on the oven to cook their meal, switch on the TV or radio, boot up laptops, plug in phones to charge, and put on dishwashers or washing machines – all within an hour or two of each other.
Meaning electricity use spikes during these hours.
Most of the time there is enough electricity being generated to deal with these spikes, but it is at times when the grid worries it might not be able to keep up with that high demand that suppliers will text their customers asking them to reduce energy usage for a short period.
This could mean waiting until later in the evening to turn on the washing machine, or plugging in your electric car at 10pm.
But it does not mean you cannot do these things.
It is a little like off-peak trains. You can save money when travelling when it is not rush hour, but there is nothing stopping you travelling during the peak.
Can I be punished for not taking part?
No, the electricity that you use during those hours will still cost the same as at any other time – 34p per kWh – and there will be no punishment for using the same amount of power, or even more than your usual levels.
Signing up does not give your supplier the right to disconnect you.
Do I have to use no energy during the peak hours?
No, you do not need to sit in a dark, cold house to get paid. You just need to use less electricity than normal.
Look After My Bills Newsletter
Get the best money-saving tips, tricks and deals sent straight to your inbox every week. Make sense of your money in partnership with The Money Edit.
Katie is staff writer at The Money Edit. She was the former staff writer at The Times and The Sunday Times. Her experience includes writing about personal finance, culture, travel and interviews celebrities. Her investigative work on financial abuse resulted in a number of mortgage prisoners being set free - and a nomination for the Best Personal Finance Story of the Year in the Headlinemoney awards 2021.