National Grid activates plan to pay households to use less electricity between 5pm and 6pm - we explain eligibility
Millions of households will be paid up to £20 to turn off their appliances this evening amid electricity supply being tighter than normal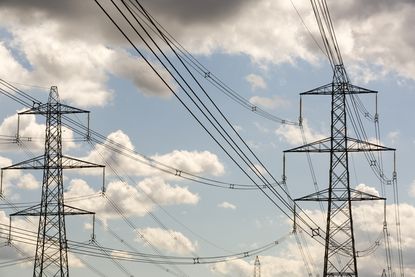 (Image credit: Getty images)
Millions of households will be paid up to £20 to use less electricity on Monday and Tuesday evenings as National Grid activates its emergency scheme to avoid blackouts.
Households will need to cut their energy usage between 5pm and 6pm with actions such as switching off radiators, ovens, washing machines, tumble dryers, dishwashers, televisions and games consoles.
This evening will be the first time that the National Grid has run the "demand flexibility service" (DFS) officially to reduce pressure on the grid.
The service aims to lower the UK's energy usage at peak times and to help lower the risk of blackouts this winter. Twenty-six energy suppliers have signed up for the scheme including British Gas, EDF and Octopus Energy.
Our forecasts show electricity supply margins are expected to be tighter than normal on Monday evening. We have instructed coal-fired power units to be available to increase electricity supplies should it be needed tomorrow evening.January 22, 2023
See more
While most households will receive only a couple of pounds for switching off, those making the biggest reductions could be paid as much as £20.
Gareth Kloet, energy spokesperson at Go.Compare, said: Whilst we understand the logic behind DFS, we would encourage all households to think carefully about energy use.
"Do a 'standby check' before leaving the house or going to bed, check windows are shut and doors locked, and look at whether devices are turned off or merely on standby. Making sure TVs, radios and the WiFi are turned off overnight can help relieve strain on energy supplies – as well as curbing energy use in the home and saving a little money."
Who's eligible for the demand flexibility service and how much could I get?
You need to be with an energy supplier that's signed up for the demand flexibility service (DFS). These include:
British Gas - Domestic
EDF - Domestic and Non-domestic
E.ON Next - Domestic
Octopus Energy - Domestic and Non-domestic
OVO Energy - Domestic
Shell Energy Retail (Via SMS) - Domestic
CarbonLaces - Domestic and Non-domestic
Conrad Energy - Non-domestic
CUB (UK) Ltd - Non-domestic
Drax - Non-domestic
ENGIE Power Limited - Non-domestic
Equiwatt - Domestic and Non-domestic
ev.energy - Domestic
Flexitricity - Non-domestic
Grid Beyond - Non-domestic
Gridimp - Non-domestic
Hugo Energy App (via SMS) - Domestic
Labrador (via Perse Technology Ltd) - Domestic and Non-domestic
Loop.homes (via SMS) - Domestic
myenergi (via Orange Power) - Domestic
Oaktree Power - Non-domestic
Pearlstone Energy - Non-domestic
Power Rewards App (via Orange Power) - Domestic
SMS - Domestic and Non-domestic
VpowerU - Domestic and Non-domestic
Zenobe Energy Limited - Non-domestic
You need to also have a smart meter that automatically sends half-hourly readings. (This will exclude you if you live in a high-rise flat, an old property with thick walls, or a rural home with poor signal and unable to get a smart meter installed.)
Your energy supplier will either invite you to sign up or allow you to apply to the DFS via their websites.
You'll get an alert the day before each DFS event, informing you what time period you will need to reduce your energy in, for example between 5 pm and 6 pm today. You then must confirm you are taking part by text or email.
While customers could be paid up to £6 per kilowatt hour (kWh) of energy saved, the total saving varies from supplier to supplier - and your personal usage.
For example, Octopus Energy has told participating customers that it will pay them £3.37 for every kilowatt-hour of power they avoid using between 5pm and 6pm.
Meanwhile, there is no penalty for not taking part in DFS.
Look After My Bills Newsletter
Get the best money-saving tips, tricks and deals sent straight to your inbox every week. Make sense of your money in partnership with The Money Edit.
Katie is staff writer at The Money Edit. She was the former staff writer at The Times and The Sunday Times. Her experience includes writing about personal finance, culture, travel and interviews celebrities. Her investigative work on financial abuse resulted in a number of mortgage prisoners being set free - and a nomination for the Best Personal Finance Story of the Year in the Headlinemoney awards 2021.