"We're using dehumidifiers to keep energy bills low"
One reader tells us how he is keeping his energy bills low ahead of the price rise in April with some simple moves to cut costs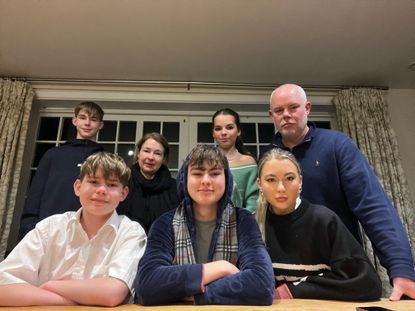 (Image credit: Dave Wallace)
Dave Wallace knew that his family of seven would have to think big about their energy use. "Our bills have gone up 35% from around £600 a month to just over £800 because we use electric radiators," said the 52-year-old. "I am worried about the price cap rise in April - even though we use electric radiators, the energy market (opens in new tab) is all connected."
The energy price cap is a measure that is put in place by the energy regulator, Ofgem (opens in new tab), to protect customers from significant price increases when using default tariffs. The cap will be reviewed in February and applied from April 2022, and will see millions of households pay more for gas and electricity.
With this in mind, the Wallace family made four significant changes in their home in Henley, Oxfordshire to keep energy bills low.
First up is targeted heating. "We heat just one room - the kitchen - where we spend most of our time and like hanging out as a family. The benefit of smart radiators is you can set them to work wherever."
Next, Dave tweaked how the family does its washing and tumble drying clothes. "You can imagine the amount is significant for a family of seven. Now we wash clothes for 20 minutes at 30 degrees and air dry afterwards so we have completely cut out our tumble dryer."
The family has also started to use dehumidifiers rather than heaters for other rooms in the house. "This seems to work! We don't actually have a damp problem but it warms the room," explains Dave. "It is less expensive than a heater and when it takes moisture out of the air, the dry air seems to ease the cold."
As the price of logs is cheap, the family has also moved back to occasional use of a log burning stove for heat and clothes drying.
Dave, who also wears three pairs of socks when he works from home as director of a digital agency, believes the family's overall consumption is down. "I reckon we have cut it by 30%. We can't see the financial effect yet and with energy costs rising the aim is to mitigate the effect and at least not see our bill go up again. It is frightening to read about energy fiirms going bust and how many people could be pushed into poverty by this."
Katie is staff writer at The Money Edit. She was the former staff writer at The Times and The Sunday Times. Her experience includes writing about personal finance, culture, travel and interviews celebrities. Her investigative work on financial abuse resulted in a number of mortgage prisoners being set free - and a nomination for the Best Personal Finance Story of the Year in the Headlinemoney awards 2021.