Is an energy credit refund a good idea? Energy firms holding £4.5bn in customer credit
Is asking for an energy credit refund right for you? We explain why energy firms are holding £4.5bn in customer credit with some households £200 in credit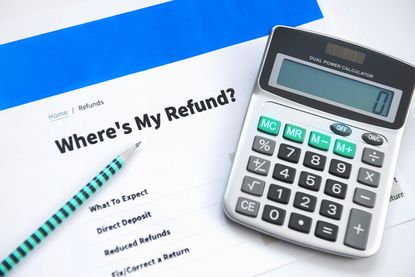 (Image credit: Getty images)
Should you get an energy credit refund? Energy firms are holding onto £4.5bn of customer credit, over three times more than last April,
Almost two-thirds (64%) of us are in credit on our energy bill, with 30% in credit by over £200, according to research by Nationwide. Close to two-thirds (65%) have not taken a refund, instead retaining funds with their energy supplier as a financial buffer.
The £4.5bn of customer credit has built up after a mild start to the winter and households' concerted efforts to cut back on heating.
Households which pay their energy bill by direct debit pay the same amount each month based on estimated use. This means they typically overpay during the summer when their energy consumption is lower and build up a credit balance that they can draw on during the winter when they use more energy.
There's a concern about how some energy companies will use this customer credit after plans to automatically refund credit balances annually and limit the size of customers' balances from the energy regulator Ofgem were scrapped in November.
Ofgem boss Jonathan Brearley described the surplus money akin to being used 'like an interest-free credit card'.
You should weigh up whether asking for an energy credit refund is right for you. We explain what to consider.
Energy credit refunds
Is it a good idea to get an energy credit refund?
Close to two-thirds (65%) have not taken a refund, instead retaining funds with their energy supplier as a financial buffer, according to research by Nationwide.
Experts say having a financial buffer to cover a couple of months' energy bills is wise. As the average household's bills have risen to £2,500 a year under the Energy Price Guarantee it means an average cost of just over £200 a month, this could mean leaving around £400 in your account is a sensible approach to take.
If you find you have customer credit significantly more than this it could be worth asking for a refund.
Energy firms aren't transparent about how they are using customer credit. If that doesn't sit right with you, you can ask for a refund.
You might have to be persistent. Suppliers have recently been found to have unfairly raised some customers' direct debits astronomically high. The Money Edit's Guy Anker had to be pushy when his energy company almost tripled his monthly payment.
But remember that the Energy Price Guarantee — which currently caps the average domestic bill at £2,500 a year — will become less generous in April and rise to £3,000.
How to get an energy credit refund
If you are owed money because you've used less energy than you've paid for you will get an energy credit refund in one of two ways:
An automatic energy credit refund at the end of the year
Or the energy supplier will lower your monthly payments
You can request a refund. Regulator Ofgem says you can ask for a refund at any time and that your request should be processed 'promptly'.
To do this you have to:
Submit an up-to-date meter reading
Look at your bills to get an idea of how much you are using
Your energy supplier can refuse you a refund but must provide a good reason, for example, if you have only a small amount of credit.
If you are not happy in this case you can complain to your energy supplier. You must give the company eight weeks to respond. Make sure that all communication is saved so you have concrete evidence to take your complaint further if necessary.
If you are still not happy you can complain to the Energy Ombudsman.
Read more on energy bills
Look After My Bills Newsletter
Get the best money-saving tips, tricks and deals sent straight to your inbox every week. Make sense of your money in partnership with The Money Edit.
Katie is staff writer at The Money Edit. She was the former staff writer at The Times and The Sunday Times. Her experience includes writing about personal finance, culture, travel and interviews celebrities. Her investigative work on financial abuse resulted in a number of mortgage prisoners being set free - and a nomination for the Best Personal Finance Story of the Year in the Headlinemoney awards 2021.