Is it cheaper to leave the heating on low all day or turn it on only when I need it?
As high energy costs and winter loom over households, they are asking is it cheaper to leave the heating on low all day or turn it on only when I need it?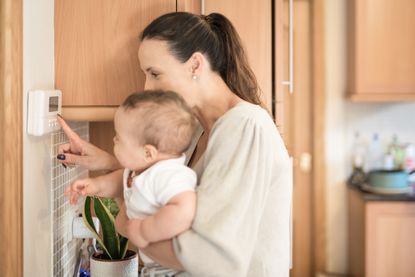 (Image credit: Getty)
As temperatures plummet this week, we're all facing higher heating costs as we try to stay warm. But with energy bills rising, you may be wondering if it is cheaper to leave the heating on low all day or only turn it on only when you need it?
The energy price guarantee set by the government means the average typical household bill could be around £2,500 a year. But since the cap is on the unit price of gas and electricity and not your total bill, we're all looking to keep a lid on rising costs - because the more you use, the more you will pay.
We look at how can you keep energy costs low when turning the heating on?
SHOULD I LEAVE MY HEATING ON LOW ALL DAY?
According to experts, leaving your heating on low all day isn't as cost-effective as you may believe. "The cost of leaving your heating on all day will soon add up," says Ben Gallizzi, energy expert at Uswitch (opens in new tab).
As you can imagine, whenever you put the heating on whether that's on high or low, it uses energy regardless. So if you leave your heating on low all day, you will be using energy all day, adding to your energy bills.
Another factor to consider is the fact that your home always loses heat to the outdoors through the windows, walls and doors. This means when the heating is on, it is constantly trying to maintain the temperature you want.
Generally, it's recommended not to keep your heating on low all day and to only switch it on when needed, but if your home is well insulated you can test it out.
Well insulated homes lose less heat, so if you leave the heating on low all day you might not use as much energy to maintain a comfortable temperature.
To test it out, Gallizzi says you can try the following - but only if you're confident your home is well insulated:
For one week keep your heating on low all day and take a meter reading at the end of the week.
For week two, schedule your heating to come on twice a day and take a meter reading at the end of the week.
Now compare both weeks - but allow for a margin of error if one week was particularly warmer than the other.
It's important to take a meter reading or check your smart meter at the start and end of both weeks, so you can see which option is more cost effective for your household.
OTHER WAYS TO KEEP YOUR HOME WARM
Aside from the best times to put your heating on, a lot of households are trying to reduce the amount of times they have to turn it on. Here are other ways to keep your home warm.
Apply for insulation grants. The government is offering various ways to install energy efficient measures in your home which will keep your bills low, and the best part is the grants will save thousands of pounds on the installation. You will need to check if you are eligible. Energy grants include The Boiler Upgrade Scheme and under the Energy Company Obligation scheme, you can get loft and cavity wall insulation, solid wall insulation and heating controls upgrades.
Install a full set of heating controls. These include a thermostat, programmer and thermostatic radiator valves. A spokesperson from Energy Saving Trust (opens in new tab) said: "The cost of installation in a typical semi-detached home that doesn't have any controls is around £580 with annual savings of £180. If you already have a thermostat and programmer, installing thermostatic radiator valves could save £55 a year."
Get curtains to cover up the windows. It's a good way of blocking the cold air from outside. You can also get thermal lined curtains which have an extra layer to keep the room well insulated. This one from The Range (opens in new tab) starts at £29.99 depending on the size you need.
Wrap up. This simple trick is all it takes to sometimes avoid putting the heating on. During winter, wear warm and comfy clothes like jumpers and hoodies to keep warm. Of course, if even after that you are feeling cold, then you should put the heating on.
Use blankets. When chilling out at home, keeping blankets in the living room is also a great way to add another layer of warmth.
Don't block the radiators. If your sofas or coffee tables are blocking the heaters, then it may be worth shifting furniture around so you are not blocking the heat, as this can affect how well the room heats up.
Related articles
Vaishali graduated in journalism from Leeds University. She has gained experience writing local stories around Leeds and Leicester, which includes writing for a university publication and Leicester Mercury.
She has also done some marketing and copywriting for businesses.
When she is not writing about personal finance, Vaishali likes to travel and she's a foodie.