How to switch your gas and electricity supplier
Switching energy suppliers could save you cash, and is easy to do since the suppliers do the hard work for you. Here's what you need to know when switching gas and electricity supplier.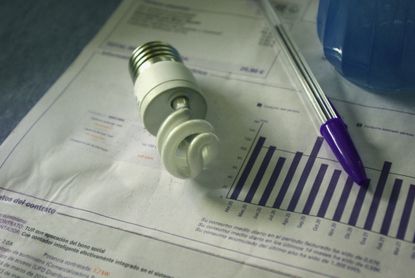 (Image credit: Getty images)
The tactic of switching energy suppliers in order to grab a cheaper energy deal may be set to make a comeback, with gas and electricity prices dropping this summer.
Energy suppliers have been less keen on attracting new customers through the pricing of their deals for the last year or so, with most tariffs now effectively capped by the government's Energy Price Guarantee. The guarantee means the typical household will spend around £2,500 a year on their energy use, and is the best deal available to the vast majority of households right now.
However, the regulator Ofgem has now set a new lower price cap for July to September, of £2,074.
This is likely to prompt a return of "cheap" fixed deals, meaning you may be able switch to other suppliers in a bid to make savings.
But moving to a fixed deal isn't the only reason you may want to switch suppliers; if you want to ditch your existing supplier to find one with better customer service, or you've moved home and want to start afresh with a new supplier, here's what you need to know about switching.
Will switching save me money?
At the moment, switching energy supplier won't mean you save any money. The few fixed tariffs that have been on offer in recent times would have meant committing to a higher price for your gas and electricity than you would get from a tariff protected by the Energy Price Guarantee, and therefore a higher energy bill.
While Ovo was the first to launch a fixed tariff with prices below the Energy Price Guarantee for a typical household, this was limited only to existing customers ‒ you couldn't switch to Ovo in order to secure that price.
That may soon change, however. The cost of energy on the wholesale markets has been falling for some time, to the point that Ofgem has set a new energy price cap of £2,074, which will kick in on 1 July. The price cap falling to this level effectively eliminates the need for the Energy Price Guarantee, and means a saving for any household on a standard variable tariff.
If these wholesale market costs continue to fall, it may mean suppliers soon feel able to start offering their own, competitive fixed tariffs once more, opening up the prospect of switching in order to secure a cheaper energy package.
Find out more about other ways to save on your energy bills.
However, the cost of your tariff is not the only reason you might want to move. Some people opt to switch supplier because of the higher customer service levels on offer from a rival supplier, because they want to move to a green tariff, or perhaps because they want to take advantage of additional features, like broadband.
So what do you need to know before switching your gas and electricity supplier?
What information will I need to switch?
If you want to switch suppliers, say if we see the return of cheaper fixes, or you want to switch to a company which has a better track record in customer service, you'll need to get some details to hand.
You'll need the name of your current supplier, any tariff you're on and if your energy consumption, or how much you pay a year.
You can find all this on your latest bill or annual statement, either on the paper or online version, or phone your energy supplier, although with this option, you may have a long wait to get through.
How do I make the switch?
There are plenty of ways to identify the energy supplier you wish to switch to, though many of us would typically opt to use a price comparison site. Obviously this isn't much of an option at the moment given the lack of fixed tariffs available, but it will hopefully make a comeback as our chosen method when the market returns to normal.
Once you have identified your chosen supplier, it's a case of applying for a particular tariff. That's when you will need to share some of that information above, such as your typical energy use, and the new supplier can then provide you with a quote to give you an impression of what your energy bills will likely look like.
If you're happy, you can then go ahead with the full energy supplier switch.
How long will the switch take?
Under the Energy Switch Guarantee, the entire switching process takes around 21 days and will all be handled by your new supplier. You don't even need to tell your current supplier that you are switching.
Suppliers on the scheme must stick to a list of promises including the fact that your supply won't be interrupted during the switch.
If there's a problem switching, it's up to your new provider to resolve it and you get a 14-day cooling off period to change your mind and cancel the switch.
You can of course switch to suppliers that don't belong to the scheme, however these guarantees don't apply, although you can still complain to your new supplier if a switch is handled badly, and beyond that take your case to the Energy Ombudsman.
Does it cost anything to switch?
Moving on to a new tariff won't cost you a penny – so long as your current energy supplier doesn't charge an exit fee if you plan to leave a fixed-rate contract before its end date. If an exit fee is charged, it's usually around £30.
However energy companies must also allow you to switch penalty free within the last 49 days, or seven weeks, of any current deal.
What happens if I'm moving house?
When you move home, you'll usually automatically inherit the previous homeowner's supplier, but you don't have to stick with them.
You can choose a new supplier, and apply to switch, even if just to its standard rate deal.
At least 48 hours before you move, you will need to submit a final meter reading to both your gas and electricity suppliers.
If you don't have the details of your new gas supplier, you can find this online at Find My Supplier search tool by putting in the postcode and address of your new home.
If you don't know which company supplies your electricity, go to the Energy Networks Association and use its search tool to find your network operator.
You can then click through to their website and pop in your postcode for details of the new property's electricity supplier.
John Fitzsimons has been writing about finance since 2007, and is a former editor of Mortgage Solutions and loveMONEY. Since going freelance in 2016 he has written for publications including The Sunday Times, The Mirror, The Sun, The Daily Mail and Forbes, and is committed to helping readers make more informed decisions about their money.