How to switch your gas and electricity supplier
Switching energy suppliers is easy as new suppliers do the legwork for you. Here's the lowdown on how to switch if you want better customer service or when better deals come along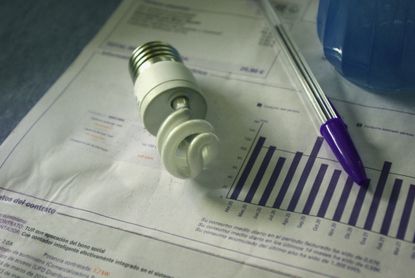 (Image credit: Getty images)
If you're hoping to switch suppliers to take advantage of a cheaper energy deal, you may have a long wait as gas and electricity prices are predicted to rise further in October and stay high until beyond 2030. The energy price cap is currently the best price available for anyone on a standard or default tariff, regardless of which provider you choose.
But switching for a fix isn't the only time you may want to switch suppliers; if you want to ditch your existing supplier to find one with better customer service, or you've moved home and want to start afresh with a new supplier, here's what you need to know about switching.
Will switching save me money?
In the current climate, the answer is no, as any fixed deal on the market is higher than the energy price cap.
However with the next hike in the price cap due in October, and expected to be a whopping 40%, some people may be considering locking in to a fixed rate to protect against future price cap rises.
Right now if you do lock into a 'fix', you'll pay more than you would on the price cap, and even the 'best' fixed deal on the market costs around 40% higher than the energy price cap. While loyalty doesn't usually pay, some suppliers are offering fixes, exclusive to existing customers, but these are still around 25% more than the price cap.
"Some households may prefer to pay over the odds to have the stability of a fixed deal that will cover next winter when their energy use will be higher. For most though, the premium will be too high for household budgets to cope with, so it is probably still more realistic to stick with the price cap", says Richard Neudegg, head of regulation at Uswitch.com (opens in new tab).
Find out more about other ways to save on your energy bills.
What information will I need to switch?
If you want to switch suppliers, say if we see the return of cheaper fixes, or you want to switch to a company which has a better track record in customer service, you'll need to get some details to hand.
You'll need the name of your current supplier, any tariff you're on and if your energy consumption, or how much you pay a year.
You can find all this on your latest bill or annual statement, either on the paper or online version, or phone your energy supplier, although with this option, you may have a long wait to get through.
How do I make the switch?
You can also switch to suppliers that don't belong to the scheme, but without the guarantees outlined below.
(MORE: Best gas and electricity deals)
How long will the switch take?
Under the Energy Switch Guarantee, the entire switching process takes around 21 days and will all be handled by your new supplier. You don't even need to tell your current supplier that you are switching.
Suppliers on the scheme must stick to a list of promises including the fact that your supply won't be interrupted during the switch.
If there's a problem switching, it's up to your new provider to resolve it and you get a 14 day cooling off period to change your mind and cancel the switch.
You can of course switch to suppliers that don't belong to the scheme, however these guarantees don't apply, although you can still complain to your new supplier if a switch is handled badly, and beyond that take your case to the Energy Ombudsman (opens in new tab).
Does it cost anything to switch?
Moving on to a new tariff won't cost you a penny – so long as your current energy supplier doesn't charge an exit fee if you plan to leave a fixed-rate contract before its end date. If an exit fee is charged, it's usually around £30.
However energy companies must also allow you to switch penalty free within the last 49 days, or seven weeks, of any current deal.
What happens if I'm moving house?
When you move home, you'll usually automatically inherit the previous homeowner's supplier, but you don't have to stick with them.
You can choose a new supplier, and apply to switch, even if just to its standard rate deal.
At least 48 hours before you move, you will need to submit a final meter reading to both your gas and electricity suppliers.
If you don't have the details of your new gas supplier, you can find this online at Find My Supplier search tool (opens in new tab) by putting in the postcode and address of your new home.
If you don't know which company supplies your electricity, go to the Energy Networks Association (opens in new tab) and use its search tool to find your network operator.
You can then click through to their website and pop in your postcode for details of the new property's electricity supplier.
Sue Hayward is a personal finance and consumer journalist, broadcaster and author who regularly chats on TV and Radio on ways to get more power for your pound. Sue's written for a wide range of publications including the Guardian, i Paper, Good Housekeeping, Lovemoney and My Weekly. Cats, cheese and travel are Sue's passions away from her desk!