How to find the best gas and electricity deals
Shopping around for the best energy deals is well worth the time and effort - here's how to go about it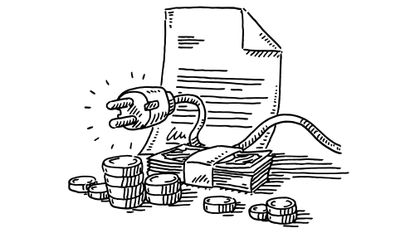 (Image credit: FrankRamspott)
If you have never switched your gas and electricity supplier, or you have come to the end of a fixed-rate deal, then shop around for a new tariff now – you could save hundreds of pounds by switching away from a default or standard variable tariff, which is likely to be more expensive.
When is the best time to switch?
Make sure you have switched to a cheaper deal before winter sets in. That way, your energy will cost less when you're using more heating and lighting.
If you are on a fixed-rate tariff, you can switch within 49 days of your contract ending without paying an exit fee. Your supplier should send you a reminder, but also note the date in your diary. It takes 21 days to switch, so don't wait until your contract ends.
Most suppliers have been slow to embrace events such as Black Friday, but you can find a few deals. E.ON ran offers on Black Friday last year, which included up to £1,000 off solar panels and up to £150 off its boilers.
Another good time to switch suppliers is when your circumstances change: when you move house, start working from home, retire, or your children move out.
(MORE: How to switch supplier)
How can I avoid price hikes?
Ofgem, the energy regulator, sets the energy price cap – the maximum that suppliers can charge per unit of gas or electricity used – every six months.
The cap fluctuates to reflect underlying costs in the energy market. If you are on a standard variable rate, your energy bills will be affected.
Ofgem bases the cap on a typical customer using dual-fuel energy and paying by Direct Debit. A cap of £1,138 was announced in February 2021 – a rise of £96 – and came into effect in April 2021.
Look out for news of energy price cap changes in February and August on The Money Edit. You will have two months to switch before suppliers pass on any price hikes.
Where should I search for deals?
Price comparison sites are the most popular way to switch – but always check tariffs on more than one website. They sometimes offer exclusive deals – though since energy prices have been rising, these are thin on the ground.
But could you find a cheaper tariff by going direct to the supplier's website?
Ofgem's accredited price comparison websites offer deals calculated in an unbiased way, so you should see all the tariffs available.
Stephen Murray, energy expert at MoneySuperMarket, explains: "All open market tariffs are visible on our wider market view, providing customers with visibility of all available tariffs at all times.
"Not all of these will always be switchable on MoneySuperMarket, so the customer may choose to go to the supplier to get some tariffs. However, suppliers will not have cheaper tariffs than those visible on our site."
If you prefer to go to the supplier direct, either online or by phone, then do your homework first. Read The Money Edit's features on gas and electricity best deals, and the UK's gas and electricity suppliers ranked for customer service.
If you have no time to search for deals, auto-switching services will compare prices for you, switch to a new tariff, and switch again when your deal ends. It means you will never pay for a pricier default tariff because you forget to switch.
You can find paid-for services, such as Flipper (£30 a year) and Switchd (monthly plans for £1.99, £3.49 and £4.99) that search the whole market. Switchd also offers a free service with more limited searches, as do Look After My Bills and Switchcraft.
Hannah is a freelance financial journalist. She has written on topics including consumer rights, personal finance, homes and property for magazines, newspapers and websites including DIYgarden.co.uk, Ocean Finance, Moneywise, and The Daily Telegraph. In her spare time, she grows her own veg, plays bridge and looks at ways to save money on her household bills.