Heated airer vs tumble dryer - which is cheaper to dry laundry?
How can you dry clothes while adding as little as possible to your energy bill - heated airer vs tumble dryer?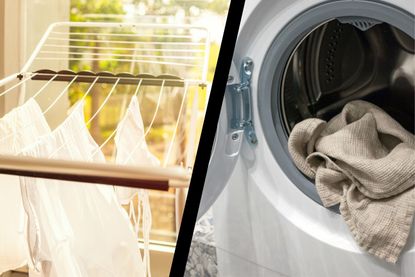 (Image credit: Getty images)
Energy bills are high and drying clothes outside isn't an option in the winter months. We compare heated airer vs tumble dryer to find the cheapest way to dry clothes indoors.
The rising cost of living and high energy bills has resulted in households finding new ways to keep energy costs low in the home.
Although there's been a focus on keeping heating costs low, finding ways to use energy-hungry appliances like the tumble dryer or dishwasher efficiently can help cut your energy costs.
Here, we put the heated airer and tumble dryer head to head to see which is the cheapest way to dry your clothes indoors.
Heated airer vs tumble dryer
Heated airer costs
The cost of running a heated airer can depend on how powerful it is, what type of fabric it is drying and what cycle you put your washing machine on beforehand.
According to our sister site Ideal Home, it takes 3 to 8 hours for most heated airers to dry a full load.
Retailers like Dunelm sell heated airers of different sizes. Here's the difference between a two-tier and three-tier heated airer, based on what you can buy at popular houseware store Dunelm (opens in new tab).
Assuming you use a heated airer three times a week and it takes five hours to dry a full load, this is how much it will cost:
Swipe to scroll horizontally
Header Cell - Column 0
Cost to run
(per hour)
Cost per use (five hours)
Cost per week (three uses)
two-tier heated airer
7p
£0.35
£1.05
three-tier heated airer
11p
£0.55
£1.65
The calculations are based on the current 0.34p kWh unit price of electricity. The two-tier (opens in new tab) dryer costs £75 to buy and the three-tier (opens in new tab) one costs £95.
You can cut the running cost of a heated airer even further by reducing the time it takes for the clothes to dry.
Paul Newman from Housetastic (opens in new tab) told Ideal Home (opens in new tab): "To make drying efficient, make sure your clothes have spun properly in the machine, so excess water has been removed."
It's also worth moving the clothes around that are drying every so often so that the heat reaches all areas of the garments.
Tumble dryer costs
Similarly, with tumble dryers, factors such as how powerful it is and the type of tumble dryer you own will drive how much it costs to run.
There are three types of tumble dryers: heat pump, condenser and vented. Here's how much each of them costs to run, based on a 9kg tumble dryer, in line with the current 0.34p kWh unit cost of electricity.
Swipe to scroll horizontally
| Type of tumble dryer | Typical energy use (full load) | Typical cost per use (full load) | Cost per week (three uses) |
| --- | --- | --- | --- |
| Heat pump | 2.16 kWh | £0.73 | £2.19 |
| Condenser | 5.2kWh | £1.77 | £5.31 |
| Vented | 5.34 kWh | £1.82 | £5.46 |
[Source: Ideal Home (opens in new tab)]
Out of the three, Homeserve (opens in new tab) says heat pump tumble dryers are energy efficient and cost less to run. The cost of buying one can vary considerably though, for example, a Logik (opens in new tab) heat pump tumble dryer costs £329 from Currys, whereas a Samsung (opens in new tab) heat pump tumble dryer will set you back £829.
The huge price difference is down to its energy efficiency rating, where A+++ is the most efficient and expensive and D is the least.
An energy-efficient tumble dryer can pay for itself in the long run, according to Energy Saving Trust (opens in new tab), buying an A+++ tumble dryer rather than a D-rated one can save you around £980 over its lifetime (which is long for tumble dryers). But it is a hefty upfront expense.
A condenser tumble dryer typically uses more energy than a heat pump tumble dryer and its main function is to take the moisture out of the laundry, which is then used to re-circulate the air to dry the clothes in the dryer.
Vented tumble dryers are the cheapest to buy, but expensive to run. Plus you have to place the tumble dryer in a place where there is plenty of ventilation and run a tube outside because it uses air outside to dry clothes.
The Verdict
Overall, it takes a lot longer to dry clothes on a heated airer, but if you use a two-tier rack for up to eight hours per day to dry a couple of loads of washing, it will cost less than using a tumble dryer.
It also depends on what type of tumble dryer you use. For example, if you went for a condenser or vented tumble dryer which cost around £1.80 per use, then it's much cheaper to use a heated airer instead, which costs around 55p for five hours of drying time.
But a heat pump tumble dryer only costs 74p per use and depending on the heated airer you have and how long it takes to dry a full load, there are fewer savings to be made - especially if you don't have the space for a heated dryer in your home.
If you're looking to invest in either, a heated airer is an affordable choice as you can bag one for less than £100.
If you already own a tumble dryer, you can find ways to cut the costs of using one, You can cut the cost of drying your clothes. "Selecting a high spin cycle on your washing machine will reduce the amount of water left in your garments, for example by "reducing the time it takes for your clothes to dry in the tumble dryer," says Vijay Bhardwaj, Marketing Director at Beko plc (opens in new tab).
You can also use the tumble dryer at off-peak times if you're on an economy seven meter but it's important to not leave it unattended if running overnight because it is a fire risk.
Related articles
Vaishali graduated in journalism from Leeds University. She has gained experience writing local stories around Leeds and Leicester, which includes writing for a university publication and Leicester Mercury.
She has also done some marketing and copywriting for businesses.
When she is not writing about personal finance, Vaishali likes to travel and she's a foodie.