Which are the greenest energy suppliers in the UK?
Some energy suppliers are greener than others - these are the ones you should be looking at if you want to be sure your energy is green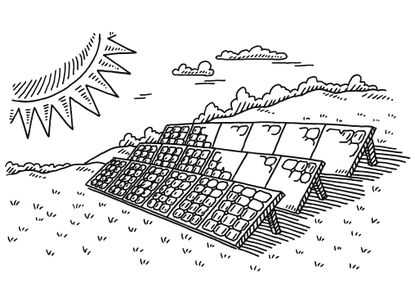 (Image credit: getty images)
When you sign up for a green tariff, you might assume that all the electricity your energy company supplies with be from 100% renewable sources – such as wind, sun (solar), and water (hydro) – and that your gas supply might be green too.
But there are different shades of green, with some gas and electricity suppliers being less than transparent about their eco-credentials.
Energy suppliers that source all their electricity renewably will proudly broadcast their fuel mix on their websites – Ofgem, the energy regulator, requires all suppliers to do this – but others hide this information in the small print.
Many energy firms will claim that their electricity is 100% renewable by buying Renewable Energy Guarantee of Origin (REGO) certificates. However, some suppliers will 'greenwash' their energy tariffs by buying REGOs without supplying the green electricity to match them.
Others may have nuclear power in their fuel mix – while this produces 'clean' energy, the uranium or plutonium used as a raw material to power nuclear plants is non-renewable.
When it comes to the UK's gas supply, there is not enough green gas – also known as biomethane and produced through anaerobic digestion of agricultural waste – to supply every household. So, you will find that even the greenest suppliers provide only 10% to 15% of green gas directly.
Some companies buy Renewable Gas Guarantee of Origin (RGGO) certificates, while others offset the carbon produced by their customers' gas consumption through planting trees and investing in environmental projects in the developing world. Their energy tariffs will then be called 'carbon neutral'. They will be using natural gas, which is non-renewable because it is mined and releases carbon dioxide into the air when it is burnt.
If you would prefer to switch to a tariff where the electricity is 100% renewable and the gas supply is as green as it can be, listed below are three of the greenest energy suppliers in the UK.
(MORE: How to switch energy supplier)
Good Energy
Good Energy supplies 100% renewable electricity, generated from wind (53.9%), bioenergy (28.4%), solar (13.4%) and hydro (4.3%) power and bought using power purchase agreements (PPAs) and sourced directly from generators across the UK.
It supplies carbon-neutral gas – 10% of its gas supply is biogas, with the remainder offset by supporting carbon-reduction projects in Vietnam, Nepal, and Malawi.
Good Energy is the only energy supplier to be awarded 'gold standard' for its all its tariffs on price comparison site Uswitch's Green Accreditation Scheme, which rates a tariff's environmental credentials. British Gas' Green Future tariff is currently the only other tariff to win gold status, but the company offers non-renewable energy on its default and prepay tariffs and its other green tariffs are not gold standard.
(MORE: How to find the best gas and electricity deals)
Ecotricity
Ecotricity supplies 100% renewable electricity, generated from offshore wind (55.82%), onshore wind (41.60%), solar (0.51%) and hydro (2.07%) power.
It generates around 20% of its electricity from its own wind and sun farms, with the remainder bought with PPAs from other renewable generators in the UK. While 1% of its gas from a green gas mill, the rest is offset by investing in carbon-reduction scheme in Bhutan, Chile, and India.
Ecotricity sees carbon offsetting as an "interim solution" until it can produce its own sustainable gas supply.
It is building a green gas mill in Berkshire using harvested grass and straw to produce biomethane. The aim is for the mill to produce enough green gas to supply 4,000 households with medium gas usage.
In 2020, it was named one of the UK's greenest energy suppliers by consumer group Which?.
GEUK
GEUK, formerly known as Green Energy UK, offers 100% renewable electricity from solar, wind, hydro, and bioenergy (waste from agriculture). It doesn't provide a breakdown on what percentage of each is used.
It is the only energy supplier in the UK that supplies 100% green gas, which comes from farm, food, and landfill waste.
However, it does not produce its own energy but buys it from independent generators – through REGOs for electricity and RGGOs for gas.
GEUK's EKO energy tariff is certified by EKOenergy, the international not-for-profit eco label, which means its energy is generated in locations where marine and bird habitats are safeguarded and it helps fund renewable energy projects.
All three suppliers are exempt from energy regulator Ofgem's cap on energy prices, which puts a limit on how much a supplier can charge for its standard variable or default tariff. This is because they source smaller generators of renewable energy, so running costs are higher – so you may find their tariffs to be more expensive.
Look After My Bills Newsletter
Get the best money-saving tips, tricks and deals sent straight to your inbox every week. Make sense of your money in partnership with The Money Edit.
Hannah is a freelance financial journalist. She has written on topics including consumer rights, personal finance, homes and property for magazines, newspapers and websites including DIYgarden.co.uk, Ocean Finance, Moneywise, and The Daily Telegraph. In her spare time, she grows her own veg, plays bridge and looks at ways to save money on her household bills.