Gas prices fall - will it mean cheaper energy bills?
Wholesale gas prices have fallen to their lowest level since June. Will this be good for energy bills once the Energy Price Guarantee ends in April 2023? We explain.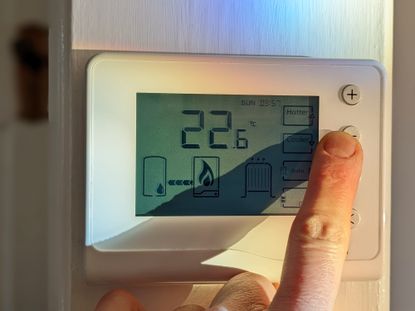 (Image credit: Getty images)
Gas prices have fallen to their lowest level since 14 June, partly driven by mild weather and an increase in the amount of gas stored in Europe.
So far in the UK, a milder-than-expected-autumn means many households have delayed switching on the heating, helping to maintain energy supplies at storage facilities.
The wholesale price of energy helps to determine the energy price cap set by the regulator Ofgem (opens in new tab). In the last 12 months we have seen wholesale prices soar amid the war in Ukraine.
Here, we explain what falling gas prices could mean for energy bills.
Gas prices fall - will it mean cheaper energy bills?
On social media there was excitement that this could mean lower energy bills next year once the Energy Price Guarantee ends in April:
Right now, this is/should be the biggest story in Europe.The price of natural gas is falling very fast again, thanks to growing stockpiles & expectations of warmer weather.If this sustains, then electricity prices & inflation should fall quickly too 🥳🥳 pic.twitter.com/LyzN4j7FRLOctober 24, 2022
See more
Under Ofgem's quarterly review of the price cap - it was until recently done twice a year - energy bills should in theory reflect falls in wholesale gas prices more promptly.
But , it doesn't work like that.
Dr Craig Lowrey, at data analyst Cornwall Insight (opens in new tab), explains any decline in spot prices will unlikely have a material impact. "Due to the nature of the implied hedging process, any decline in spot prices would be unlikely to have a material impact.
"This is because we would assume that suppliers would have hedged their consumers' demand requirements well in advance of this winter. As such, the price of gas and electricity being consumed now is reflective of these longer-term hedges entered into by suppliers - not just the spot price."
Despite wholesale gas prices falling (at the time of writing, 25 October), a number of factors actually point to energy prices actually going up in 2023.
According to analyst Cornwall Insight, early predictions on the wholesale energy price say it will go up 67% in April - taking a bill for typical use from £2,500 a year to £4,189.
The cap is then predicted to then go down 14% in July to £3,577 a year - but this is still higher than the current benchmark of £2,500.
Therefore, while we can't be certain, this sudden fall in wholesale gas prices can be seen as just a fluctuation.
We explain more about whether energy prices will go down in 2023.
Best buys
Katie is staff writer at The Money Edit. She was the former staff writer at The Times and The Sunday Times. Her experience includes writing about personal finance, culture, travel and interviews celebrities. Her investigative work on financial abuse resulted in a number of mortgage prisoners being set free - and a nomination for the Best Personal Finance Story of the Year in the Headlinemoney awards 2021.