Energy bills could drop in July - should you switch to a fixed-price energy tariff?
Cheaper energy bills could come quicker than expected for millions of cash strapped households after a three month extension of the energy price guarantee was announced in the Budget along with the prediction of cheaper bills from July. We look at what they could cost and when you can get one.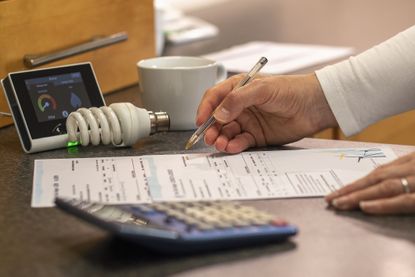 (Image credit: getty images)
Switching suppliers to bag a cheaper energy tariff may seem like a distant memory, but with wholesale energy prices falling and the energy price cap predicted to fall later this year, we look at when it will be time to switch to a fixed-price energy tariff - plus, a first look at what they may cost.
As well as the prospect of falling bills from July, changes in last week's Spring Budget mean households will be protected against rising energy prices from April for a further three months.
Energy prices had been set to shoot up next month under the government's Energy Price Guarantee. The typical average annual household energy bill, based on typical usage, was expected to rise from £2,500 to £3,000, but this is no longer the case.
The chancellor announced a three month extension at the current level which now lasts until the end of June. This is estimated to save the average household around £160.
Budget changes also mean households who pay for energy via prepayment energy meters will also see a reduction in costs. From July they will no longer be penalised with higher rates, compared with standard non prepayment customers. This is estimated to be a saving of £45 a year to around four million households.
This is coupled with the news that some energy market analysts predict energy bills could drop to lower levels as soon as July.
Falling wholesale energy prices and reduced government support could spur energy suppliers into action and offer millions of customers more competitive deals.
We explain what is going on, what fixed deals could look like and if it is a good idea to fix your energy tariff.
The return of fixed-price energy tariffs
Why are fixed-price energy tariffs coming back?
Before the Energy Price Guarantee was introduced, prices were set by the energy regulator Ofgem, in the form of the energy price cap.
This sets the maximum price energy suppliers can charge consumers on variable tariffs for each kilowatt hour (kWh) of energy they use, plus standing charges. It is set every three months and is influenced by the wholesale price energy suppliers have to pay.
Remember, neither the energy price cap nor the EPG set an absolute limit on how much your bills can cost as you will be charged for the energy you use.
Swipe to scroll horizontally
| Quarter | Jan- Mar 23 | Apr - Jun 23 | Jul - Sept 23 | Oct - Dec 23 |
| --- | --- | --- | --- | --- |
| Ofgem energy price cap: typical annual household bill | £4,279 | £3,388.07 | £2,361.96, | £2,389.31 |
| Energy Price Guarantee: typical annual household bill | £2,500 | £2,500 | £3,000 | £3,000 |
| Energy Bill discount (ends 31 March) | £67 per month | N/A | N/A | N/A |
Source: Cornwall Insights (opens in new tab)
Cornwall Insight suggests the typical bill under the Ofgem price cap could drop to around £2,153 a year from July, substantially lower than the EPG.
While the energy price guarantee was introduced to protect households from paying the higher energy price cap rates, if under the price cap, the unit energy price reaches a cheaper level, households would pay the lower of the two.
And, according to Cornwall Insights, it could also mark the return of competitive fixed-price tariff energy deals.
And according to comparison site uSwitch, households could soon have access to fixed energy deals as low as £2,200, which is due to the fall in the price of wholesale energy, which has fallen by 60% since December. This is less than the current Energy Price Guarantee (EPG) of £2,500.
Since the start of winter, the EPG has been lower than almost all energy tariffs - effectively limiting the savings that households can make by switching suppliers.
However switching suppliers to save several hundred pounds on the cost of your energy bills may well be a thing of the past with Uswitch warning that fixing would only save the average home £17.30 at most this year - and could even end up costing £387.58.
Kate Mulvany, senior consultant at Cornwall Insight said: "If suppliers' costs decrease and government-supported rates remain relatively high, it is likely we will see a significant revival in reasonably priced energy plans, with millions of households finally able to take advantage of the savings they have been missing out on for years.
But she cautions that: "there are many variables still in play, and it is difficult to know how fast and how far energy bills will fall."
Should I fix my energy tariff?
Using the average switching rates from the two years up to October 2019, around 5.5 million switches that could have been expected didn't happen.
However lots of households could be ready to bag a fixed-price energy tariff if, and when, they return to the market.
The best advice right now is to sit tight. But if current trends continue as we head towards the summer more competitive deals could become available.
Comparison sites including Uswitch and Go.Compare are offering potential switchers the chance to leave their details to get alerts and check energy prices.
Think carefully before you commit to a fixed rate deal
What do you have to think about before opting for a cheaper fixed rate deal for your energy costs?
Given that the EPG will now be kept at the lower rate of £2,500 for the next three months, as announced in the Budget, predictions from experts at Cornwall Insight are for the energy price cap to fall to £2,153 by July,
Uswitch is urging households to think carefully before committing to a fixed deal in the coming months as if Uswitch and Cornwall Insight are correct in their predictions, then households would not save money with a fixed-rate deal.
If you now fixed at £2,200 a year you would save money until 1 July.
Why? Because energy bills are an average of £2,500 a year, so you'd lock in around thirteen weeks of energy use at lower prices - saving around £75 in total.
However if the energy price cap falls, as predicted by Cornwall Insight to £2,153 in July, you could be paying fractionally over the odds at around £50 a year, if you had locked into a fixed rate deal of £2,200.
On the basis of fixing at £2,200 a year compared with an energy price cap of £2,153, you could lose out by around £10 over a three month period, and more if the energy price cap continues to fall.
Director of regulation at Uswitch.com, Richard Neudegg said: "If wholesale prices continue to drop, the next price cap in July could be cheaper, meaning we'll go back to Ofgem dictating default tariff prices every quarter".
"The focus now should be on bringing back both price certainty and choice for consumers before they have to get on the price cap rollercoaster again".
"We see no reason why suppliers can't take advantage of the lower wholesale prices and start offering fixed deals that are below the Energy Price Guarantee".
Read more
Adam is the Editor at The Money Edit.
He has been working to save you money as a personal finance and consumer journalist, editor and commentator for several years. His work has appeared in the HuffPost, Which?, i paper and This is Money, plus various TV and radio as a personal finance, consumer rights and scams expert, which include BBC Rip Off Britain, LBC, 5 News, Steph's Packed lunch and Newsround to name a few. He was previously the senior consumer rights editor at Which?.
When Adam isn't working he's watching Norwich City yo-yo between leagues or walking his dog.