LATEST: Fixed energy bills to get an automatic discount
Households will see their energy bills freeze from October until 2024. If you're on a fixed energy deal you may be feeling left in the lurch as to whether you'll see your bills fall in line with other customers. We explain everything you need to know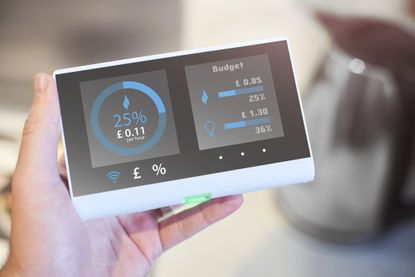 (Image credit: Getty images)
Most households on fixed rate tariffs are likely to see an automatic energy discount applied to bills from 1 October following the energy price guarantee announced earlier this month.
New prime minister Liz Truss said all energy prices will be frozen until 2024 - costing the typical household £2,500 per year, to help families tackle the cost of living crisis, which is largely being driven by rising energy prices.
According to Truss, the price freeze - dubbed the Energy Price Guarantee - will save a typical household around £1,000. Before her announcement, typical household bills had been set to rise from £1,971 to £3,549 a year on 1 October, when the price cap was due to kick in.
The typical household energy bill, for those on standard variable tariffs, will now go up from an average £1,971 to £2,500 - a 27% increase. Though remember - the amount you actually pay will depend of what you use - if you use more, you will pay more.
But, what happens to those energy customers who are on a fixed rate tariff and will they get an automatic energy discount? Here's what we now know.
I am on a fixed rate energy tariff - will my bills come down?
If you're one of 4.2 million households in the UK on a fixed tariff, you will get an automatic discount applied to your tariff.
You don't need to take any action to get the discount, your energy supplier will apply the reduction to your bill automatically.
But, there are some caveats.
If you're on a fixed rate tariff it can be reduced by up to 17p/kWh for electricity and 4.2p/kWh for gas until you hit a 'floor' unit rate.
On average the 'floor' unit rate will be 10.3p/kwh for gas and 34p/kwh for electricity if you pay by direct debit.
It means most households shouldn't be paying more than 10.3p/kwh for gas and 34p/kwh for electricity - but there are a handful of homes on higher price fix tariffs who could still be paying more.
If you already have a fixed rate tariff that is below the 'floor' rate, then you are already on good deal and can continue enjoying this until your fixed rate ends.
If you are already on a standard variable tariff, then you do not need to do anything; your bill will be adjusted automatically on 1 October.
Standing charges will remain in line with the levels set by the energy regulator Ofgem for the October price cap at 46p a day for electricity and 28p a day for gas, for a typical dual fuel customer paying by direct debit.
CAN I DITCH MY FIXED ENERGY DEAL IF IT'S MORE THAN THE ENERGY PRICE GUARANTEE?
If you fixed recently at a higher cost than the new Energy price Guarantee of £2,500, there are a few things to consider.
If you signed up to an energy tariff in the last 14 days, you can leave without penalty.
If you signed up to an expensive fix, it is up to your firm if you will let you leave without a penalty. However, according to Money Saving Expert's Martin Lewis: "British Gas, Ovo (SSE), Octopus, EDF, E.on, Shell - agreed to my request that customers who end up on fixes at a higher rate than the price guarantee will be allowed to move on to that firm's price guarantee tariff, with no early exit penalties, until at least 15 Nov (some beyond that)."
Energy companies are still working out the details and will write to the small number of people who are fixed at significantly higher rates.
EDF, for example, told The Money Edit that it has suspended all exit fees for anyone looking to move out of a fixed rate tariff to a standard variable tariff.
"Customers, including those on fixed tariffs, will see their prices automatically adjusted to reflect the government's price guarantee and do not need to do anything," it said.
EDF said around 1% of its customers who fixed in recent months could benefit from switching to the standard variable tariff and it will write to those customers.
"We recommend that customers wait until they hear from us in the coming weeks, as the impacts of the price guarantee will vary depending on individual consumption. Some customers may benefit from staying on their fixed tariff, so customers should wait for the letter with the detailed breakdown of their consumption and prices.
It added that anyone who chooses to switch away from EDF, will still be required to pay an early termination fee.
Exit fees will be suspended until 21 November.
The Money Edit also understands that British Gas has written to its customers letting them switch to a standard variable tariff if they wish, penalty free.
Scottish Power said it would be in touch with customers between now and 19 September with details.
Octopus Energy, said it would be in touch with customers before 1 October and that its customers should "sit tight and wait to hear" as it is still working through the finer details.
Energy supplier E.On said its customers did not need to do anything as it would implement the scheme across its tariffs.
How will the Energy Price Guarantee affect me if I am on a prepayment meter?
The BEIS said the Energy Price Guarantee will be applied to the rate you pay for each unit of energy, so the money you put on the meter will last longer than would otherwise have been the case this winter.'
But, the unit cost for prepayment meter customers is still higher than many other bill payers.
What help is there for those off the electricity grid?
We are still waiting on details for those not on standard gas or electricity contracts, such as those in park homes or heat networks. They will not benefit from the Energy Price Guarantee, but the government said they will get 'comparable' support. We will keep you posted as soon as we know more.
What other help is available for energy bills?
Every household will receive the £400 energy grant from October.
Energy suppliers also have hardship funds to help their customers in need.
You may also find our article on unfair direct debit increases useful. See how The Money Edit helped one reader bring her direct debit down after her energy firm increased it from from £117 to £369.
Digital Editor, MoneyWeek
Kalpana is the Digital Editor of sister site MoneyWeek.
She's an award-winning journalist and author of Invest Now: The Simple Guide to Boosting Your Finances and a children's book Get to Know Money - with extensive experience in financial journalism. Her work includes writing for a number of media outlets, including national papers and well-known women's lifestyle and luxury titles, where she was finance editor for Cosmopolitan, Good Housekeeping, Red and Prima.
She started her career at the Financial Times group, covering pensions and investments.
As a money expert, Kalpana is a regular guest on TV and radio; appearances include BBC One's Morning Live, ITV's Eat Well, Save Well, Sky News and Channel 5's 30 money saving tips series.
She was also the resident money expert for the BBC Money 101 podcast.
A well-known money and consumer journalist, Kalpana also often speaks at events.
She is passionate about helping people be better with their money, save more and be smarter spenders.
Follow her on Twitter and Instagram @KalpanaFitz.