Fan heater vs oil heater – which is cheaper to run?
With so many options for heating your home, we compared fan heater vs oil heater to see which is cheaper.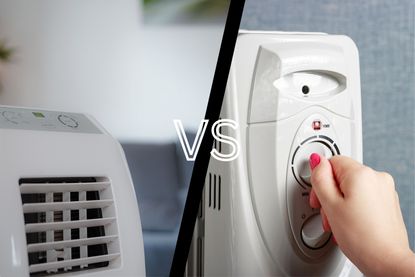 (Image credit: Getty images)
With average energy bills almost double what they were last winter, households are searching for the most cost-effective way of heating their home, cutting energy costs. We find out if it's cheaper to run a fan heater or an oil heater.
While the government's energy price guarantee will freeze average annual bills at £2,500 until April 2023, this is still almost double last winter's price cap of £1,277. Central heating is the most common way of heating a home, according to the data analyst Statista (opens in new tab), but it may not be the cheapest.
To keep a lid on costs, it's helpful to know when the best time is to put your heating on and whether you should keep the central heating on all day on low. We think it's also worth looking at whether portable heaters could lower your costs further.
The Money Edit put a fan heater and an oil heater to the test.
Fan heater vs oil heater – which is cheaper to run?
How much does it cost to run a fan heater?
Fan heaters and oil heaters are both types of electric heating (opens in new tab), which according to our sister site GoodTo.com (opens in new tab), cost around 68p per hour to run, based on a 2kW electric heater.
This 2000W freestanding fan heater from Screwfix (opens in new tab) only costs £11.99.
This Dunelm DF Fan Heater (opens in new tab) costs only £14 and the running costs are advertised as about 68p an hour. The Dunelm DF Fan Heater also has thermostatic control so you can control its temperature and an overheat protection feature for safety precautions.
Some of the pros of fan heaters are their convenience and that they're easy to move from room to room.
However, Martyn Allen, technical director of the charity Electrical Safety First (opens in new tab), warns that "heaters should never be left switched on at night and never powered via an extension lead."
Here are some other factors you should consider before buying a fan heater.
The size of your room. If you have a big room or high ceilings, it will be harder to warm the room with a fan heater as it will require more energy to heat a bigger space. So judge the size of the room you are heating and make sure a fan heater is a cost-effective way of heating it.
The insulation you have in place. The last thing you want when the heater is on is for the heat to be lost in seconds. A fan heater will be a lot more effective if your insulation levels are good, which means there's less chance of heat being lost from windows or walls. If you're looking to get your home better insulated, check to see if you qualify for any government grants under the Energy Company Obligation (ECO) scheme, like ones for loft and cavity wall insulation. If you're looking for a quick win, putting cling film on your windows is an option to keep the heat in.
Fan heaters give off short-term heat, so the minute you put it on it will heat the room, but once you switch it off the heat will disappear. If you want to heat a room temporarily, then a fan heater is a good idea but if you want to maintain the heat in the room, a fan heater isn't your answer. You might be better turning the central heating on.
How much does it cost to run an oil heater?
The cost of buying and running an oil heater varies depending on how much energy it uses. Goodto.com found that a 2.5kW oil heater costs (opens in new tab) 85p per hour to run and if used for four hours a day, costs £3.40 per day to run.
This 500W oil heater from Screwfix (opens in new tab) costs £19.99, which is on the cheaper end of the scale but won't give much power.
This Dunelm oil heater (opens in new tab) costs £59, which is more expensive but also more powerful (at 2000W) and costs around 68p per hour to run. It also comes with an adjustable thermostat. This is the same running cost as a fan heater, but it is 3.5 times more expensive to buy the heater. You can shop around and find cheaper oil heaters.
This mini 650W oil heater from Dunelm (opens in new tab) is even cheaper, at £28. It also only costs 22p per hour to run, so considerably less than running a 2kW fan or oil heater. However, it gives off less heat (about a third less heat, 650 watts compared to 2,000 watts), so you would expect it to be less expensive to run.
Pros and cons of oil heaters:
You have the flexibility of shopping around for an oil heater at a price that suits you.
Some come with temperature controllers which can help you cut energy costs, as the trick to keep energy costs low is to only heat the rooms you're using.
Oil heaters have good heat retention. So when you switch the oil heater off, it takes a while to cool the oil down which means even when it's off the heater is still giving off heat. This means less energy is required to heat a room, further cutting your energy costs. But be mindful that oil heaters only provide a short-term solution, so if you're trying to maintain the heat in a room for more than a couple of hours, it could be better to flick the central heating on.
Heating a room also usually makes the air dry, yet an oil heater retains a good airflow so you can enjoy the clear air and warmth without risk to your health. According to Healthline (opens in new tab), dry air increases the risk of health issues such as asthma and respiratory problems, dehydration, especially in winter.
When it comes to safety, "oil-filled heaters are generally safer to use than fan heaters as there is no fan motor that may become blocked," Allen from Electrical Safety First adds.
The verdict
If we break it down in terms of which is cheaper to use, both types of heater have similar running costs, but an oil heater is typically more expensive to buy than a fan heater (when comparing models with the same wattage). It's down to how powerful your heater is.
Both heaters have temperature controllers (depending on the model) which lets you take control of the level of heat you want and the cost associated with it.
However, an oil heater may actually be cheaper to run, when you factor in the residual heat after the heater is turned off. Other benefits of oil heaters are that they are safer to use and they don't make the air dry like fan heaters.
A tip if you are investing in a new heater, whether it's oil or fan, make sure that specific room has a good level of insulation so it can retain heat better.
If you're able to pay a bit more for a heater we consider the oil heater the overall winner.
Related articles
Vaishali graduated in journalism from Leeds University. She has gained experience writing local stories around Leeds and Leicester, which includes writing for a university publication and Leicester Mercury.
She has also done some marketing and copywriting for businesses.
When she is not writing about personal finance, Vaishali likes to travel and she's a foodie.