Energy providers must limit direct debit overpayments for customers, regulator says
The energy regulator is tightening the rules on the level of direct debits that energy providers can charge customers. We explain everything you need to know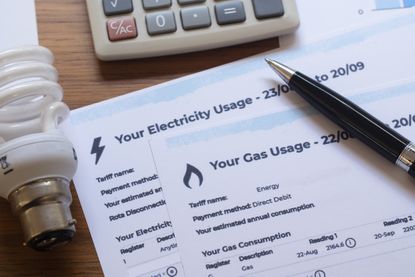 (Image credit: getty images)
With spiralling energy costs and households struggling with bills, unfair direct debits have been under spotlight after it was revealed that some providers were increasing payments to more than necessary. But now the regulator wants energy firms to limit overpayments and keep customers' credit balance in a separate account to protect them should an energy company go bust.
If you pay by direct debit, then overpayment on your bills can occur, but the regulator said some firms are using customers' extra credit like an "interest-free company card".
The new rule is part of a raft of measures designed to cut the risk of more energy suppliers going bust and prevent previous failures "that put unfair and unnecessary costs and worry on customers."
Limiting direct debit payments that energy firms can charge aims to ensure credit balances do not become excessive. Millions of households currently cover their gas and electricity bills with a direct debit payment each month - the same amount is taken every month no matter the actual energy usage. It means that when they've paid for more energy than they've actually used - often the case in Spring and Summer - a credit balance builds up.
Around 30 energy firms went bust last year where customers were automatically transferred to new suppliers. The cost of moving customers to a new supplier including replacing lost customer credit balances and buying extra gas at short notice when prices were at record highs, was £94 per household. It meant energy firms increased everyone's bills.
Now Ofgem wants firms to hold more capital and keep customer funds in a separate account so dipping into customers' credit balances is not an option in the event of the firm going bust. It means credit balances will be better protected.
Setting a limit on direct debit payments should also prevent excessive overpayments building up. Accumulated credit balances have been a sticking point for some customers who feel they act as a free loan to their energy firm.
Justina Miltienyte, head of policy at Uswitch.com, said: "Forcing providers to protect credit balances will prevent all customers from picking up the tab in case a supplier goes under - as we have seen happen too much over the last year."
"Credit balances should serve the customer, not the supplier," she explains. "Paying a fixed amount over the summer can help build credit that will act as a useful cushion for consumers during the winter months, as it can soften the blow of bills spiking when they turn up their heating."
Gillian Cooper, of Citizens Advice, adds: "Ofgem has previously allowed energy suppliers to run risky business models. As a result, it's customers who've been left to foot the bill when companies collapse. Ofgem must now ensure suppliers stick to these tougher standards so that people are better protected in the future."
How can I ensure I am paying the right direct debit?
To make sure you are billed accurately, it's crucial that you provide regular meter readings to your energy supplier if you do not have a smart meter. This will make it easier for your provider to predict how much energy you are going to use over the year, so your direct debit payments reflect it.
Secondly, customers should keep an eye on their monthly direct debit payments and if they think they are excessive, they should contact their supplier as soon as possible.
This is something The Money Edit's Guy Anker did when his direct debit rose from £42 to £116 - he fought back.
It was also the case for reader Christine Thomas who saw her direct rise a shocking 215% - she also fought back and had it brought back down to its original amount.
You have a right to ask for a fair direct debit that accurately reflects your likely usage. If your direct debit increase is unreasonable, then let your provider know. You can ask by email, phone, app or online chat, depending on your supplier's communication options.
Additional report by PA
Look After My Bills Newsletter
Get the best money-saving tips, tricks and deals sent straight to your inbox every week. Make sense of your money in partnership with The Money Edit.
Katie is staff writer at The Money Edit. She was the former staff writer at The Times and The Sunday Times. Her experience includes writing about personal finance, culture, travel and interviews celebrities. Her investigative work on financial abuse resulted in a number of mortgage prisoners being set free - and a nomination for the Best Personal Finance Story of the Year in the Headlinemoney awards 2021.