Energy firms' customer service falls as bills skyrocket
Citizens Advice says customer service of energy providers at a five-year low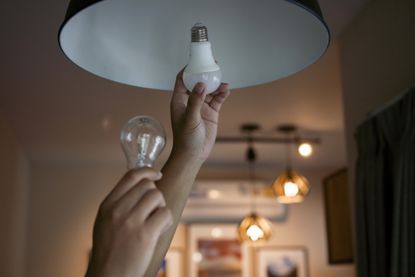 (Image credit: getty images)
Households are facing falling standards of customer service from their energy suppliers at the same time as soaring energy costs, according to Citizens Advice.
The charity says customer service is at its worst since 2017. Its latest star table, which ranks energy providers by customer service, comes as millions of households begin to receive bills with an average 54% price rise due to the higher energy price cap introduced this month (April).
Citizens Advice chief executive Dame Clare Moriarty said: "With millions of people struggling to make ends meet as the cost of living soars, it's more important than ever that people can turn to their energy company for support. The drop in customer service standards comes at the worst time possible."
We explain how energy suppliers are ranked for customer service, from best to worst.
The best energy providers for customer service
While price is arguably the most important factor when choosing a gas and electricity supplier, customer service (especially if something goes wrong) should be considered too.
M&S Energy is the best energy provider for customer service, according to Citizens Advice's latest ranking, which covers October to December 2021. M&S Energy received 3.85 stars out of 5.
EDF Energy, Octopus Energy, Affect Energy and So Energy make up the rest of the top 5, scoring at least 3.7 out of 5.
However, scores are generally lower than in previous energy star rating tables. The highest score was 3.95 out of 5 in June to September 2021, and 4.4 between October and December 2020.
The average wait time to speak to an energy supplier's customer service team on the phone is now more than five minutes (340 seconds), compared with around four minutes (246 seconds) a year ago.
The worst energy providers for customer service
According to Citizens Advice's study, the worst energy suppliers for customer service are Ovo Energy, Good Energy, Ecotricity, Boost Power and Utilita.
Utilita came bottom of the table, with just 1.7 stars out of 5. Boost Power got 1.88 stars.
Customers with the worst-performing suppliers face waiting times of around 15 minutes to speak to someone on the phone.
While the big energy suppliers didn't have the worst customer service, they didn't fare particularly well in the ranking either. SSE received 2.6 stars, E.ON Energy
2.9, ScottishPower 2.9 and British Gas 2.85.
How energy suppliers compare for customer service
Citizens Advice uses a number of sources to compile the table, including complaints data from the Citizens Advice consumer service, the Extra Help Unit and Energy Ombudsman, as well as information on billing and switching from suppliers.
Five energy suppliers collapsed in the last three months of 2021 and have been removed from the star rating table: Pure Planet, goto.energy, Zebra Power, Orbit Energy, and Together Energy.
Here's how 20 energy providers rank for customer service:
Swipe to scroll horizontally
| Supplier | Rating for October-December 2021 (Out of five) |
| --- | --- |
| M&S Energy | 3.85 |
| EDF Energy | 3.85 |
| Octopus Energy | 3.75 |
| Affect Energy | 3.75 |
| So Energy | 3.70 |
| Co-Operative Energy | 3.65 |
| Bulb Energy | 3.30 |
| Utility Warehouse | 3.25 |
| E (Gas and Electricity) | 3.13 |
| Shell Energy | 3.10 |
| Outfox The Market | 3.05 |
| E.ON Energy | 2.90 |
| ScottishPower | 2.90 |
| British Gas | 2.85 |
| SSE | 2.60 |
| Ovo Energy | 2.30 |
| Good Energy | 2.25 |
| Ecotricity | 2.10 |
| Boost Power | 1.88 |
| Utilita | 1.70 |
Customer service vital during the energy crisis
Citizens Advice said it was concerned that many customers could be missing out on help they're entitled to, such as affordable payment plans, because they're unable to easily contact their supplier.
It is calling for the energy regulator Ofgem to introduce a "consumer duty".
"It's Ofgem's job to make sure companies are delivering a good service. But the current system isn't working," Moriarty said. "A consumer duty focused on making sure customers get good outcomes is what's needed. With bills expected to soar again come October, there's no time to waste."
Grants from charitable trusts are available if you are in debt to your energy supplier. British Gas Energy Trust offers help to anyone, regardless of their provider, while other suppliers offer grants to their customers, such as the ScottishPower Hardship Fund, Ovo Energy Fund, E.on Energy Fund and EDF Energy Customer Support Fund.
What energy suppliers say about their customer service
A spokesman for Good Energy, which ranked 17th out of 20 energy providers for customer service, said: "We are disappointed with our drop in the Citizens Advice customer service rankings. The last quarter of 2021 was a challenging one for our team and our resources as the energy crisis took hold and we saw many suppliers go bust.
"We are committed to excellent service and it's more important now than ever."
Ecotricity founder Dale Vince said the company, which was ranked 18th out of 20, had seen an increase in customer contact during the energy crisis, with a tendency towards longer calls.
"We're working hard to improve performance, and thankfully we've already taken great steps forward since these numbers were recorded last year," he said.
A spokesperson for Utilita, which was ranked the worst for customer service, said its star rating "does not fully represent what customers need from an energy supplier today."
The spokesperson added: "It does not take into account the financial support we provided on almost 200,000 occasions during the reporting period, nor the millions of households that our award-winning Energy High 5 campaign has helped to cut their energy usage."
Look After My Bills Newsletter
Get the best money-saving tips, tricks and deals sent straight to your inbox every week. Make sense of your money in partnership with The Money Edit.
Tom Higgins is a journalist covering all aspects of the financial world, from investing and sustainability to pensions and personal finance. He graduated from Goldsmiths, University of London in June 2020 and has since written online and in print for the Financial Times group, New Statesman media group, numerous trade magazines, and has worked with Bloomberg on social media projects. He has a deep interest in environmentalism, social change, and data-driven storytelling. He can be found tweeting at @tomhuwhig.