Energy Price Guarantee: what it means for your energy bills
What is the Energy Price Guarantee, how does it work, what does it mean for your energy bills and how is it being paid for? We explain it all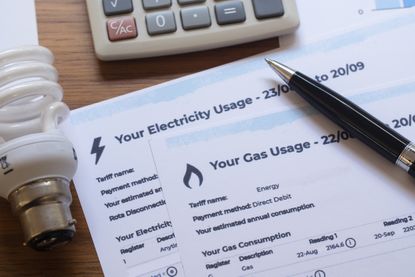 (Image credit: Getty images)
The Energy Price Guarantee (EPG) will freeze energy prices from 1 October until 2024, protecting households from considerably bigger expected increases.
Crucially, the EPG does not set a total limit on how much your bills can cost. It only limits the unit cost of energy, setting a maximum price per kilowatt hour (kWH) energy firms can charge you for the gas and electricity you use, plus standing charges.
The more energy you use, the higher your bills will still be.
As a result of the limit on unit prices and standing charges a typical household will face energy bills of around £2,500 per year. Considerably higher than last winter when average bills were closer to £1,277.
Along with the EPG, households will still get the £400 energy bill discount from October. And you're advised to submit a meter reading before higher prices come into effect on 1 October.
Energy regulator Ofgem had previously set its price cap at £3,549 from October for an average household - which could have seen the typical bill shoot up by 80%.
Some analysts also predicted further increases for next year of over £6,000.
The EPG is intended to help families tackle the cost of living crisis, which is primarily being driven by rising energy, food and fuel prices.
Here we explain what the EPG means for your bills, how it could be paid for and the support available to you.
What does the Energy Price Guarantee mean for your energy bills?
The EPG limits the unit cost of energy, in the same way pre-existing Ofgem energy price cap does. It is the maximum price per kilowatt hour (kWH) energy firms can charge you for the gas and electricity you use, plus standing charges.
It means there isn't a total limit on how much your bills can cost - the more energy you use, the higher your bills will be.
The cost of £2,500 per year for the average household bill has been much publicised, but the £400 energy bill discount and the temporary removal of green levies need to be factored in.
It means the average household bill will remain roughly the current level of £1,971 for at least the next year - if you factor in the £400 energy discount. But, without it, you could still see an average 27% increase in your energy bill in 2024.
The average household should expect its energy bill to cost around £208 per month. But this could be substantially higher or lower depending on your energy use.
The energy bill discount will reduce your bill each month from October 2022 - March 2023 (£66 in October and November and £67 December 2022 - March 2023).
You can use our energy bill calculator to get personalised view of how much you can expect to pay.
The typical household on a standard variable rate tariff will still be paying a lot more for energy this winter.
| | Last winter | This winter |
| --- | --- | --- |
| Electricity unit price | £0.20 per kWh. | £0.34 per kWh. |
| Electricity daily standing charge | £0.25 | £0.46 |
| Gas unit price | £0.04p per kWh. | £0.10 per kWh. |
| Gas daily standing charge | £0.26 | £0.28 |
It's important to note these are averages. Standing charges vary from region to region. Some parts of the UK - usually remote regions - have seen big jumps in standing charges in recent years as the cost of supplying energy has risen.
We're waiting for unit prices to be published for prepayment meter customers. Around 4 million households use a prepayment meter for their energy bills, according to Ofgem.
It is expected the unit cost for prepayment meter customers will continue to be slightly higher than direct debit bill payers.
We are still waiting on details for those not on standard gas or electricity contracts, such as those in park homes or heat networks.
They will not benefit from the Energy Price Guarantee, but the government said they will get 'comparable' support. We will keep you posted as soon as we know more.
HOUSEHOLDS STILL RECEIVE THE £400 PAYMENT FOR ENERGY BILLS
The £400 payment will be made from October 2022 and will be spread over six months instead of one lump sum payment.
If you're eligible your household will get a discount of £66 applied to your energy bills in October and November, and then £67 a month from December to March 2023.
You do not have to pay back the £400 - as former chancellor Rishi Sunak put it, "not a penny to repay."
The government has also said it will introduce legislation to make sure landlords pass the £400 energy discount on to tenants who pay all-inclusive bills.
But the government has let energy suppliers decide how to give out the money - for example whether to deduct it from your Direct Debit payments or refund the amount to your bank account.
Find out how your energy firm will pay your £400 energy rebate.
The £400 payment will also be extended to include people such as park home residents and tenants whose landlords pay for their energy via a commercial contract.
An extra £100 will also be given to homes that are off the gas grid to help with the rising costs of alternative fuels such as heating oil.
What does the Energy Price Guarantee mean if you're on fixed tariff?
If you're one of 4.2 million households in the UK on a fixed tariff, you will get an automatic discount automatically applied to your tariff by your energy supplier.
But, there are some caveats.
If you're on a fixed rate tariff it can be reduced by up to 17p/kWh for electricity and 4.2p/kWh for gas until you hit a 'floor' unit rate.
On average the 'floor' unit rate will be 10.3p/kwh for gas and 34p/kwh for electricity if you pay by direct debit.
It means most households shouldn't be paying more than 10.3p/kwh for gas and 34p/kwh for electricity - but there are a handful of homes on higher price fix tariffs who could still be paying more.
If you already have a fixed rate tariff below the 'floor' rate, you're on a good deal and can continue befitting from lower prices until your fixed rate ends.
If you are already on a standard variable tariff, then you do not need to do anything; your bill will be adjusted automatically on 1 October.
Many firms are also waiving exit fees for customers on fixed tariffs so you can switch to the standard variable tariff.
How much will the Energy Price Guarantee cost?
For households, the Energy Price Guarantee will not cost anything right now. But, this government spending splurge could have a huge price tag.
As announced in the mini budget, the EPG, £400 energy payment to households and the EPG for businesses all together is costing around £60 billion in just the first 6 months.
This cost also includes additional measures the government is taking to cut businesses energy bills.
The Chancellor of the Exchequer, Kwasi Kwarteng, said: "The Energy Bill Relief Scheme will reduce wholesale gas and electricity prices for all UK businesses, charities, and the public sector like schools and hospitals.
This will provide a price guarantee equivalent to the one provided for households, for all businesses across the country."
Most analysts expect it and the £400 energy rebate to cost around £100bn in government spending over the two years, but the final figure could be much lower or higher depending on wholesale gas prices.
The government has firmly ruled out windfall taxes to pay for the EPG. Instead, it says it is concentrating on boosting supply and working with energy producers to lower costs with the £100bn likely to be reclaimed through increased borrowing and general taxation.
The changes will affect government spending plans, consumer confidence, inflation and the future interest rate hikes by the Bank of England.
The Money Edit's sister title MoneyWeek (opens in new tab) reports that economists already expect the package to knock five percentage points from peak inflation, potentially saving the government as much as £25bn in interest costs this year.
Further energy bill support
Adam is a Personal Finance Editor at The Money Edit. He has been working to save you money as a personal finance and consumer journalist, editor and commentator for several years. His work has appeared in the HuffPost, Which?, i paper and This is Money, plus various TV and radio as a personal finance, consumer rights and scams expert, which include BBC Rip Off Britain, LBC, 5 News, Steph's Packed lunch and Newsround to name a few. He was previously the senior consumer rights editor at Which?.
When Adam isn't working he's watching Norwich City yo-yo between leagues or walking his dog.