Energy firms are failing vulnerable customers, says Ofgem: here's how to get on the Priority Services Register
The regulator has found 17 energy suppliers lacking in their support for customers, in particular vulnerable ones. We explain how to ensure you're getting all the help available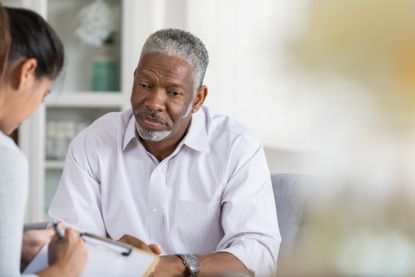 (Image credit: Getty images)
Energy companies are failing vulnerable customers, according to the latest review by the energy regulator.
Ofgem found all 17 energy suppliers need to improve their support for customers, especially vulnerable ones. It found "severe weaknesses" in five suppliers: Good Energy, Outfox, So Energy, TruEnergy and Utilita. "Moderate weaknesses" were found in five other companies: E (Gas & Electricity), Ecotricity, Octopus, Shell and Green Energy UK.
Meanwhile, "minor weaknesses" were discovered in seven firms: British Gas, Bulb, EDF, E.ON, Ovo, Scottish Power and Utility Warehouse.
Examples of poor practice included suppliers not reading the meters of vulnerable customers who could not do so themselves; setting debt repayment rates so high that vulnerable customers self-disconnect because their pre-payment meters run out; and vulnerable customers not being able to get through when they are off supply to top up their meter or request additional support credit.
Households are currently paying an average of £2,500 a year under the Energy Price Guarantee, but this will increase in April 2023 to £3,000 per year, and run until April 2024.
Neil Lawrence, Director of Retail at Ofgem, said: "From eligible customers who are missing out on free gas safety checks through to companies not identifying vulnerable customers to be offered obvious support on the Priority Services Register, this robust review has highlighted that suppliers need to do more to support consumers."
We explain how to ensure you're getting all the help available.
Get on the Priority Services Register
This Priority Services Register is for pensioners, anyone pregnant or who has young children, those who are disabled, have long term medical conditions or communications needs.
Being on this register means your supplier has to offer you an affordable payment plan and can give out emergency top-up credit for prepay meters. Call your supplier to be put on the register.
Apply to energy firms' hardship funds
Several energy firms have hardship funds. In some cases these include grants that don't have to be repaid and debt being written off up to a certain amount.
You need to be an existing customer - with the exception of the British Gas Energy Trust which offers grants up to £1,500 to customers irrespective of their energy supplier.
Other help if you're on a low income
If you're on a low income or in receipt of benefits, there is other help available that you may be missing out on.
Broadband: Over 4 million people are missing out on getting a cheaper 'social' tariff for their broadband and saving up to £250 a year - check if you're on a low income.
White goods: You can get free or cheap white goods such as cookers and fridges from charities, non-profit organisations and some firms if you meet their eligibility criteria - which slightly differ depending on where you turn to. Charity website Turn2Us lists 3,000 organisations that give money to buy white goods. You'll be required to fill in a form online or in person to provide details on your personal circumstances.
Discounts for local sport facilities, theatres and cinemas: Some local authorities give residents discount cards, often called Passport to Leisure or Leisure Cards, that entitles you to reduced admission for activities including sport, theatre, museums and cinema. Some councils offer them to all residents, others require you to show you're on a particular benefit:
it's something of a postcode lottery of discounts. For example, Swansea Passport to Leisure offers discounts of up to 60% off prices at Swansea leisure venues at any time during normal opening hours while Birmingham's Passport To Leisure card gives you 20% off most activities at leisure centres and swimming pools.
Benefits you're entitled to: If you're struggling financially, it is always worth checking to see what benefits you are entitled to. Shockingly, £15bn goes unclaimed with pension credit, child benefit, council tax support and marriage allowance having especially low take-up. Website Entitledto.co.uk can help you find out.
Look After My Bills Newsletter
Get the best money-saving tips, tricks and deals sent straight to your inbox every week. Make sense of your money in partnership with The Money Edit.
Katie is staff writer at The Money Edit. She was the former staff writer at The Times and The Sunday Times. Her experience includes writing about personal finance, culture, travel and interviews celebrities. Her investigative work on financial abuse resulted in a number of mortgage prisoners being set free - and a nomination for the Best Personal Finance Story of the Year in the Headlinemoney awards 2021.