Surprise energy bill hike for millions - why most shouldn't panic
Energy bills will rise after a surprise change to tariffs by some suppliers. While the increases will be minimal for most households, a few could have to pay over £100 a year more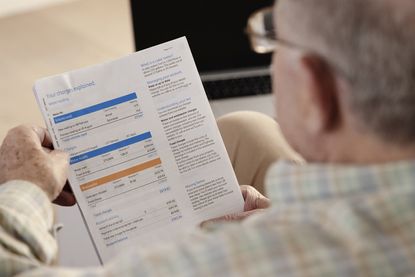 (Image credit: Getty images)
Millions of households will see an increase in their energy bills after a surprise change to tariffs by some energy suppliers.
It means for most households the increases will be minimal, but some could have to pay over £100 a year.
For example, households in North Wales and the Merseyside area who pay for their electricity upon receipt, rather than by direct debit, will see their bills increase by more than £5 per month between January and April.
The increases have caused confusion for customers who believed the Energy Price Guarantee - a government discount on bills that means the average household won't pay more than £2,500 a year - would prevent this from happening.
Yet energy regulator Ofgem still sets the price cap (the maximum rates per unit) on what suppliers can charge. This latest price decision came in from January 1 and will last until 1 April, which means the discount on bills will change very slightly during this time period.
This is because the Energy Price Guarantee is a flat rate discount, but Ofgem sets different rates regionally.
Editor of The Money Edit, Adam French, says: "For the majority of us these changes are small, especially when compared with the major upswings we've seen in energy costs in 2021 and 2022. Bear in mind that the Government has highlighted the annual average bill will still be around £2,500."
Surprise energy bill hike
Which customers will see the biggest increase?
It's a mixed picture for customers and some suppliers have not confirmed how much bills will increase or how many customers are affected.
Customers who will be worst hit by the changes are those who pay on standard credit, where you do not pay by direct debit but receive a bill every month or quarter and pay by card, cash or cheque. Their bills are set to increase by around £3.90 per month on average.
Customers on Economy 7 tariffs - where you pay a day rate and a cheaper, overnight rate - could also face significant rises. For example, EDF customers on its Economy 7 tariff who pay by cash or cheque will see the biggest average rise of 8.9%. This equates to an extra £143.97 a year.
Those Economy 7 tariff customers paying by direct debit will also see increases - around £103.90 a year more.
Other confirmed rises include Utilita (5% increase on yearly Economy 7 tariff bills) and Octopus Energy (8% increase on Economy 7 tariff bills) – although the exact increase will depend on where customers live.
British Gas will increase prices on its Economy 7 although the supplier hasn't said by how much.
Similarly, Shell Energy will increase prices for its customers – although the company hasn't said by how much.
Meanwhile, prepayment meter customers will see an average bill increase of £1.50.
What help can I get with my energy bill?
If you're struggling to pay your energy bills, there is support available.
First, speak to your energy supplier. Many people don't ask for help because they don't think their financial situation is that dire. Your supplier has to work with you to agree on a payment plan that suits your circumstances. This can include giving you a payment break or providing access to hardship funds.
Before you call, put together a rough overview of your income and outgoings, what you are left with and any worries about losing your job or a source of income - your energy firm can ask you for this info so they can figure out how they can help you.
Several energy suppliers offer hardship funds. In some cases, it includes grants that don't have to be repaid and debt being written off up to a certain amount. You need to be an existing customer - with the exception of the British Gas Energy Trust which offers grants up to £1,500 to customers irrespective of their energy supplier.
Look After My Bills Newsletter
Get the best money-saving tips, tricks and deals sent straight to your inbox every week. Make sense of your money in partnership with The Money Edit.
Katie is staff writer at The Money Edit. She was the former staff writer at The Times and The Sunday Times. Her experience includes writing about personal finance, culture, travel and interviews celebrities. Her investigative work on financial abuse resulted in a number of mortgage prisoners being set free - and a nomination for the Best Personal Finance Story of the Year in the Headlinemoney awards 2021.