Almost 2 million energy prepayment vouchers are yet to be claimed - are you missing out?
Take-up of energy bill vouchers rises among prepayment meter users - but almost 2 millions vouchers are yet to be redeemed. We explain how to ensure you don't miss out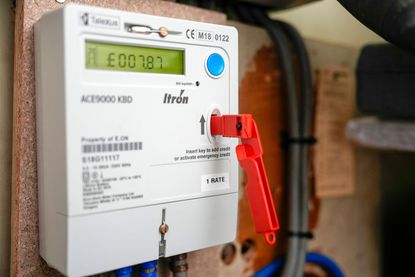 (Image credit: Christopher Furlong)
Almost 2 million energy support vouchers for homes with traditional prepayment meters still haven't been claimed.
The monthly vouchers under the Energy Bills Support Scheme (EBSS) (opens in new tab) are worth £66 or £67 each – totalling £400 if you use all six vouchers to top up your pre-payment meter.
A record level of vouchers reached vulnerable households in January, with 1.7 million vouchers used by those on prepayment meters – more than in previous months. It means three quarters of all vouchers are now redeemed, according to the Department for Business, Energy and Industrial Strategy.
But with temperatures set to drop to near freezing (opens in new tab) and the possibility of snow next month, accessing the unclaimed government support will be essential to help you keep your home warm.
All households in the UK have benefited from £400 in payments this winter to help them with energy bills, with the majority having the money automatically deducted from their energy bills. Those who pay via a prepayment meter have to claim vouchers. We explain if you could be missing out.
Who hasn't claimed their energy vouchers?
Data shows that the fewest households making use of the support are in London, where over a third of vouchers remain unclaimed.
Scotland and South East England had the next-lowest claim rates (of 68% and 69%, respectively), with rates especially low in Edinburgh, Glasgow and Brighton.
Scottish Power customers are also some of the least likely to have claimed their energy vouchers, despite the company supplying one of the largest numbers of households with traditional prepayment meters.
The government is calling on energy companies to help their prepayment customers claim the support.
How to claim your prepayment energy vouchers
Traditional prepayment meter customers get sent a voucher via email, text or post. You then redeem the voucher when you top up.
Vouchers are valid for 90 days. So October and November's vouchers, for example, have already expired.
But if you haven't used them or received them, don't worry. Your energy supplier can reissue expired or lost vouchers, but you'll need to get in touch with them to ask them for a replacement. Contact them as soon as possible.
Reissued vouchers are then valid for another 90 days, and all vouchers must be used by 30 June.
Related articles
Katie is staff writer at The Money Edit. She was the former staff writer at The Times and The Sunday Times. Her experience includes writing about personal finance, culture, travel and interviews celebrities. Her investigative work on financial abuse resulted in a number of mortgage prisoners being set free - and a nomination for the Best Personal Finance Story of the Year in the Headlinemoney awards 2021.