Energy bill freeze: winners and losers
Who are the winners and losers from the prime minister's support package to tackle rising energy bills? Not everyone stands to benefit equally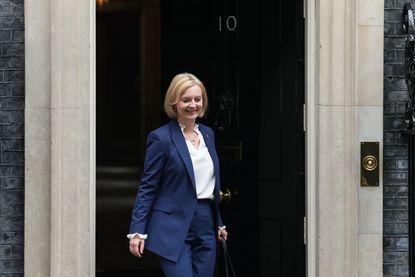 (Image credit: Getty Images)
Prime minister Liz Truss has announced plans to freeze the energy price cap, meaning the average household will pay £2,500 a year for typical use for their gas and electricity bills. But will everyone be a winner?
Without this government intervention, the energy price cap, which limits the amount suppliers can charge customers on a standard variable tariff, was set to rise from £1,971 to £3,549 next month.
The so-called "energy price guarantee" will temporarily replace Ofgem's price cap, taking effect on 1 October and will remain in place for two years.
Truss said: "I'm acting immediately so people and businesses are supported over the next two years, with a new energy price guarantee, and tackling the root cause of the issues by boosting domestic energy supply."
More details on how the multi-billion support package will work.
However, not everyone stands to benefit equally. We highlight the winners and losers.
Truss's energy freeze: who are the winners?
Those on high incomes
The energy price guarantee will automatically take effect on 1 October and apply to every household in the country, irrespective of income.
This means those on high incomes will receive exactly the same support as those on lower incomes. Those with multiple properties, such as a second home in the country, will be able to enjoy lower energy bills on all their properties.
Critics say the support should have been more targeted, with pensioners and those on low incomes receiving extra help.
Households that use heating oil
The prime minister made it clear that those who are not directly covered by the energy price guarantee will be no worse off and will receive comparable support.
This includes people who use heating oil in their homes, those who have communal heating schemes, and people in mobile home parks.
The government will set up a discretionary fund, although it is not clear yet how customers will be able to access it.
Alice Haine, personal finance analyst at investment platform and coaching service Bestinvest, said that while heating oil prices had recently come down, they were still double what they were a year ago. She called Truss's announcement "good news for the 1 million UK homes with an oil-fired heating system that previously received no protection against rising prices".
Energy firms
Energy suppliers have escaped having a windfall tax applied to their profits, and they won't have to pay for the new energy price guarantee either. Instead, the government will compensate energy firms for the difference between the wholesale price of gas and electricity and the amount they can charge customers under the £2,500 cap.
Opposition parties criticised Truss's refusal to fund the support package with a windfall tax on gas and oil company profits, saying taxpayers would end up paying for it, and that many families and pensioners would continue to struggle with high energy bills this winter.
However, energy firms may be forced to accept lower prices in future, as a new "Energy Supply Taskforce" is being set up to negotiate the prices suppliers charge for energy and increase the security of its supply.
Truss's energy announcement: who are the losers?
Those on low incomes
Charities and campaigners have criticised Truss's announcement for failing to include targeted support for those who need it most.
Despite the £2,500 cap on average annual bills, the End Fuel Poverty Coalition pressure group estimates that 7 million households will be in fuel poverty this winter.
Adam Scorer, chief executive of fuel poverty charity National Energy Action, said: "The new government must not forget that the most vulnerable need targeted support. Those who use more energy in their homes because of medical conditions, those who are elderly and those on very low incomes need extra help so they don't have to ration their usage, putting their physical and mental health at risk."
The Money Advice Trust, a charity, said that "high energy prices and rising food and fuel costs has left many households facing impossible choices".
Pensioners
Pensioners also did not receive any extra help from the prime minister, beyond the £2,500 cap on their average annual bills.
Helen Morrissey, senior pensions and retirement analyst at the investment platform Hargreaves Lansdown, said gas and electricity bills will eat up a big chunk of pensioners' incomes. "The average income for a pensioner couple is around £511 a week, so even at this new level some pensioners could see fuel bills taking up almost 10% of their income. Single-pensioner households could find it harder still – if their fuel needs hit the price cap that's a whopping 19% of their income allocated to keeping the lights on and the heating running."
Pensioners solely dependent on the state pension will find it particularly hard – a full new state pension pays out just over £9,600 a year while those on the basic pension get just under £7,400, so "energy bills will continue to be an enormous source of stress", according to Morrissey.
Businesses
Businesses, charities and public sector organisations will benefit from a six-month scheme offering the same level of support as the £2,500 energy price guarantee.
Some businesses will receive support beyond this, but many will not. A decision on which sectors will get further help is expected in three months' time.
While the short-term support is better than the current situation (Ofgem's price cap does not cover businesses), many firms will be dismayed to learn that their energy bills could skyrocket again next spring when the six months are up.
Craig Bunting, owner of Derby-based coffee chain Bear, said: "Whilst the energy cap is incredibly important, hospitality businesses cannot wait for three months in limbo. Decisive action on 10% VAT and zero business rates would immediately stop many independent hospitality businesses from closing."
Look After My Bills Newsletter
Get the best money-saving tips, tricks and deals sent straight to your inbox every week. Make sense of your money in partnership with The Money Edit.
Ruth Emery is contributing editor at The Money Edit. Ruth is passionate about helping people feel more confident about their finances. She was previously editor of Times Money Mentor, and prior to that was deputy Money editor at The Sunday Times. A multi-award winning journalist, Ruth started her career on a pensions magazine at the FT Group, and has also worked at Money Observer and Money Advice Service. Outside of work, she is a mum to two young children, a magistrate and an NHS volunteer.