New ECO plus insulation grant could save households £310 a year
A new ECO plus insulation grant could put £1 billion into insulating homes and other energy efficiency improvements. We look at how the scheme works and how to claim.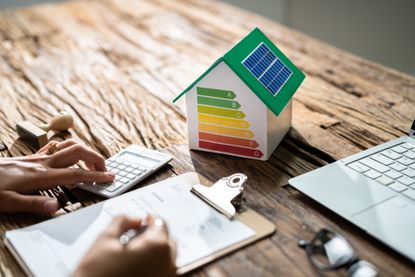 (Image credit: Getty images)
Look After My Bills Newsletter
Get the best money-saving tips, tricks and deals sent straight to your inbox every week. Make sense of your money in partnership with The Money Edit.
Thank you for signing up to The Money Edit. You will receive a verification email shortly.
There was a problem. Please refresh the page and try again.
Thousands of households could benefit from a new ECO plus insulation grant, which could save consumers about £310 a year, as they struggle with rising energy prices in 2023.
Business and energy secretary Grant Shapps said the £1 billion scheme - called ECO plus - would pay for low-cost measures such as loft insulation and cavity wall insulation, and target homes that have a low energy efficiency rating and are in the lower council tax bands.
Following a government consultation, the scheme should kick off in spring 2023 and run until March 2026.
Shapps said the government was launching "the first of many measures" that would "support households in the wake of global energy price rises".
He added: "A new ECO scheme will enable thousands more to insulate their homes, protecting the pounds in their pockets, and creating jobs across the country."
The government is also launching an £18 million public awareness campaign, giving tips and advice to households on how to reduce energy use and lower their bills, "without sacrificing comfort".
Here we explain what we know so far about the proposed ECO Plus insulation scheme - how it will work and who will benefit.
ECO plus insulation grant
Will you be eligible for the ECO plus insulation grant?
About 80% of the funding available through the ECO plus scheme will be for households who are in energy-inefficient homes:
an EPC rating of D or below – and
in the lower council tax bands.
According to reports, applicants will have to live in properties covered by council tax bands A to D.
The funding will be available to homeowners and those who are renting (either privately or in social housing).
By targeting the funding in this way, the government says it means the scheme will benefit households who are not currently eligible for other support to upgrade their homes. So, the ECO plus scheme could potentially benefit so-called "middle earners".
The remaining 20% will be targeted at those who are most vulnerable, such as those on means-tested benefits or in fuel poverty.
How can I apply for ECO plus insulation grant?
The government is running a consultation first to iron out the details of exactly how the scheme will work. The consultation will finish on 23 December, so further details should be shared in early 2023.
It is expected that customers will need to contact their energy provider to see if it is participating in the scheme. If you are eligible, your energy provider will do a survey and pay for the insulation measures, which could add up to £1,000s.
When will the ECO plus insulation grant open?
The ECO plus scheme will run from spring 2023 for up to three years until March 2026.
Chancellor Jeremy Hunt said: "Our new ECO plus scheme will help hundreds of thousands of people across the UK to better insulate their homes to reduce consumption, with the added benefit of saving families hundreds of pounds each year."
The existing ECO scheme
You may have heard about an ECO scheme already. That's because an ECO scheme launched in January 2013 (known as ECO4). It is targeted at those who need support most; those in social housing, on a low-income or who are fuel poor.
However, with the sharp rise in energy bills, the government wants to widen out insulation funding to more households, hence the arrival of ECO Plus.
Myron Jobson, senior personal finance analyst at interactive investor, said: "At a time when the cost of energy is going through the roof, any additional funding for energy efficiency is welcome. The meteoric rise in energy bills has sent shivers down spines this winter, with the poorest households making stark and unhealthy sacrifices to stay financially afloat.
"Identifying, promoting and funding energy efficient practices could help ease the burden on the government to support households and benefit the environment too."
New public awareness campaign to lower energy usage
An £18 million government campaign will offer tips and advice for people to cut their energy use, and reduce their bills.
The public information campaign will include tips like:
The tips will be available on the Help for Households website.
What other support is available?
The ECO Plus scheme and the new awareness campaign follow the announcement in the Autumn statement that the energy price guarantee would be extended - albeit at a less generous level. From April 2023, the energy price guarantee will rise from £2,500 to £3,000 for an average annual bill.
If you need help now and don't want to wait until next spring for the ECO Plus scheme - or, you're not sure you'll be eligible for it - there are several support packages available now.
The existing ECO scheme (which stands for Energy Company Obligation) offers grants for improving the energy efficiency of your home.
The grants are handed out by energy suppliers and can help you replace an old boiler, or add insulation. The support could cover some of the cost, or all of it.
Contact your local council to find out if they're taking part in the ECO scheme, or contact your energy provider directly.
Another helpful scheme is the Boiler Upgrade Scheme, which offers a grant to cover part of the cost of replacing your fossil fuel heating system with a heat pump or biomass boiler.
This scheme is only open to households in England and Wales. If you live in Scotland, you may be able to get an interest-free loan to make your home more energy-efficient. If you live in Northern Ireland, you might be able to get a grant to replace your boiler.
If you're struggling to pay your energy bills right now, it could be worth speaking to your energy supplier to see if they offer a hardship fund.
Related articles:
Look After My Bills Newsletter
Get the best money-saving tips, tricks and deals sent straight to your inbox every week. Make sense of your money in partnership with The Money Edit.
Ruth Emery is contributing editor at The Money Edit. Ruth is passionate about helping people feel more confident about their finances. She was previously editor of Times Money Mentor, and prior to that was deputy Money editor at The Sunday Times. A multi-award winning journalist, Ruth started her career on a pensions magazine at the FT Group, and has also worked at Money Observer and Money Advice Service. Outside of work, she is a mum to two young children, a magistrate and an NHS volunteer.