Cold weather payments: can you get £25 towards your energy bills?
The government has so far made almost 5.3 million cold weather payments - worth £25 each - to households this winter. We explain who is eligible and how to claim.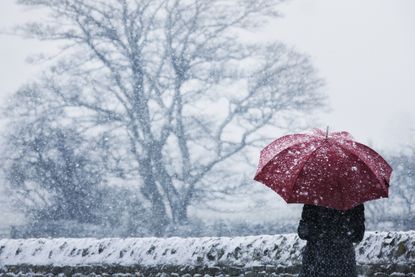 (Image credit: Getty images)
Look After My Bills Newsletter
Get the best money-saving tips, tricks and deals sent straight to your inbox every week. Make sense of your money in partnership with The Money Edit.
Thank you for signing up to The Money Edit. You will receive a verification email shortly.
There was a problem. Please refresh the page and try again.
Almost 5.3 million cold weather payments have been made by the government so far this winter to households in parts of England and Wales.
The £25 payments are designed to help low-income and vulnerable households pay for energy bills when temperatures drop below freezing.
According to figures from the Department for Work and Pensions (DWP), there have been 112 cold weather triggers so far this winter, across 65 out of a possible 72 locations, meaning eligible residents in those areas will receive a payment. Locations include Aberporth, Carlisle, Exeter, Nottingham, Woburn, Rhyl, Sheffield, Almondsbury and Stowe.
There will likely be more cold weather triggers this week, with forecasts of snow and ice for much of the country.
Richard Neudegg at the comparison website Uswitch.com comments: "Cold weather payments help many vulnerable households including older people and disabled families to keep the heating on when they might not be able to afford it.
"Nearly £100 million was paid out in 2020/21, and higher bills this winter mean the payments are more valuable than ever this year."
The Money Edit estimates that the government has paid out almost £132 million between 1 November 2022 and 24 February 2023. The final figure could be much higher as the payment scheme runs until 31 March.
We explain how cold weather payments work, who's eligible and how to claim.
Who is eligible for a cold weather payment?
Cold weather payments are a government benefit to help with gas and electricity bills during times of extremely cold weather.
To qualify, you must be eligible for one of these benefits:
Income support
Income-based job seekers' allowance
Income-related employment and support allowance
You may also qualify for a cold weather payment if you're getting support for mortgage interest.
There are extra criteria that you must meet depending on which benefits you get. For example if you're receiving universal credit, you must not be employed or self-employed, and you must either have a health condition or disability and have limited capability for work (with or without work-related activity), or have a child under 5 living with you.
Check out the full additional criteria on the government website.
If you live in England or Wales, have a look at the online postcode checker to see which areas are currently eligible for cold weather payments. There have been 102 cold weather triggers in England since last November, and 19 in Wales.
There are an estimated 3.7 million eligible recipients for cold weather payments this winter, according to the DWP. An estimated 1.2 million of these claimants are in receipt of pension credit.
If you live in Northern Ireland, check on NIDirect to see if your postcode is in an area due to receive payments.
The system is different in Scotland; those on low incomes and benefits may instead receive the winter heating payment, which is not based on weather conditions.
Do I need to be a pensioner to receive the payment?
No, the cold weather payment is not age-related. You may be mixing it up with the winter fuel payment, which is paid to pensioners born before 26 September 1956.
How much is the cold weather payment?
Each cold weather payment is paid for a seven-day period and is worth £25. It's possible you may receive several during a particularly cold winter.
You'll get a payment if the average temperature in your area is recorded as, or forecast to be, zero degrees Celsius or below over seven consecutive days.
The current scheme covers the period between 1 November 2022 and 31 March 2023.
Some areas have already triggered more than one cold weather payment this winter. For example, eligible residents in the BA4 postcode in Somerset received a £25 payment for 4 - 10 December, another one for 11 - 17 December, and then another for 17 January - 23 January.
For the BA4 postcode, the government uses the weather station in Yeovilton to forecast and record the temperature.
Meanwhile, there have been four cold weather triggers in Benson, Oxfordshire, over the past few months.
How do I claim the payment?
The payments are automatic, so if you are eligible you do not need to apply. You'll get the payment within 14 working days into the bank or building society account that you receive your benefit payments.
I think I should have got the payment, but I haven't received anything?
If payments have been triggered in your area (you can use the postcode checker) and you believe you meet the eligibility criteria, but you haven't received a payment yet, contact the Pension Service or Jobcentre Plus.
If you're getting universal credit, you can also sign into your online account and add a note to your journal. Or you can call the universal credit helpline on 0800 328 5644.
I don't qualify for the payment. What other energy bills help is available?
The government is making a series of cost of living payments to support households. Check if you qualify for one of them - or several - in our cost of living round-up.
There is also a £400 energy bill grant for households in England, Scotland and Wales with a domestic electricity account, which started to be paid in October. This is being paid regardless of your income and in instalments of £66 - £67 a month until March 2023. Speak to your energy provider if you cannot spot this discount on your bill.
If your energy supplier has suddenly hiked your direct debit, you may be able to fight back and get it lowered. We explain how to beat unfair energy direct debit hikes.
More than 11 million households receive a winter fuel payment each year - check if you're eligible and find out how the payment works.
For those in financial difficulty, your energy supplier may offer a hardship fund. Find out if you may be able to apply in our energy bill hardship funds article.
If you're thinking of other ways to reduce your bills, such as whether a fan heater or oil heater is cheaper to run, whether an oven or slow cooker uses less power, or whether a tumble dryer or heated airer is more cost-effective to run, take a look at our popular head-to-head articles where we do the maths and weigh up the pros and cons to help you cut your energy bill.
Look After My Bills Newsletter
Get the best money-saving tips, tricks and deals sent straight to your inbox every week. Make sense of your money in partnership with The Money Edit.
Ruth Emery is contributing editor at The Money Edit. Ruth is passionate about helping people feel more confident about their finances. She was previously editor of Times Money Mentor, and prior to that was deputy Money editor at The Sunday Times. A multi-award winning journalist, Ruth started her career on a pensions magazine at the FT Group, and has also worked at Money Observer and Money Advice Service. Outside of work, she is a mum to two young children, a magistrate and an NHS volunteer.