Does putting cling film on your windows save on heating bills?
As households brace for a colder weather and higher energy bills, will putting cling film on your windows to keep the heat in? We explain if it will work.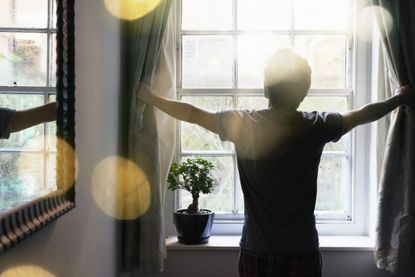 (Image credit: Getty images)
Energy bills have risen to unaffordable levels, driving households to search for alternative routes to heat the home. One popular question that has come up is should I put cling film on my windows?
The government's Energy Price Guarantee has doubled energy bills from this time last year, leaving people reluctant to put their heating on.
To keep costs low, it's a good idea to start thinking about efficient ways of heating your home like loft and cavity wall insulation, as well as quick wins like using cling film. We tell you if it works.
Here we explain if putting cling film on your windows can really lower your energy bills, and the better alternatives.
Will cling film on your windows save on heating bills?
Cling film which is usually used in the kitchen can form a layer of protection against the cold draft coming in from your window and entering your home.
The goal is for the cling film to reduce heat loss through the windows, so less energy is required to heat a room.
It is an easy hack to insulate your home but this depends on the condition of your window and it won't be as effective for everyone.
If your windows are single glazed, you will be able to tell a big difference when you put cling film on your window. But if your windows are double glazed, cling film won't be as effective because it is already well insulated.
An energy expert at Uswitch comments: "If your windows only have single glazing, then you could lose up to 20% of your home's overall heat.
Windows account for a significant portion of heat loss, so any measures you can take to prevent this happening are worthwhile to help save on your energy bills."
WHAT IS A BETTER ALTERNATIVE TO CLING FILM?
"Rather than using cling film to reduce heat loss, consumers should buy insulating film for windows, which is especially made for this purpose," the Uswitch energy expert says.
It is a more effective option like this one at Wilko's for £5. Window films come in different styles and prints so you can keep your house warm at no decorative cost.
This Wilko's window film is water and heat resistant and can be up in minutes. All you need to do is stick the film onto the window and if it is too big for your window, cut it down to your window size.
OTHER WAYS TO KEEP THE HEAT IN YOUR HOME
Keeping your home warm and reducing heat loss is a good way to keep energy bills down. Here are some other options to consider.
Check what time you put the heater on and how often. A lot of households want to know when is the best time to put your heating on and whether putting the heating on at night is cheaper to use. It can be cheaper to use at night but it's not the safest option, as leaving appliances on overnight poses a hazard. You can also cut costs by switching the heater on only when you need it. If you leave the heating on low all day, it costs more as it is constantly using energy.
Insulation grants. This is one of your best bets to keep the heat in your home in an energy efficient way, and that too at a lower cost. There are government grants available for loft and cavity wall insulation and the Boiler Upgrade Scheme that will save you thousands of pounds. Check if you're eligible.
Under Energy Company Obligation (ECO) funding you could be eligible for Solid wall insulation, heating controls upgrades or first time gas connection. All large energy providers offer these grants through Ofgem so it's worth checking if you're eligible and how to apply.
Take part in the Money Saving Boiler Challenge. The Challenge set by Nesta is proven to lower energy costs by £112. If you make two simple changes to your boiler, you could save a huge £300 on energy bills.
Draught proof strips for doors. It's no surprise that heat is lost through the door, even when it's shut. You can get draught proof strips to put in between door frames from the inside and outside of your home. If you find there is a lot of heat loss at the bottom of the door, you can get draught excluders to eliminate this for around £10 to £20, like this one from Dunelm.
Bleed the radiators. It's important that the radiators are working properly so they can heat up to their full potential. If you feel the top of the heater is cooler than the bottom, that's a sign it needs bleeding. All this means is there is air trapped which needs releasing.
Put in curtains. This is a great way to stop heat loss. If you're looking for new curtains, you can opt for thermal lined ones like this John Lewis curtain, ranging between £35 to £45. If you already have curtains and don't want to cash out on new ones, then you can get thermal lining to put on them. You can also find thermal lining at John Lewis for £8 per meter.
Related articles
Vaishali graduated in journalism from Leeds University. She has gained experience writing local stories around Leeds and Leicester, which includes writing for a university publication and Leicester Mercury.
She has also done some marketing and copywriting for businesses.
When she is not writing about personal finance, Vaishali likes to travel and she's a foodie.