British Gas vs E.ON: which should I choose?
We compare British Gas vs E.ON – to help you choose the right provider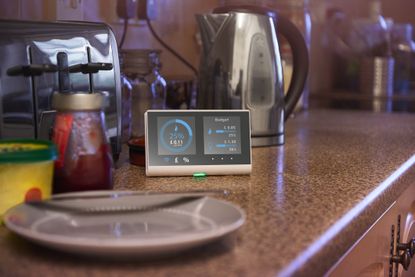 (Image credit: getty images)
Looking to choose an energy provider? We pit British Gas vs E.ON, two of the largest providers on the market to see what they offer.
The energy market has gone through some big changes in the past 18 months with soaring gas and electricity prices and limited options for those wanting to save money.
But the Energy Price Guarantee - that has capped the average annual household energy bill, based on typical usage, at £2,500 - will end in July when a lower energy price cap - £2,074 - will kick in.
Anyone with a standard variable tariff will have seen their bills fall in line with this new price cap.
Once, fixed-rate tariffs were the best option if you wanted to cut your energy bills, but right now the cheapest deal available for most consumers is their provider's standard tariff.
Yet aside from costs, there are lots of other reasons you might want to change providers, from a supplier's customer service record to its green incentives.
Here we look at how two of the biggest energy suppliers, British Gas and E.ON, compare to help you decide which is the best for your electricity and gas supply. We have compared these two as many of our readers asked – but keep in mind, there are several other providers on the market that may suit your needs better.
British Gas
It's the most well-known energy provider in the UK and the oldest too and has been providing gas and electricity for more than 200 years.
With more than nine million customers and 30,000 employees, British Gas is owned by Centrica and has only operated as a private company since the 1990s.
It doesn't just provide energy, other services include smart home products and emergency home insurance.
Several energy firms have gone bust in the last year, due to high price rises, and British Gas was appointed by Ofgem to take on customers from People's Energy, Together Energy, Neon Reef Limited and Social Energy Supply.
E.ON
E.ON was founded in 2020 and has just under four million customers. It is owned by the German company E.ON Energie AG, and its headquarters are based in Essen, Germany.
It has a string focus on renewable energy and owns several biomass and wind farms.
It launched E.ON Next in 2020, a new energy provider supplying 100% renewable energy.
Ofgem has appointed E.ON to take on customers from a number of collapsed suppliers in the past year including Symbio Energy, Hub Energy, ENSTROGA, and Igloo Energy Supply.
What are their green credentials?
If you're looking to move to a green tariff, then both E.ON and British Gas offer 'green' options.
If you pick a fixed-rate electricity tariff with British Gas, it claims that 100% of the energy will be from renewable sources.
Its dual fuel Green Future tariff, launched in July 2022, is its greenest tariff it says. Electricity on this tariff is 100% renewable. For the gas supply, 10% comes from renewable biogas from food and farm waste. It offsets the carbon emissions from the gas by supporting renewable energy projects in the developing world. For every year you have the tariff, the provider says five trees per household will be protected in the UK.
The provider's other tariffs are a mix of 30% nuclear energy and 70% renewable energy.
E.ON on the other hand offers electricity tariffs which it claims are all 100% renewable. It announced in 2019 it would only supply renewable electricity from wind, biomass, and solar sources to all customers at no extra cost.
It has more than 20 onshore and offshore wind farms in the UK and partnerships with several independent renewable energy providers. However, its gas supply comes from a mix of renewable sources and traditional energy sources including nuclear, gas and coal.
What other services can you buy from each provider?
It's not just energy on offer, both British Gas and E.ON offer a range of other services you can buy.
British Gas sells a number of insurance products including HomeCare, which covers home emergencies such as a burst pipe or pest infestation, home insurance, and boiler cover. It also owns Hive, which produces smart home products such as thermostats and electric vehicle charging units.
E.ON offers a range of smart energy products, including solar panels, electric vehicle units, and smart meter systems all of which can be controlled from the E.ON Home app. You can also upgrade your heating system with it, whether that's upgrading to a new boiler or installing an air source heat pump.
How does each fare for customer service?
Customer service is important to look at when picking an energy firm as you want to choose a company that will handle complaints effectively and swiftly.
In the latest survey by Which? of customer satisfaction with energy firms, British Gas came in ninth position, out of 16. E.ON was shortly behind in 11th place while its new company, E.ON Next, was in the bottom spot at 16th place.
Citizens Advice looks at 20 energy providers for customer service and in its latest survey it put British Gas in 14th place while E.ON was in 12th.
Of just over 95,000 reviews by customers on Trustpilot, British Gas gets an average score of 3.1 out of five. E.ON scores slightly better with 35,000 reviews and a score of 3.4.
Is there a hardship fund to help with the cost of living?
Both suppliers offer a hardship fund for struggling households.
The British Gas Energy Trust offers grants of between £250 and £750 to help customers pay their bills. To be eligible you have to be a British Gas customer and have an outstanding debt of between £250 and £750 and less than less than £1,000 in savings.
E.on's Next Energy Fund doesn't specify how much its grants are worth but they are used to pay off energy bill debts, and replace household white goods and gas boilers.
Read more about the energy hardship funds in our article - Octopus Energy and British Gas double their energy bill hardship funds.
Conclusion
It's not possible to compare prices at the moment, although this is the most important thing on most consumers' minds, because of the extortionate recent price rises, yet there are other areas to look at.
When it comes to green credentials, both suppliers are making a concerted effort to help the environment but E.ON appears to be leading, especially as any electricity tariff you pick from it will be from 100% renewable energy. With British Gas, on the other hand, you'll only get this if you've picked a fixed-electricity tariff or its Green Future tariff.
Incentives come and go but the British Gas Rewards scheme is a valuable benefit if you'll use the rewards on offer. E.ON doesn't have a similar scheme but can offer a reward if you're referring a friend to its solar or heat systems.
Neither company does particularly well for customer service, so if that's a major priority for you it may be worth picking a different provider.
Freelance personal finance journalist
Rebecca Goodman is a freelance personal finance journalist, regularly writing for The Independent, The Guardian, The Sun and a range of specialist publications. Covering all aspects of finance, Rebecca has worked in the sector for the last decade and specialises in insurance, household finance and consumer issues.